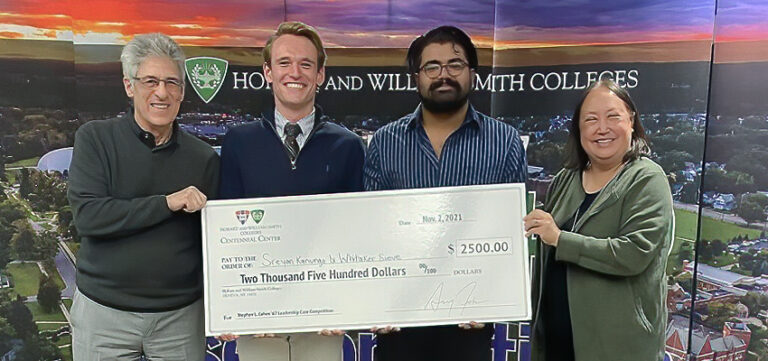 HWS News
27 January 2022 • Entrepreneurship New Competition Tackles Real World Problems
Stephen L. Cohen '67 Leadership Case Competition Established at HWS.
While the 2019-2020 academic year presented a myriad of challenges due to COVID-19, one silver lining was all of the virtual co-curricular opportunities for college students. Amy Forbes, director of the Centennial Center for Leadership, Entrepreneurship and Innovation, and four students from the HWS Leads certificate program took advantage of one of those offerings by participating in a leadership case competition sponsored by the International Leadership Association. Though the students didn't win, Forbes was struck by the learning experience. "They really enjoyed working together on a leadership dilemma that posed a real-world problem," she says. "I started to wonder why we couldn't have our own leadership case competition at HWS."
Forbes started developing an original case study in the spring 2021 semester with student writers Jessie Bartels '21 and July Winters '23. Once she had a strong draft of a leadership dilemma, she reached out to Stephen L. Cohen '67 who has been a longtime friend of the Center and is a former member of the Hobart and William Smith Board of Trustees.
Launching a case competition to encourage student leadership development instantly resonated with Cohen. "As you know, I have been a strong advocate for the Centennial Center since its inception with my endowed scholarship as well as other contributions over the years," Cohen says. "I see the Center as a powerful differentiator for attracting students to the Colleges, as few of our peer schools have such a well-structured extra-curricular element focused on student leadership. The Leadership Case Competition is just another avenue for students to avail themselves of leadership training that can be readily applied both during and after their time at the Colleges."
With a sponsor on board, the Centennial Center launched the first annual Stephen L. Cohen '67 Leadership Case Competition in the fall of 2021. The competition focused on a local challenge with a unique leadership dilemma that participants analyzed and addressed through three competitive rounds. The evaluation criteria used by the selection committee were based on the values of the Centennial Center and the legacy of its alum sponsor, including an emphasis on critical thinking, ethical decision-making, perspective-taking, application of leadership theory, problem solving and effective communication.
On Nov. 2, two finalist teams – Whittaker Sieve '22 and Sreyan Kanungo '23, and Avi Rajkarnikar '23 and Andrew Lynch '23, and two individual participants – Niima Sellah '23 and Ethan Lyons '22, gathered in the Seneca Room to each give an eight-minute presentation outlining their leadership strategy when handling a crisis that affects Seneca Lake and all the towns around it.
Their presentations were then evaluated by a panel of judges, each with credibility within the leadership field. They included included Cohen, sponsor of the contest and long-time strategic leadership consultant; Jim Cecere '91, a local leader in Geneva as owner of Finger Lakes Goods and the new wine bar Vineferi; Dan DeNose '10, founder of Leaders of the 21st Century, a global-aspiring nonprofit whose mission is to provide leadership and professional development to high school students in urban communities; Professor of Sociology Jack Harris, a long-time instructor of courses that often include leadership theory; and Provost and Dean of Faculty Sarah Kirk, an academic leader, particularly in the STEM field areas. After a highly competitive final round, the judges collaborated and had to make a very hard decision. Eventually, Sieve and Kanungo were crowned the champions and received $2,500; Sellah was given the runner's up award of $1,000.
"No question, our students were well-prepared for the competition," says Cohen. "Their entries and responses simply reinforced my belief in the quality education they are receiving at the Colleges. What I particularly found enlightening, though, was their superb application of the leadership theories and practices they have studied to the resolution of the case they were asked to address. There were no easy or cookie-cutter solutions to what was an extremely complex challenge. All of them provided exceptionally well-constructed and clearly thought through responses."
The Centennial Center looks forward to making the leadership case competition an annual event. "We're really pleased with the outcome of the inaugural year," says Forbes. "The Leadership Case Competition is uniquely different than The Pitch contest and it is most definitely intellectually rigorous. We're really excited to add this leadership development opportunity to our slate of events each year and couldn't be more grateful that Steve Cohen saw its potential."
Students should look for next year's case study early in the fall 2022 semester.
"In reality, the opportunity to apply what students are learning to real world events and experiences simulated by the Leadership Case Competition allows them to both broaden and deepen their education in extremely meaningful and consequential ways," says Cohen. "If a student wants to gain this real-world experience, then I urge them to participate in the competition. While, of course, it would be nice to "win," the most important outcome is in the journey they will take during this process which undoubtedly will be an invaluable personal and professional learning opportunity."