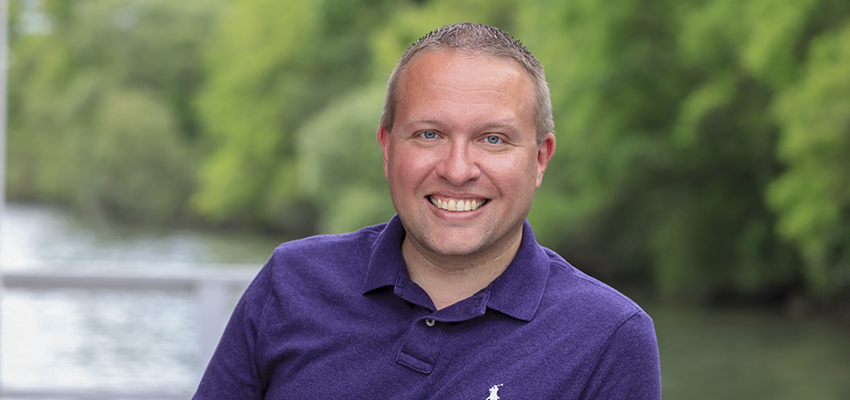 HWS News
12 May 2022 • Faculty Metz Named Associate Provost
In his new role, Associate Professor of Geoscience Nick Metz will help oversee faculty affairs and development.
Associate Professor of Geoscience Nick Metz has been named Associate Provost for Faculty Affairs and Development. Beginning July 1, he will be responsible for coordinating a wide range of faculty-focused programs and initiatives, including professional development, financial planning and personnel management.
"Nick was selected from a very strong pool of candidates, and brings with him experience in supporting students, grant seeking and engagement with faculty governance," says Provost and Dean of the Faculty Sarah Kirk. "He will bring a balanced approach to supporting faculty and helping to move forward the vision of the office."
Metz, who joined the HWS faculty in 2011, currently serves as chair of the Department of Geoscience and teaches courses focused on specialized areas in meteorology, including hydrometeorology and weather analysis, as well as a first-year seminar exploring climate change and the intersection of science and politics. His research examines high-impact weather, including large-scale weather systems and severe weather affecting the Finger Lakes and Great Lakes regions such as lake-effect snow and thunderstorms.
As Associate Provost, Metz will work with The Office of Academic and Faculty Affairs staff, including Kirk and Associate Provost for Curricular Initiatives and Development Jamie MaKinster, to support the academic mission and curriculum of the Colleges and uphold the stewardship of academic programs and support services.
Metz will oversee faculty development and support, including new faculty orientation and resources, and support for department and program chairs. He will also facilitate programs such as the Summer Scholars Fellowship Program and manage personnel responsibilities by interviewing and hiring non-tenure-track faculty. Financial management, including faculty grants, and committee service also fall under Metz's purview, among other responsibilities.
During his tenure as a professor, Metz has overseen dozens of student research projects both during the academic year and over the summer, led the HWS weather forecasting team in the national Weather Challenge competition, and taken students to Hawaii and the Midwest to learn about various weather phenomena. With his collaborators, including HWS faculty and students, he has obtained numerous grants from the National Science Foundation to study various aspects of lake-effect snow, among other projects. He currently runs a National Science Foundation supported Research Experience for Undergraduates program that supports 12 undergraduate students each summer. His research has been published widely in scientific journals. Metz holds a B.S. from Valparaiso University and an M.S. and Ph.D. from the University at Albany.
The Office of Academic and Faculty Affairs assists faculty in their implementation of the curriculum, their scholarly and professional development, and their integral role in developing the culture and expectations of the Colleges through faculty governance.