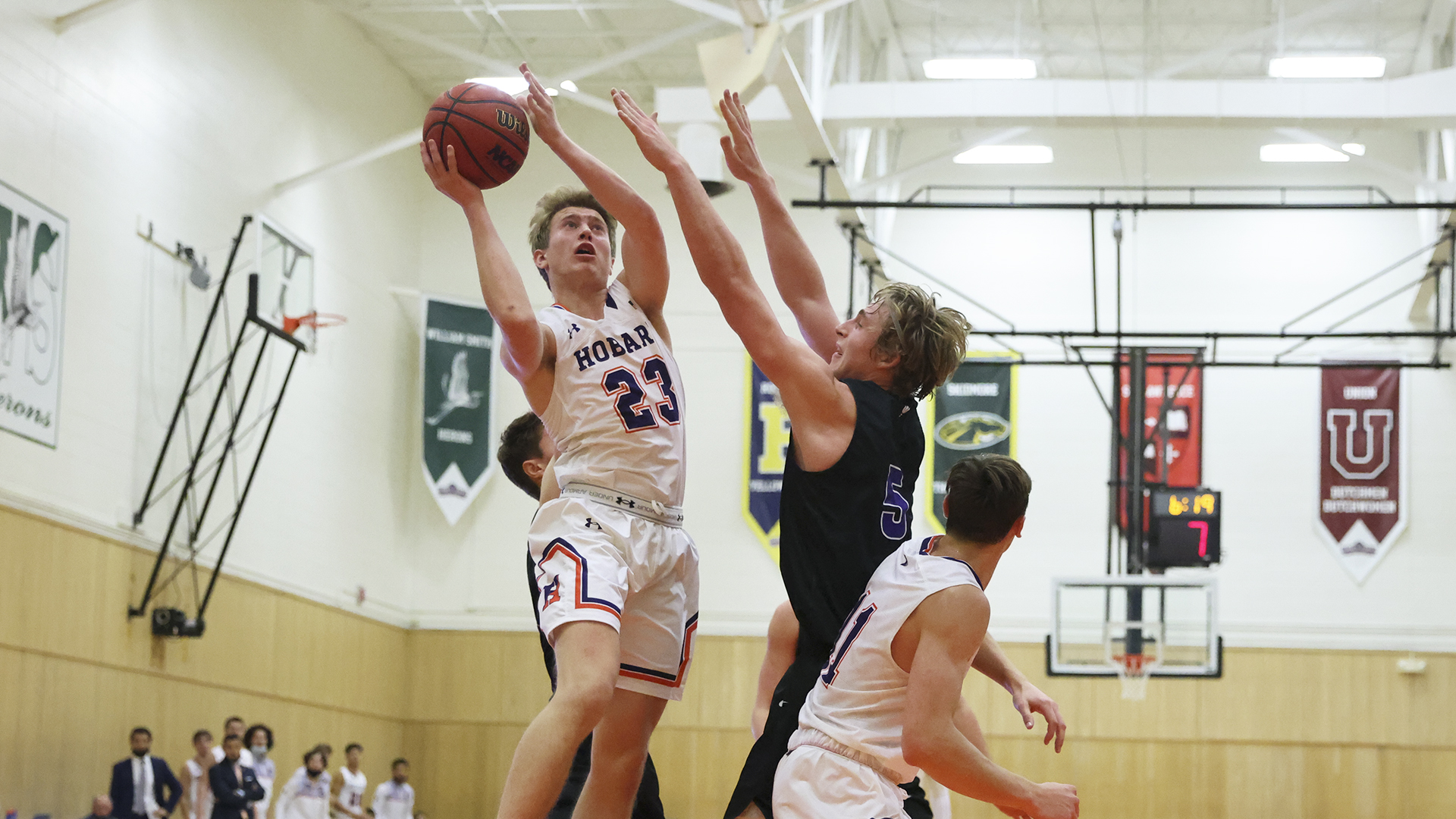 HWS News
18 August 2022 • Athletics Meshanic '25 Reflects on First Year at HWS
Rising sophomore Carter Meshanic '25 reflects on his first year at HWS where he decided to major in Spanish and Psychology. The Statesman joins his brothers, Hunter Meshanic '25 and Jackson Meshanic '23, on the basketball team with the siblings playing in all 26 games last season which was a bit of a reunion for the trio that played together in high school at the Kingswood Oxford School in West Hartford, Connecticut.
What is the biggest difference between high school and college?
The biggest difference between college and high school for me was the proximity of my friends, teachers and teammates. In high school, my commute was over an hour each way and because of this I had less time to be social and had to be incredibly on top of my work.
Favorite class?
My favorite class was "Intro to Philosophy" with Associate Professor of Philosophy Greg Frost-Arnold. Although philosophy is not one of my planned majors, I enjoyed learning how to think and write like a philosopher. Greg's style of teaching also allowed for a lot of collaboration and discussion which I enjoyed.
Best part of living in a residence hall?
The best part about living in a residence hall is the social life it promotes. There are always people who I could hang out with. Making friends was easy; people were always in the common room or in the hallway.
Where have you found community on campus?
I have found community in the Hobart basketball team. Spending so much time with my teammates, especially over winter break when not many other people are here, really allowed for the team to bond; the locker room as a gathering place is where I feel most comfortable on campus.
What were you most surprised by this year?
I was most surprised by the amount of free time I had this year. As a student athlete, I thought that I would constantly be swamped by homework or practices. I found that I had plenty of time to do what I wanted.
What are you most proud of yourself for accomplishing this year?
I am most proud of the relationships I have built over the past year. My relationships with professors, friends, my coaches and my brothers, all grew stronger as the year went on. I am proud of myself for branching out and making these new connections.