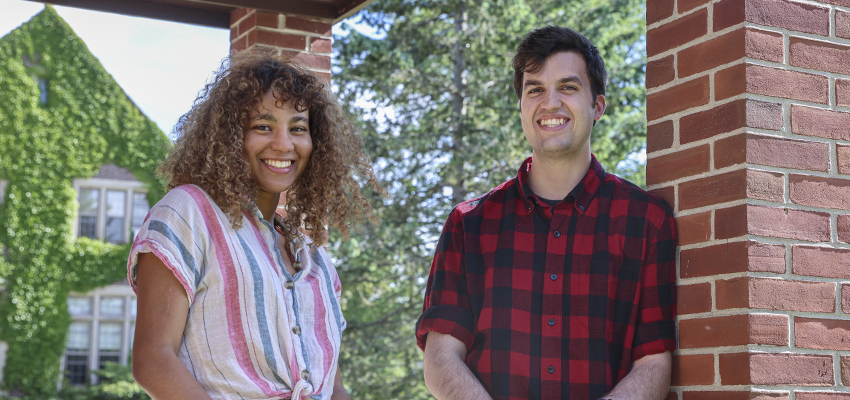 HWS News
18 July 2022

Meet the Orientation Coordinators

Orientation Coordinators Ethan Lewis '23 and Ainsley Woods '24 can't wait to introduce the Classes of 2026 to campus.

The role of Orientation Coordinators (OC's) is to plan the perfect introductory weekend to Hobart and William Smith. Ethan Lewis '23 and Ainsley Woods '24 are more than ready for the job.

Last year, Lewis served as the Orientation Coordinator for the Classes of 2025. Now, he's ready to apply what he learned to making a memorable weekend for the Classes of 2026.

Both in STEM majors at the Colleges, Woods and Lewis have already become a quick team. The pair will launch the @hwsorientation Instagram next week, where they will be introducing themselves and sharing all their favorite things about campus and Geneva, N.Y.

"What I love about HWS is that it's a small community. You can find your people and your home here. My hope for Orientation Weekend is to create an environment where students can begin to find those communities," Woods says.

"I'm looking forward to showing students all the opportunities they can take advantage of while they're here, whether that's connecting with your professors or joining clubs. Whatever it is, I want them to feel valued from the moment they step foot on campus," Lewis adds.

Lewis is a biochemistry major and French minor on campus. He just returned to Geneva, N.Y. after studying abroad in Stockholm, Sweden this spring. In addition to serving as an OC this summer, he is interning at Cornell University AgriTech, where he is researching seed coating.

This fall, Lewis will serve as the co-chair of the Day of Service planning committee. He will plan three Day of Service events throughout the academic year. The first one is for Orientation Weekend. All members of the Classes of 2027 will spend their first Saturday on campus meeting their neighbors and participating in community projects. Additionally, Lewis is a Chemistry Teaching Fellow. He is the captain of the club volleyball team, a tour guide in the Office of Admissions, works for the Post Office, and will be the lead Community Assistant (CA) for the 2022-2023 academic year.

Woods is a mathematics major and computer science minor. She is a member of the William Smith cross country team. On campus, she is a Writing Colleague and in the fall will serve as a Mathematics Teaching Fellow.