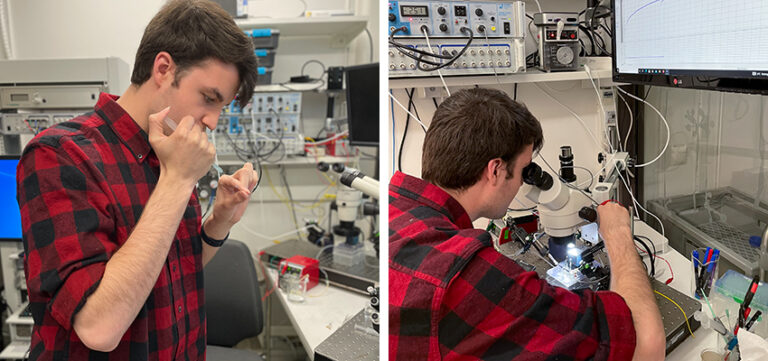 HWS News
6 May 2022 • STEM Lewis '23 Conducts Research in Stockholm By Abigail Leyson '22
While studying abroad, Ethan Lewis '23 is serving as a research assistant with Science for Life Laboratory.
This semester, biochemistry major Ethan Lewis '23 is studying abroad in Stockholm, Sweden. In addition to taking courses through the Danish Institute for Study Abroad (DIS), Lewis is serving as a research assistant with Science for Life Laboratory, a research institution for the advancement of molecular biosciences.
At SciLifeLab, Lewis is part of a research team focused on the biochemistry and biophysics of ligand gated ion channels, a class of membrane proteins that control the flow of ions in and out of the cell. At the lab, Lewis injects mRNA into unfertilized frog oocytes for them to express the protein he wishes to study and then measures their responses to several drugs after incubation.
"My favorite part of my research experience thus far has been learning about the applications of our research in modern medicine and the history of the field," says Lewis. "The most interesting part of our research is how new it is compared to many other fields. We are doing a lot of work that is exploring the currently established knowledge and building upon it, so it's always exciting. I never know what to expect from an experiment."
Lewis, who intends to pursue a Ph.D. in the field of biochemistry, says the semester has improved his lab and communication skills. At the end of the semester, he will present his research findings to his faculty and peers.
Through DIS, Lewis is taking "Immunology" and "Precision Medicine: Tailored Treatment in Clinical Practice." Lewis says one of the best features of the program is the faculty, who are respected scholars and researchers in their fields.
"The professors each bring a unique perspective because they are able to discuss their experience while presenting the theory as well," Lewis says. Over the course of the semester, Lewis says he has found a passion for the field of immunology.
"I find the material fascinating and learning about the applications of the material is incredible. Hearing about the ways in which the material we learn about is applied to real world problems and situations which I believe is helpful in retention of the material and in preparation for what a career in the field would look like and what direction the field is moving in."
As part of an experiential learning trip for "Immunology" Lewis participated in a virtual reality (VR) simulation of a neurosurgical procedure at the Royal Institute of Technology.
Despite his busy workload as a STEM major, Lewis has immersed himself in life in the city. At a local gym, Lewis has become a regular at the gymnastics and volleyball classes.
"It has been wonderful to have cross-cultural interactions," Lewis says. "Stockholm is home to many people from all over Europe, so I have gotten to not only meet those who were born in Sweden but also those who now call Sweden home."