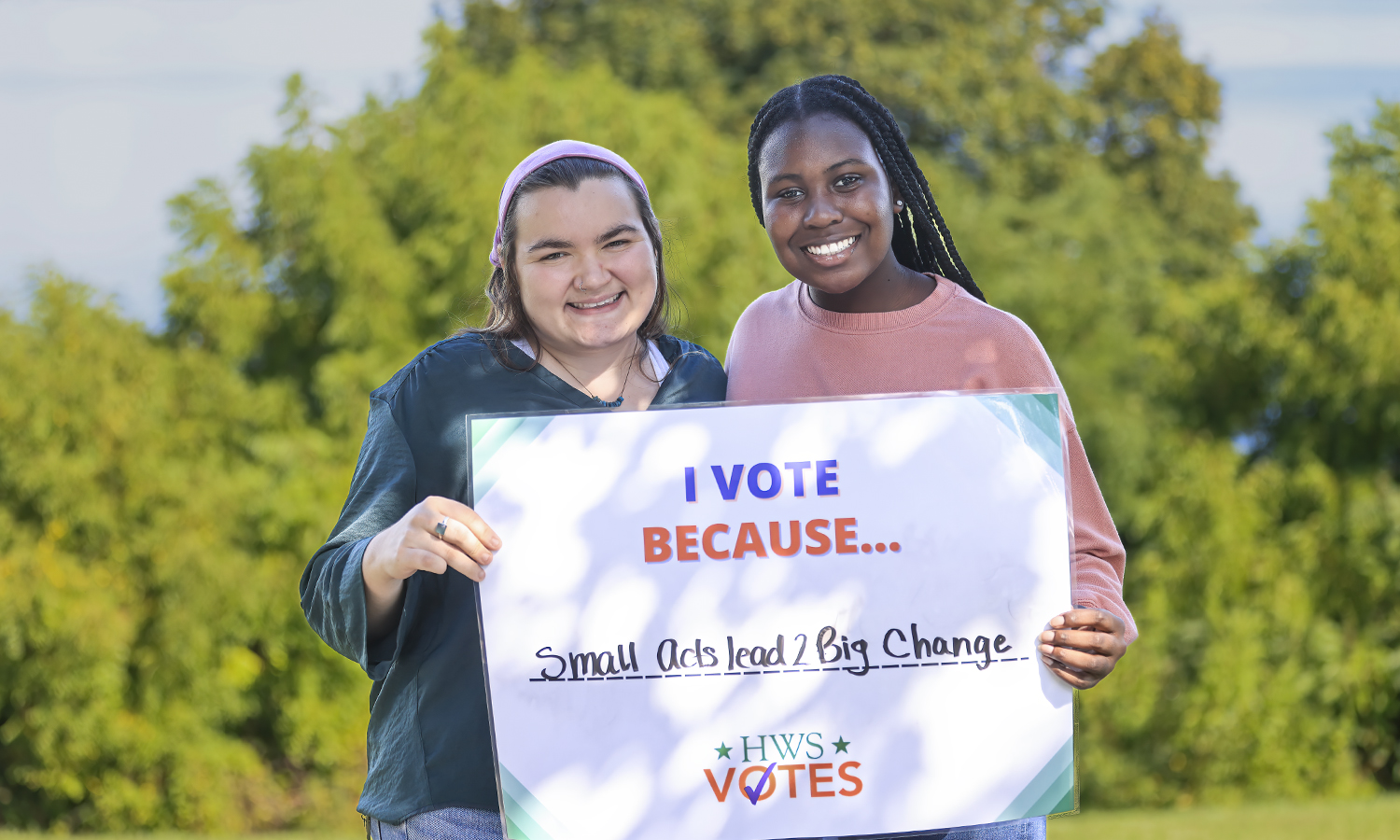 HWS News
4 October 2022

HWS Votes Looks to Triple Voter Participation Ahead of Mid Terms

On National Voter Registration Day, HWS Votes was out in full force encouraging people to register to vote.

HWS Votes, led by Kate Equinozzi '23 and Samari Brown '24, has been busy working toward its goal of tripling voter participation in this year's mid-term elections.

On National Voter Registration Day on Sept. 22, the pair held pop-ups across campus. From Coxe Hall to the Scandling Campus Center, Equinozzi and Brown connected with students on how to register or request an absentee ballot, and how to identify who is running on their upcoming ballot.

The pair mobilized volunteers to help run tabling efforts. They also hosted a tie-dye event in front of the Scandling Campus Center.

"One of the most common questions we got during the day was from first-year students who just turned 18. They wanted to know if they were eligible to vote. The answer is yes, you are absolutely eligible! The timing of National Voting Registration Day is also perfect because it allows us to connect with people who haven't requested their absentee ballot," Equinozzi says.

Students can register to vote here and request their absentee ballot here. If students request their absentee ballot at the HWS Post Office, HWS Votes will cover the cost of postage.

Only six weeks into the semester, Equinozzi and Brown have reached students at more than 40 classes and club events, where they have presented on why voter participation is important and how to register.

They have also engaged the HWS faculty in their efforts. Brown and Equinozzi presented at Faculty Lunch, a weekly speaker series, to inform faculty about campus efforts to increase civic participation and to initiate future collaborations.

A newly released national report issued by The Institute for Democracy & Higher Education (IDHE) found that the number of HWS students who voted in the 2018 midterm elections rose 16.6 % over the 2014 election. HWS votes is looking to increase this even further ahead of this year's election.

"We hope to triple the 2018 voter turnout – from 20 percent to 60 percent," says Director of the Center for Civic Engagement and Service-Learning and HWS Votes Advisor Katie Flowers.

On Nov. 8, HWS Votes will host an election night watch party. Follow @HWSVotes on Instagram for details.

Students interested in getting involved with HWS Votes' non-partisan voter education efforts can email vote@hws.edu.