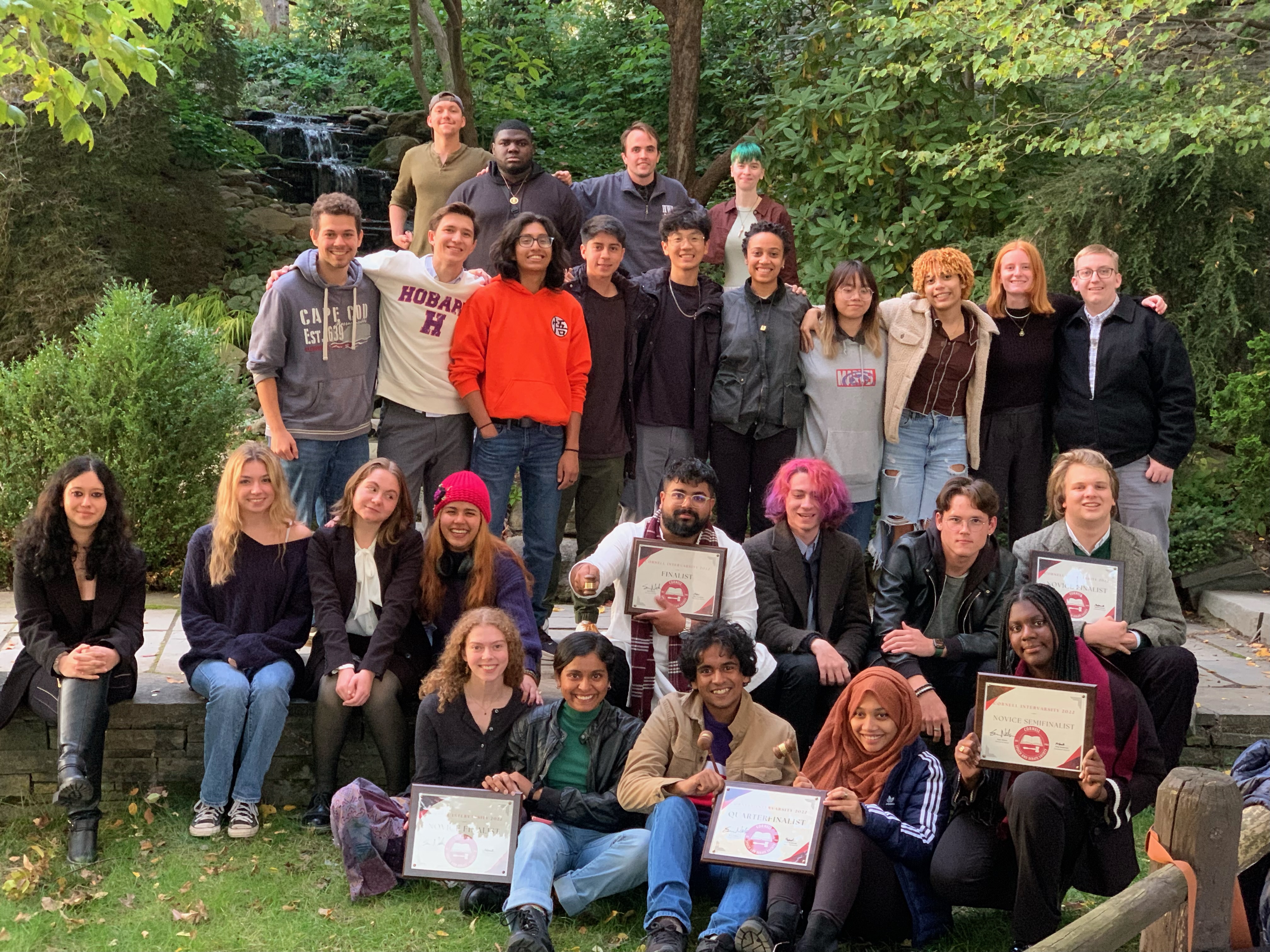 HWS News
3 November 2022

HWS Hosts Debate Championship

This weekend, Hobart and William Smith will host the largest British Parliamentary debating tournament in the United States.

In the debate world, Hobart and William Smith has a reputation for hosting elite tournaments. This esteem was built over years of hosting the annual HWS Round Robin, an international tournament of champions, began by members of the Colleges' 2006 debate team.

Now, Hobart and William Smith's reputation has brought the United States Universities Debating Championship (USUDC) home to Geneva, N.Y. The tournament will be held on Saturday, Nov. 5 – Monday, Nov. 7.

All tournament rounds are open to the public with the final round held on Monday, Nov. 7 at 5 p.m. in Albright Auditorium.

Six HWS teams will compete, including: Lamia Nur Rahman '26 and Sreyan Kanungo '23, Maya Ratner '24 and Andrew Barsky '23, Sandeep Tissaaratchy '26 and Kayla Powers '24, exchange student Julia van Neerrijnen and Grace Wilson '26, Awa Haidara '26, Tymofii (Tim) Trackhachov '26 and Lacey Somerville '26.

An impressive group, Kanungo debated into the elite single-elimination rounds at the Worlds Universities Debating Championship, placing in the top 5 of U.S. teams. Also at Worlds, Powers had an impressive showing in the novice division.

"HWS is on a roll, with strong performance at the last two World Championships and at regional tournaments. I'm excited to see how we do at Nationals this weekend," Head Coach and Professor of Philosophy Eric Barnes says.

Additionally, HWS Debate team members will participate as judges, members of the equity team and coordinators of the tournament.

HWS Debate has made significant strides in advancing equity in collegiate debate. With leadership by July Winters '24, HWS Debate has played a central role in running equity teams this academic year for tournaments held by Cornell and Yale Universities.

The HWS team also has a formidable record as adjudicators. At the team's opening tournament by Cornell University, two adjudicators from HWS qualified to judge elimination rounds, Javier Pacheco '26 who was adjudicating at his first debate tournament, and Trias Postdoctoral Fellow Danny Schonning '16. Schonning began his debate career as a student at the Colleges.

Most recently, Powers judged both the Open Grand Finals of Hart House IV, hosted by University of Toronto and Western IV, hosted by University of Western Ontario Debate Society.

In parliamentary style debate, teams have only 20 minutes to prepare after a motion is announced. Four competing teams then debate in support or against the resolution.

Other teams competing at the USUDC include: Air Force, Bard College, Bates College, Claremont Colleges Debate Union, Clemson University, Colgate University, Cornell University, Drexel University, Duke University, George Fox University, George Washington University, Harvard University, Johns Hopkins University, Kansas State University, Lewis and Clark College, Morehouse College, Princeton, Stanford University, The King's College Debate Society, UCLA, University of California Berkeley, University of Chicago, University of Pennsylvania, University of Rochester
Wheaton College, William & Mary and Yale Debate Association.