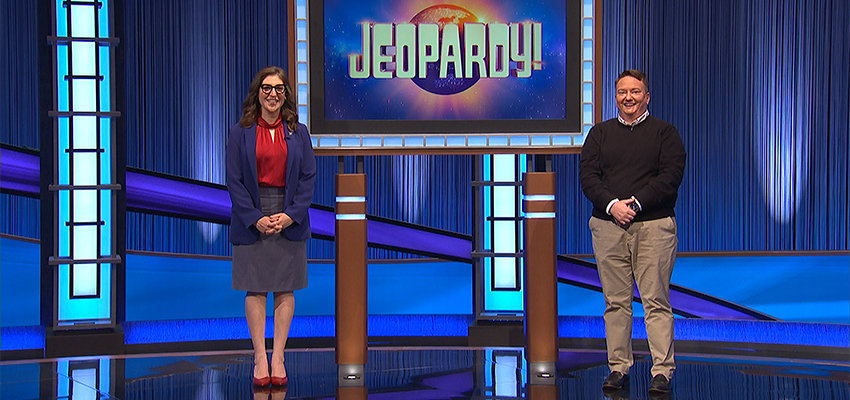 HWS News
25 June 2022 • Faculty Huskie's Appearance on Jeopardy Airs July 4
Andrea "Andie" Huskie, director of secondary education, will be a contestant on Jeopardy beginning Monday, July 4.
Last summer, Director of Secondary Education Andrea "Andie" Huskie successfully completed a three-round audition process with producers and casting personnel from the iconic television game show Jeopardy. In May, she flew to Los Angeles and competed in her appearance that will air on Monday, July 4.
With host Mayim Bialik, who was "very sweet and wonderful to chat with between rounds," Huskie says she met some incredible competitors, including a Duke professor and several other educators, and that some of the categories were really challenging. The details of her stint—fellow competitors, categories, clues, wagers—she's not allowed to disclose until the show airs.
"It was an exciting experience. The games were really competitive, the categories were tough, there was a nail-biting match with interesting questions but I did better than I expected," says Huskie, a lifelong fan of the show, who practiced for weeks clicking a highlighter pen that her colleague Associate Professor of Education Mary Kelly gave her and studying old decks of Trivial Pursuit cards.
With the show recording five episodes each day, Huskie was there with 16 other contestants and was selected to participate in the first show of the day. While very nervous at first, practice time on the live set and with the buzzer put her at ease, she says.
At HWS, Huskie has served as director of secondary education since 2019. She previously was an English teacher at Lansing Central Schools for 12 years and was an assistant program coordinator at Cornell University. She holds a BA and MA in English language and literature from Binghamton University.
While in Los Angeles, Huskie met up with one of her first students she had at Lansing Central Schools, Nicholas Geisler who works as a screenwriter.
Others from HWS to appear on Jeopardy include HWS Trustee Bill Whitaker '73, L.H.D. '97 who last year served as a guest host while producers searched for a replacement following the death of long-running former host Alex Trebek. Associate Professor of Russian Studies Kristen Welsh was contestant on the show in 2008.