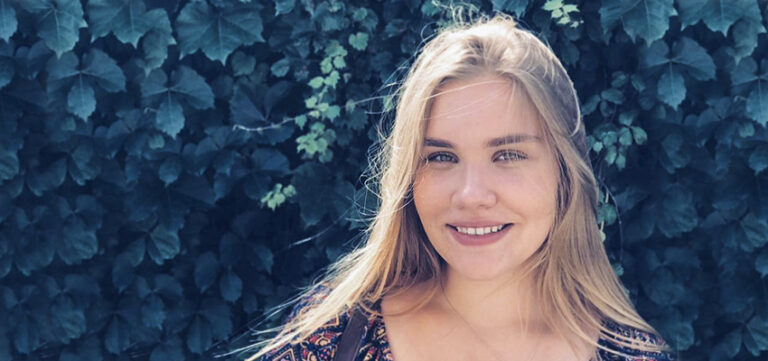 HWS News
18 May 2022 • Research Honors Project Tackles a Marketing Makeover for Blockbuster Video
Be King, Rewind: Katherine Ruggles '22 rebrands Blockbuster Video for her Media and Society Honors project.
English and Media and Society double major Katherine "Katie" Ruggles '22 used the Honors Program at HWS to explore her interests in branding and marketing. Her Honors project, culminating in a website "Be Kind, Rewind: Rebranding Blockbuster for the 21st century," focuses on developing a fictional campaign to rebrand and revive Blockbuster LLC.
Under the direction of Assistant Professor Rebecca Burditt, Ruggles researched market shifts that resulted in the demise of the movie rental franchise of the 1980s and 1990s. Through the project, she evaluated the changes in the film industry over the past 40 years, transitioning from movie theaters to video stores and now into homes. She also explored her project through assignments for "Branding Senior Seminar" with Associate Professor Leah Shafer and "Cultures of Advertising" with Burditt.
"Specifically, "Be Kind, Rewind," addresses what is lost in the transition to digital streaming, emphasizing that video stores such as Blockbuster created an in-person, interactive, curated and community-based experience for consumers," explains Ruggles, who developed a rebrand portfolio that includes a brand guide, business plan, digital advertisements and commercials.
Ruggles has held several internships in the marketing field. She interned at Pendo, Brightspark Consulting, Silicon Allee and The Concord Monitor, and has served as a Campus Media Manager for Bumble. On campus, she is the social media intern for Career Services. She is currently interviewing for post-graduation marketing and advertising positions.
On campus, Ruggles serves as the Senior Class President, is a member of the William Smith Field Hockey team and was a finalist in the 2022 Pitch Contest. Additionally, she is a member of the Lambda Pi Eta National Communications Honor Society and a recipient of The Friedman Outstanding Student Award in Media and Society.
The Honors Program makes possible the most sustained and sophisticated work available for juniors and seniors in the Colleges' curriculum. An Honors project consists of two semesters of high-quality independent coursework.