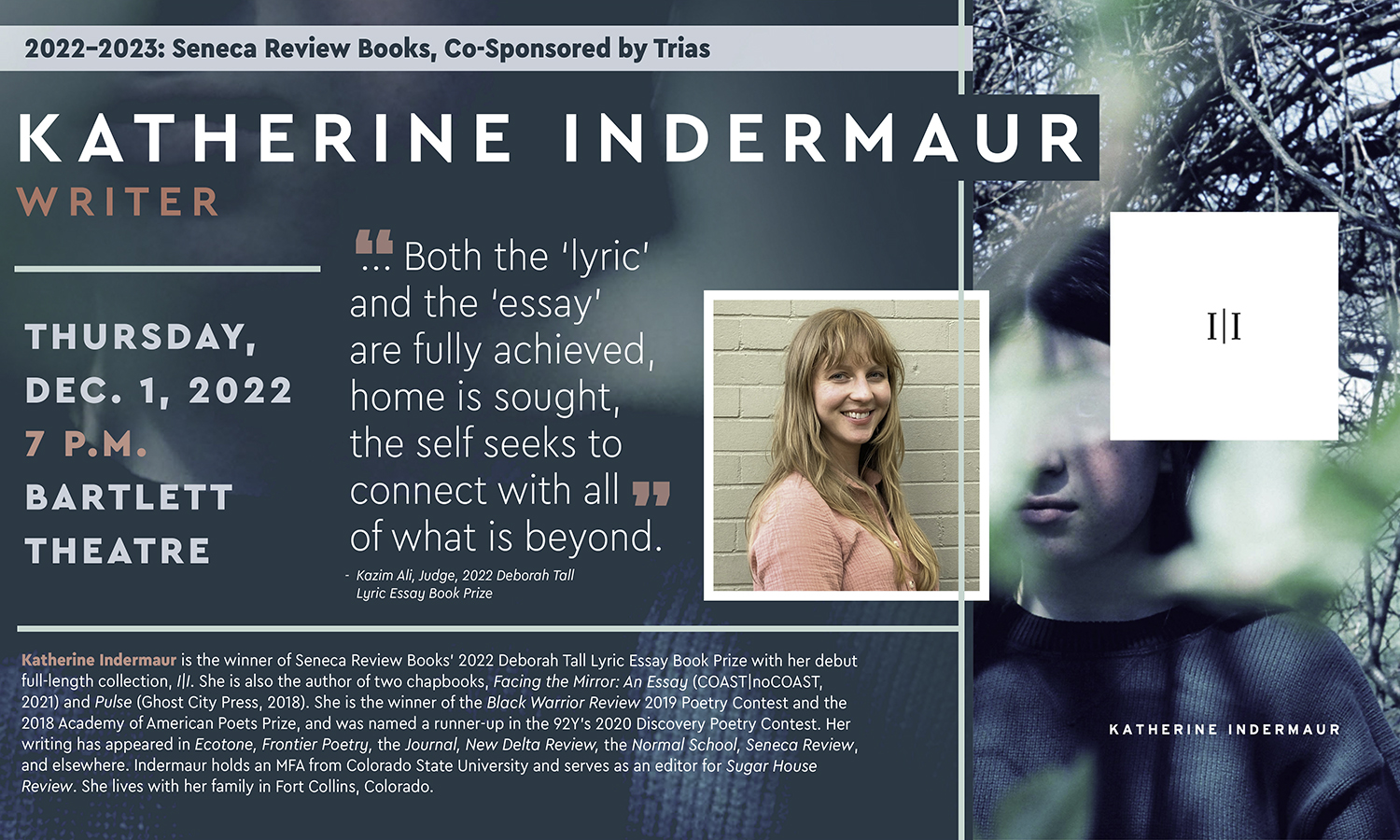 HWS News
30 November 2022

Award-winning Serial Lyric Essay

Cohosted by Seneca Review Books and the Trias Residency for Writers, author Katherine Indermaur will take the Bartlett Theatre stage on Thursday, Dec. 1 at 7 p.m. to read from her award-winning debut I/I.

Indermaur is the 2022 winner of the Deborah Tall Lyric Essay Book Prize. As the 2022 winner, I/I was published on Nov. 15 by Seneca Review Books, an imprint of Hobart and William Smith Colleges.

Named for the late poet and HWS professor of English, the biennial Deborah Tall Lyric Essay Book Prize was founded by the editors of Seneca Review, the Colleges' national literary journal, in 2017 to support innovative work in the essay form, including cross-genre and hybrid work, verse forms, text and image, connected or serial pieces, and/or beyond category projects.

I/I is a serial lyric essay that explores the mirror's many dimensions—philosophical, spiritual, scientific, mythological, historical—alongside the author's own experiences.
Indermaur's debut has received praise from multiple influential writers, including this year's Trias Writer in Residence and Guggenheim Fellow Jenny Boully, who says, "With an eye to both poetry and philosophy, I|I reveals the dangers of seeing, how light and reflection, once unveiled, give way to a broken and distorted existence and perception of so many unending selves."
While visiting campus, Indermaur will meet with students from Associate Professor of Writing and Rhetoric and English Geoffrey Babbitt's fall 2021 "Small Press Book Publishing" class. The students in Small Press participated in the selection of 15 semifinalists for the 2022 prize. The students' names are credited in the beginning of Indermaur's book as members of the Acquisitions Editorial Board.
The final selection of Indermaur's manuscript was made by judge Kazim Ali, celebrated essayist and poet. Ali previously gave a reading of his work on the Hobart and William Smith campus.
Indermaur is the author of two chapbooks, Facing the Mirror: An Essay (COAST|noCOAST, 2021) and Pulse(Ghost City Press, 2018). She is the winner of the Black Warrior Review 2019 Poetry Contest and the 2018 Academy of American Poets Prize, and was named a runner-up in the 92Y's 2020 Discovery Poetry Contest. Her writing has appeared in Ecotone, Frontier Poetry, the Journal, New Delta Review, the Normal School and Seneca Review. She holds an M.F.A from Colorado State University and serves as an editor for Sugar House Review.