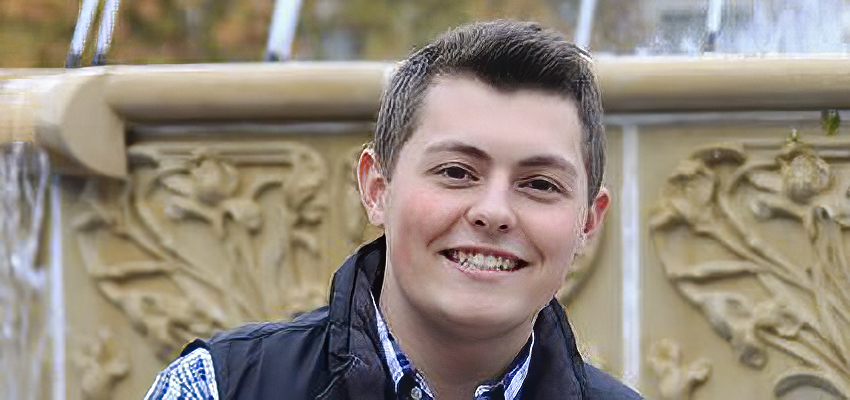 HWS News
27 April 2022 • Alums • STEM Downs '22 Headed to Johns Hopkins University School of Nursing
In the fall, Garrett Downs '22 will attend Johns Hopkins University School of Nursing to begin his pursuit of a doctor of nursing practice.
Building on his bachelor of science in biology, Garrett Downs '22 will attend Johns Hopkins University School of Nursing in the fall to earn a master of science in nursing, a prerequisite for the doctoral program.
Downs says he has always wanted a career in medicine and during the pandemic, he honed in on earning a doctor of nursing practice. "HWS has given me the confidence and background that I need to take the first step in obtaining my doctor of nursing practice."
The sciences at HWS, he says exposed him to a broad range of classes such as neurobiology and cancer biology. "HWS has prepared me for a graduate-level education because I have been given a deeply well-rounded understanding of biological systems," he says.
On campus, Downs has been an active member of the community. He works as a Community Assistant in JPR and has been a member of the dance group Hip~Notiq's and a cappella group Hobartones. He now focuses most of his time on establishing a Dance Marathon Club to raise funds for Golisano Children's Hospital in Rochester, N.Y. Downs served as an Orientation Coordinator in 2020.
Downs says being a member of HWS EMS and earning his EMT certification has been pivotal for his career trajectory. "Obtaining my EMT certification has allowed me to fully realize that medicine is the path for me. I was exposed to various medical conditions and environments that broadened the way I saw patients. I was then able to implement my understanding of the social determinants of health to further understand why patients interact with the medical system the way they do," says Downs.