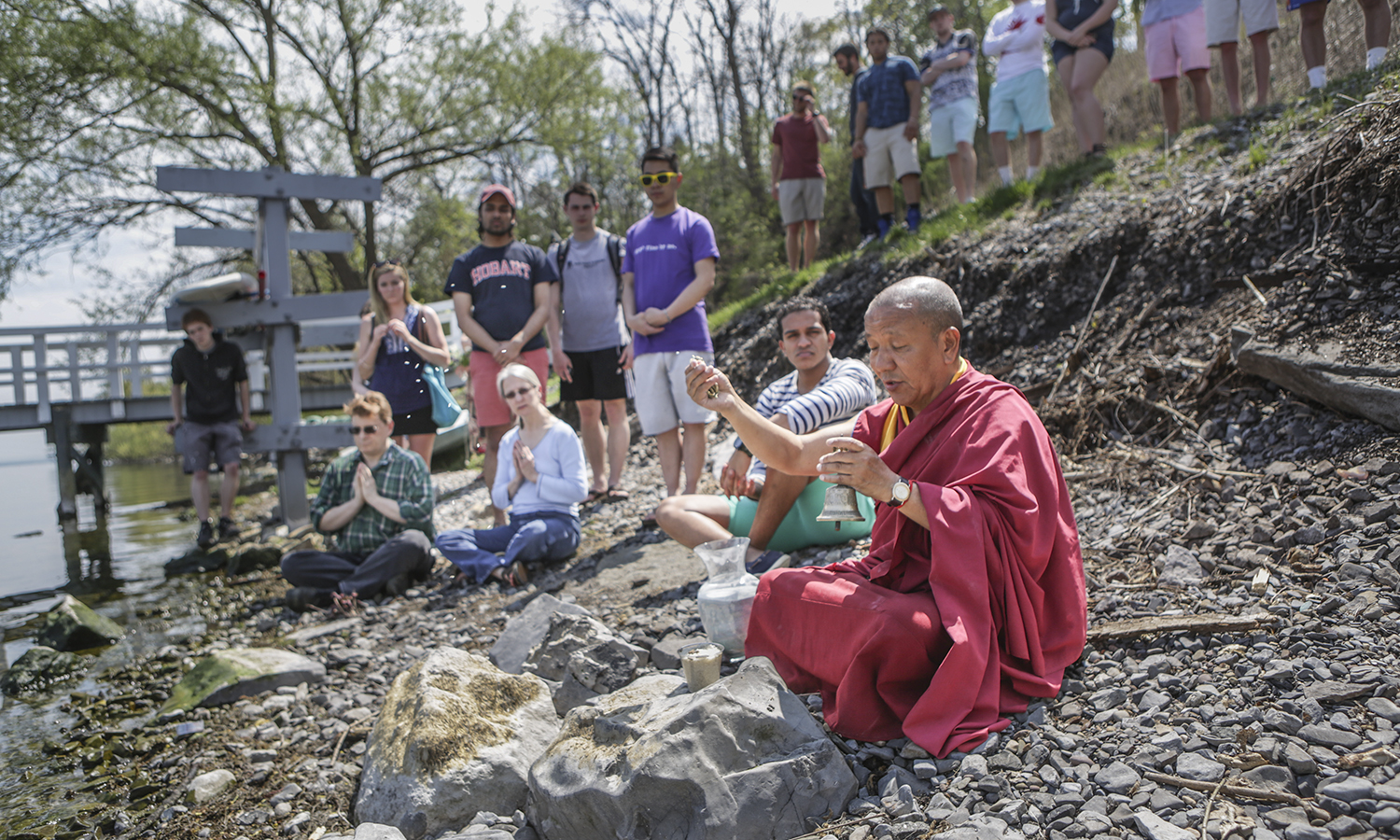 HWS News
19 October 2022

Creating One Final Mandala By Colin Spencer '19

Buddhist Monk retiring after more than 20 years at HWS will build a final mandala in honor of Hobart's Bicentennial.

The Venerable Tenzin Yignyen will create his final sand mandala for Hobart and William Smith as part of Hobart College's Bicentennial Celebration.

Yignyen will create the mandala beginning Monday, Oct. 17 in the atrium of the Warren Hunting Smith Library. A dismantling ceremony will be held at 12 p.m. on Saturday, Oct. 22. The ceremony will begin at the Warren Hunting Smith Library. From there, the ceremony will move to Seneca Lake near the Bozzuto Boathouse.

The public is invited to view the mandala in the library this week and join the dismantling ceremony on Saturday. Comfortable walking shoes are encouraged for the ceremony.

Since joining the Colleges in 1998, Yignyen has been an instructor in meditation, Tibetan Buddhism, tantric ritual, Buddhist philosophy and art as well as Asian Studies. He previously taught and constructed mandalas each semester at HWS. Additionally, he has taught and constructed mandalas across the country and the world for public display.

Yignyen was ordained as a monk by His Holiness the Fourteenth Dalai Lama, and entered Namgyal Monastery in Dharmsala, India in 1969. In 1985 he received the monastery's highest degree, "Master of Sutra and Tantra '' with highest honor, equivalent to a Ph.D. In 1995, he was selected to teach at Namgyal Monastery's North American Seat in Ithaca, N.Y.