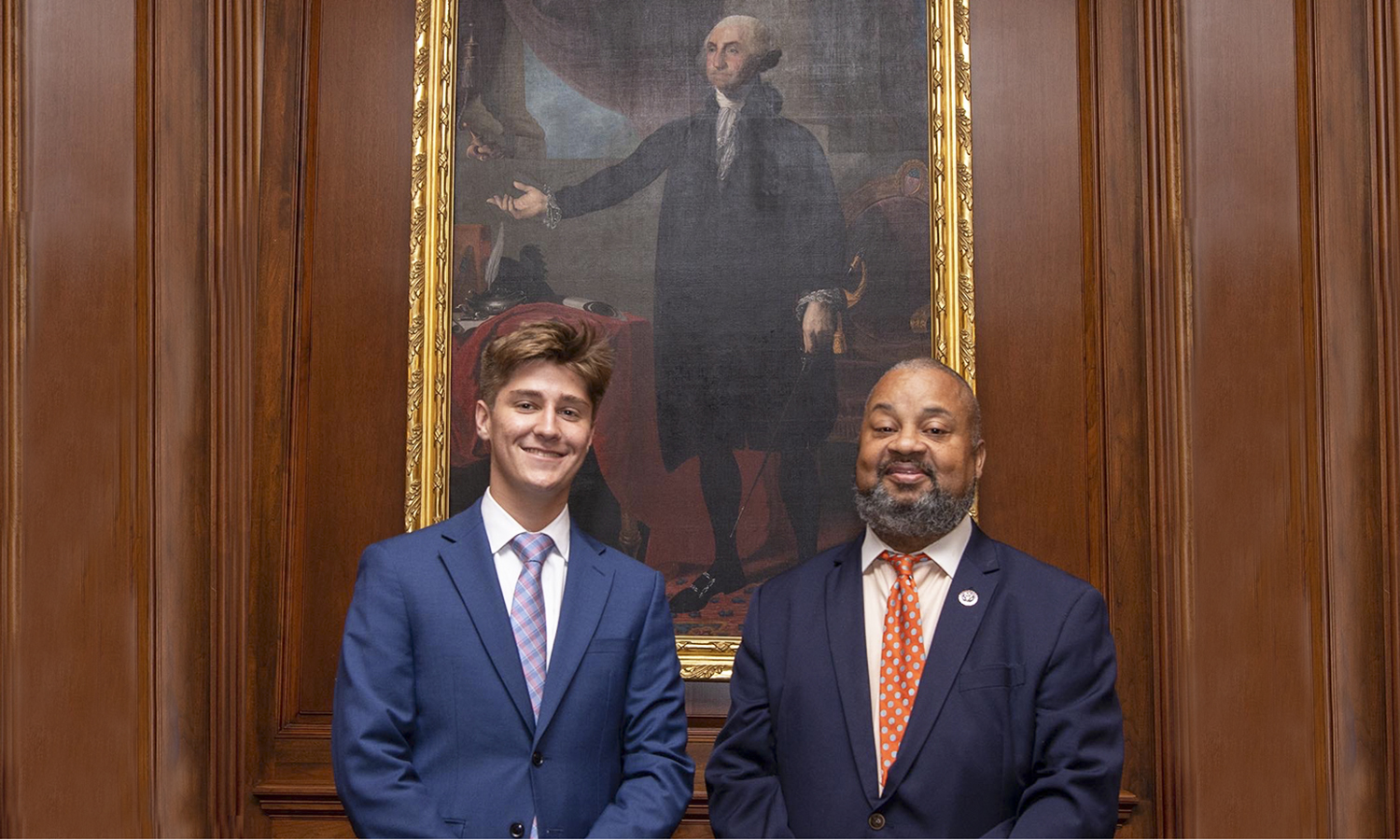 HWS News
1 November 2022

Capitalizing on Opportunity in the Nation's Capitol

Jesse Whelan-Small '24 turned a connection at HWS Day on the Hill into a summer internship in Washington, D.C.

Economics major Jesse Whelan-Small '24 spent his summer in the Washington, D.C. office of Congressman Donald M. Payne Jr. as a legislative intern. Through this role, Whelan-Small gained valuable experience crafting correspondence with constituents through letters and news updates, meeting with lobbyists and advocacy groups and attending committee hearings and congressional briefings.

On choosing the experience, Whelan-Small says, "I wanted to give back to my home district and gain insight into how the legislative process works at a federal level."

Whelan-Small landed his internship after connecting with Hannah Cooper '16 at Day on the Hill. Hosted by the Salisbury Center for Career, Professional and Experiential Education, Day on the Hill takes students inside governmental organizations, non-profits, and other Washington, D.C. institutions for three days of experiential insight into politics and policy.

"HWS' Day on the Hill Program was vital to kick starting my interest in working in Washington, D.C. I worked in local government during high school, but it was hearing the stories and experiences of HWS alums that made me pursue an internship in Congress," says Whelan-Small. "Hannah Cooper was critical in providing insights into the internship experience, and she connected me with another HWS alum who worked in Congressman Payne's office."

Cooper serves as a Senior Legislative Assistant at the U.S. House of Representatives.

Whelan-Small also credits his classwork with preparing him for the role.

"My courses in economics, political science and history were invaluable in giving me the skills to feel comfortable writing memos, briefs and letters that landed on the desks of staff as well as in the mailboxes of constituents," he says.

Continuing the trend of turning one valuable experience into another, Whelan-Small has secured another internship doing constituent outreach this fall with N.Y. State Senator Jeremy Cooney '04 on his re-election campaign.

On campus, Whelan-Small is the Hobart Junior Student Trustee, an O'Laughlin Ambassador in the Admissions Office, and a member of the HWS Debate team and of the Big Brother, Big Sister Program. Last Spring, Whelan-Small was named a Newman Civic Fellow for his work with the FLX College Leaders Program.