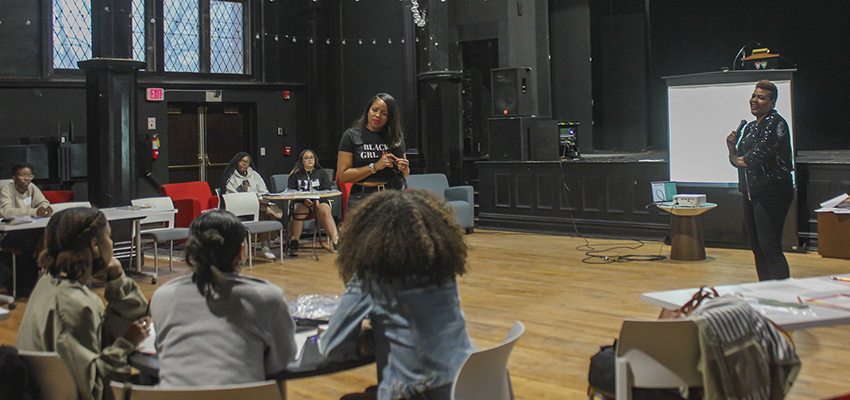 HWS News
15 July 2022 • Alums • ic Black Woman Be Whole: Alums on Prioritizing Self-Care and Mental Wellness By Abigail Leyson '22
Ednesha Saulsbury '00 and Kimberly Moore '00, the cofounders of "Black Woman Be Whole," led a self-care workshop on campus.
In April, Ednesha Saulsbury '00 and Kimberly Moore '00 returned to their alma mater to lead a self-care and wellness workshop for BIPOC, female and non-binary identifying students, faculty and staff. The event was sponsored by the HEOP Program, Afro Latina Alumni Association (ALAA), the IC Alum Connection Series and the Office of Diversity, Equity and Inclusion.
Saulsbury and Moore are the cofounders of Black Woman Be Whole, an organization dedicated to assisting Black women on their emotional and mental health journey. Saulsbury is a psychotherapist and licensed social worker in New York City. Moore spent more than 15 years working with nonprofits to elevate fundraising, cultivation, strategy and events. They established Black Woman Be Whole in 2018.
During the workshop, Saulsbury and Moore led reflective conversations about mental health and self-care during the pandemic. The pair recently published a playbook titled Hey Sis, are You Okay? The book helps readers prioritize mental health through self-reflection, values, self-care and relationships.
They also are co-hosts of the "Black Woman Be Whole" podcast. Along with the company's Brand Manager, Marquia Farmer, they delve into issues that impact and matter to Black women. Each episode contains tools and resources to help listeners work on their healing journey to good mental health.
Throughout the Hobart and William Smith event, Saulsbury and Moore asked students, faculty and staff about their experiences on campus, and encouraged them to share the positives and negatives of being a person of color at a predominantly white institution.
Saulsbury and Moore then offered tools for practicing self-care. After everyone had a chance to share, Saulsbury and Moore transitioned to presenting information about mental health and its importance during young adults' transitive years.
To end the community event, Saulsbury and Moore asked the students, staff and faculty to write an affirmation of their self-worth and encouraged the participants to come back to the phrase daily.