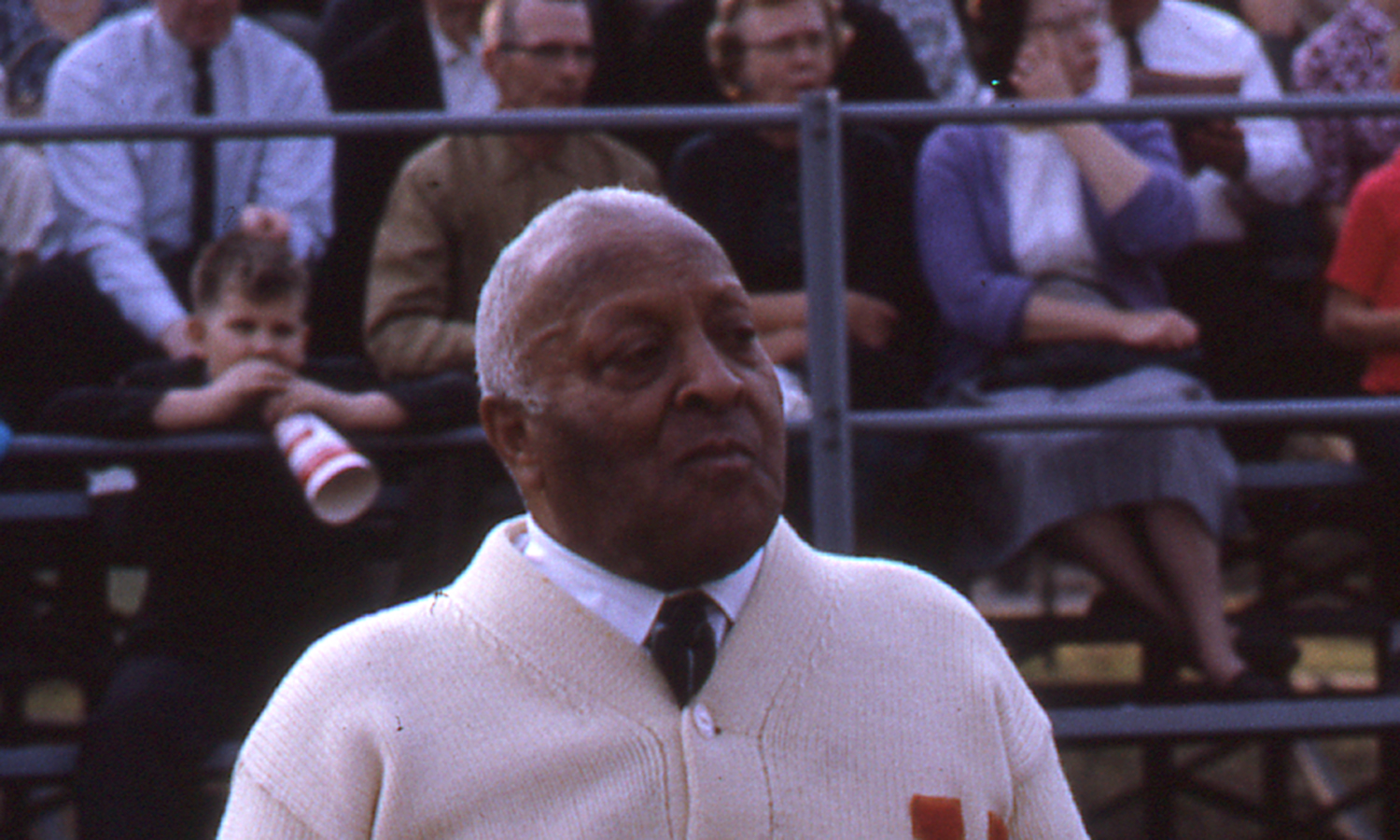 HWS News
15 September 2022 • Alums • Athletics With Ivan and Ruth Kuhl, the Legacy of Hobart's No. 1 Fan Remains Strong
To many Hobart College students who matriculated during the first half of the 20th century, an intercollegiate athletics contest without Art Kenney leading cheers from the bleachers or sidelines was unthinkable.
And that would include Ivan Kuhl '43 and Ruth Amidon Kuhl '44.
Kenney, the venerable Geneva shoeshine shop operator, affectionately known as "The Mayor of South Exchange Street," is an iconic figure in the annals of HWS.
Kenney's association with Hobart began in the 1890s and lasted more than 70 years. Work responsibilities and his singing voice (he was a member of a popular local barbershop quartet) drew him to campus initially, but it was Hobart athletics that captured his heart. He became a practice pitcher for the baseball team and in 1918 began leading students and other fans in robust, passionate cheers for the Colleges' teams.
He did not stop for 42 years, missing just one game during that span and earning the title "Hobart's Greatest Fan," an honor that has gone unchallenged since his death in 1968.
The 1953 senior class dedicated their yearbook to Kenney, stating that on Fall Weekend, Art "has been as much a necessity as the punch or the football."
More than 120 years after he first set foot on campus, Kenney was among the people showcased in the HWS Theatre production of From the Beyond: Geneva's Unheard Voices, a 2021 theatrical walking tour depicting the lives of un- and under-represented African Americans who lived in Geneva.
While Kenney's legacy at HWS is rooted in athletics, it isn't confined to the field and court, thanks to the generosity of the late Dr. Ivan and Ruth Kuhl. Ivan spearheaded the creation of the Art Kenney Fund, leading to the establishment of the Art Kenney Memorial Scholarship. The scholarship is awarded annually to a student who otherwise would not be able to attend college and has "exhibited a strong sense of community service and personal character."
The recipient is known as the Art Kenney Scholar.
"The Art Kenney Fund was special to Ivan and Ruth," says Angela Tallo '05, director of planned giving and the Wheeler Society. "Ivan led much of the initial fundraising effort encouraging his peers and the greater Geneva community to contribute in Kenney's memory."
Giving back to their alma mater was something the Kuhls relished. During their lifetime the Kuhls supported several initiatives and established The Ivan W.'43 and Ruth Amidon Kuhl '44 Endowed Scholarship Fund in 1997. The scholarship "is awarded to a high school honor student who has continued to demonstrate academic seriousness by making the Dean's List." If possible, preference is given to the child of a physician.
And that is fitting. Ivan, a University of Buffalo Medical School graduate, was a dermatologist who practiced in McAllen, Texas, for more than 40 years. He was a well-recognized expert on Hansen's Disease (leprosy).
In addition to their lifetime contributions, Ivan and Ruth provided for HWS through thoughtful gift planning. Ivan died in January of this year at 101; he was predeceased by Ruth in 2009. Their bequest will provide funding for the scholarships they created, making certain that future generations of the Colleges never forget Hobart's number one fan.