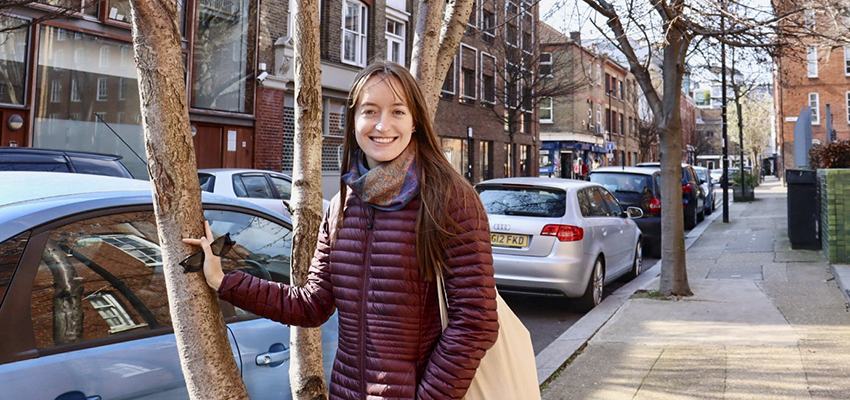 HWS News
21 June 2022 • Alums • Sustainability Studying Community Development at London School of Economics
Emma Falkenstein '21 calls on HWS research experience at the London School of Economics.
A year ago, Emma Falkenstein '21 capped off her undergraduate career at HWS with an Honors thesis exploring community development. Today, she is immersed in research once again, this time for her master's thesis at the prestigious London School of Economics and Political Science (LSE).
Falkenstein, who majored in international relations and anthropology, took Geneva, N.Y., as a case study for her Honors thesis, "Real or Realized? How Ideas of Community Development Manifest into Reality in Geneva," examining how different conceptions of community development are applied in the city.
Penning Honors work on top of being captain of the rowing team and serving as an International Relations Fellow "was a real test during my senior year," Falkenstein says, "but all that work is now paying off." She says her research not only "propelled me to consider pursuing a post-grad degree but made my master's dissertation seem a lot less daunting than it otherwise would be."
Last summer she collaborated with Associate Professor of Anthropology Chris Annear and Assistant Professor of Entrepreneurial Studies Craig Talmage on an article published in Community Development, Journal of the Community Development Society.
The process was "very rewarding and was my first glimpse into the inner workings of publishing in academia," says Falkenstein, who also teamed up with Annear on a manuscript currently under review, "Building in Stories: Narratives in Community Development," which evolved out of her Honors thesis.
"I am extremely grateful for the education I received at HWS and all of the support from my professors and coaches," she says, noting that "those experiences were essential in preparing me for LSE. I had some phenomenal professors at HWS who pushed me academically, and I appreciated it at the time, but now being in a new learning environment, I can see how special those experiences were and how much I value the relationship I built with my professors."
As a student, Falkenstein was a member of Hai Timiai Honor Society and received the Excellence in Anthropology Prize. She was a three-time Collegiate Rowing Coaches Association Scholar-Athlete, a three-time Liberty League All-Academic, and named to the National Invitational Rowing Championship All-Academic team.
Before heading off to London, Falkenstein started working as a community development program manager at BluePrint Geneva, a local NGO in Geneva, N.Y. specializing in environmental justice, sustainability and community resiliency. Falkenstein says that her work with BluePrint Geneva under the mentorship of Executive Director Jackie Augustine '99, "opened her eyes to the real-world connections between urban planning, city governance and community development." Falkenstein continues to work with BluePrint Geneva remotely while pursuing her studies in London.
Falkenstein, who lives in the heart of London's Theatre District, says these experiences and her graduate studies have solidified her goal of an urban planning career, focusing on sustainable communities.
"I want to find a job and community where I can make a difference," she says.