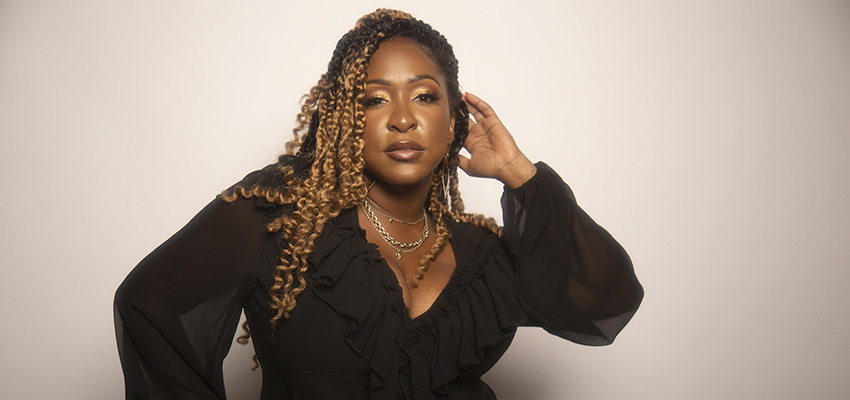 HWS News
10 August 2022 • Alums Moreau '13 Takes Center Stage at Essence Festival By Andrew Wickenden '09
Performing as Lynda Starr, singer-songwriter Youdlyn Moreau '13 dazzled judges at the 2022 Essence Festival of Culture in New Orleans this summer, winning the Center Stage showcase of emerging artists.
During the annual Essence Festival of Culture this summer, Youdlyn Moreau '13 (aka Lynda Starr) delivered a knockout performance, earning the top prize of the New and Next Artist competition.
Moreau says Essence Festival "is the mecca for Black women, Black excellence, culture, joy and conversation," which made her choice to perform her original song, "Save Us," a "no-brainer."
She says the song was a fitting way "to connect with and empower women" because "Save Us" tells "a story much bigger than myself.… It's a testimony for and about Black women." Though she wrote the song in 2014 and first released it in 2017, she says in the current moment it is "a timely way to amplify the voices of women who are otherwise voiceless when it comes to choosing what's best for our lives and bodies."
Watch her performance of "Save Us"
From her mental and vocal preparations to the performance itself, the experience "was surreal and monumental for me!" says Moreau. "I was overjoyed this time around to submit and perform an original song that I wrote instead of singing a cover, so that the audience can receive the true essence of who I am as an independent artist."
Winning the Center Stage contest "was an absolute dream come true," she says. And while she "definitely felt like Steph Curry winning the championship in that moment," it's also "just the beginning."
As this year's winner, she will be back at the 2023 Essence Festival, performing at the Superlounge at the Caesars Superdome in New Orleans.
Hailing from East Flatbush, Brooklyn, Moreau is an R&B musician who creates and performs emotionally driven music to connect with audiences. She is determined to empower, educate, heal and inspire her community and the world through music. As a classically trained vocalist and songwriter, she is knowledgeable in harmonization, vocal arrangements, music theory/composition and storytelling through her songs. She was one of the three winners of the 2018 Voices of Brooklyn singing competition and one of the three winners of the legendary Apollo Theater's Amateur Night in May 2022.
At HWS, Moreau double-majored in music and Media & Society, and was inducted to Hai Timiai. She was a member of Koshare, Hip-Notiqs Step Team and the Female Empowerment Movement. After graduation, she attended the Women in Entertainment Empowerment Network Academy, a four-week crash course in the entertainment industry that develops participants' skills in personal branding, self-esteem, entrepreneurship and philanthropy.
Learn more at https://linktr.ee/lyndastarrmusic