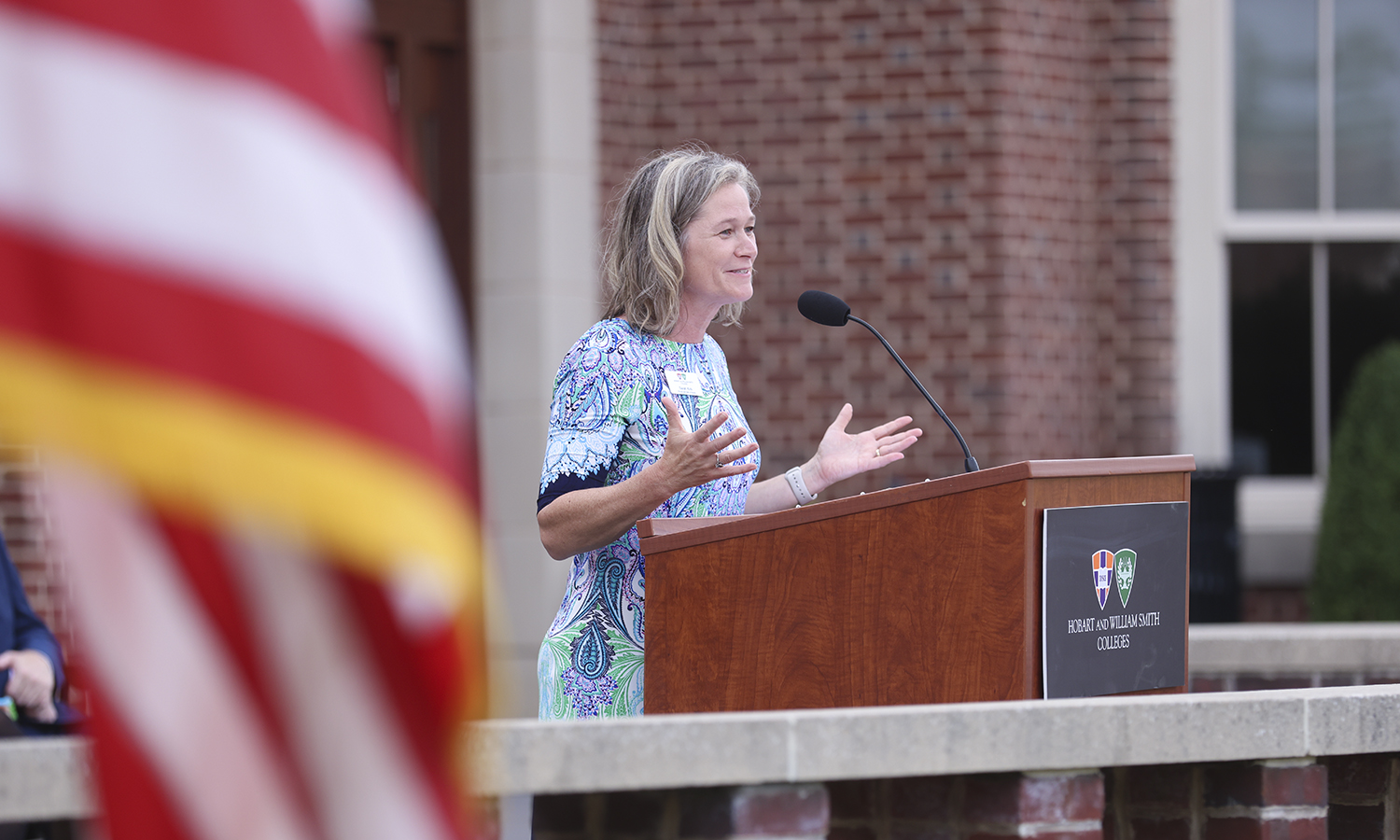 HWS News
22 September 2022 • Faculty Critical Lenses, Clear Pathways
Provost and Dean of Faculty Sarah Kirk previews the Colleges' academic outlook for this year and beyond, new programs, priorities and the unrivaled interdisciplinary, residential education that students find at HWS.
Can you give an overview of the academic priorities for the 2022-23 year?
As we emerge from the pandemic, we're doubling down on the fact that we are a residential institution. Geneva is a wonderful place for our students to learn with a geographic environment that provides endless opportunities for scientific research and a history that offers a critical lens to issues of gender and race. I'm really excited about place-based learning around STEM education as well as the applied learning that happens as students engage with community partners. We want students to have a coherent, holistic experience both inside and outside the classroom so they can identify clear pathways to explore their passions and achieve their goals — and to do so with a critical and discerning lens.
There have been a number of academic developments over the past year. Where do those stand?
We're continuing the momentum that began last year with the creation of new minor programs — aquatic sciences, critical museum studies, data analytics, and music administration and entrepreneurship. We're looking for ways to build on our strengths in entrepreneurship and management. We have some exciting lecture series coming up with the Stern Family Forum, made possible by Honorary Trustee Herbert J. Stern '58, P'03, LL.D. '74 and Trustee Samuel A. Stern '03, and the Anderton Lectures, made possible by former Trustee James F. Anderton IV '65.
Faculty are also collaborating across departments on thematic topics like global studies, which includes new courses that are integrated to help students make connections between international relations, regional area studies programs (like German, for example), the languages and anthropology.
Other curriculum innovations led by faculty include the development of a series of bi-disciplinary classes that introduce students to long-standing questions and debates that exist in and across disciplines. The goal is to build student capacity to read demanding texts and have difficult conversations in a scholarly context that will allow them to take that ethos of civic deliberation into other classes and their lives after graduation.
That kind of forward-leaning collaboration and thoughtful innovation is a real hallmark of Hobart and William Smith, and my office will be doing everything we can to support it.
In Hobart's Bicentennial year, how is your office contemplating the planning for the Colleges' future?
Faculty and staff spent the summer on various new curricular initiatives that use interdisciplinary lenses to help students think critically and solve interesting problems, whether we're talking about geopolitical issues or public health. The plan this year is to continue that work as we also consider advances in the first-year experience for students. We'll also be delving into assessment of our programs, which I believe to be critical.
As we celebrate 200 years, we're reflecting on the past and the curriculum today and asking what's the best of who we are, how can we build on the strength of that past but feel free to change and innovate, which is what makes me so happy to be part of this community. The people at HWS are innovative and passionate about the student experience, and that makes me excited about the future.
How do you see the future of the sciences at HWS?
As a chemist still involved in research, this is an extraordinary time to be a part of Hobart and William Smith, particularly as we consider how we will support the sciences in the future. HWS is a national leader in providing transformative research experiences directly to undergraduate students. Our science faculty continue to develop new curricular pathways, important research experiences and creative ideas to prepare our students for significant scientific careers amid today's societal challenges. We are well poised to expand research opportunities by investing in facilities and equipment, and increasing the endowment to support the many qualified students who want to participate. The future is exciting for the sciences at HWS.
As chief academic officer and dean of the faculty, Provost and Dean of Faculty Sarah Kirk is responsible for the planning, development and delivery of the Colleges' educational programs and services. Kirk works with the faculty on curricular management and operations, supports faculty initiatives and development, and supervises academic support offices and centers of the Colleges. She started at the Colleges in June 2021.