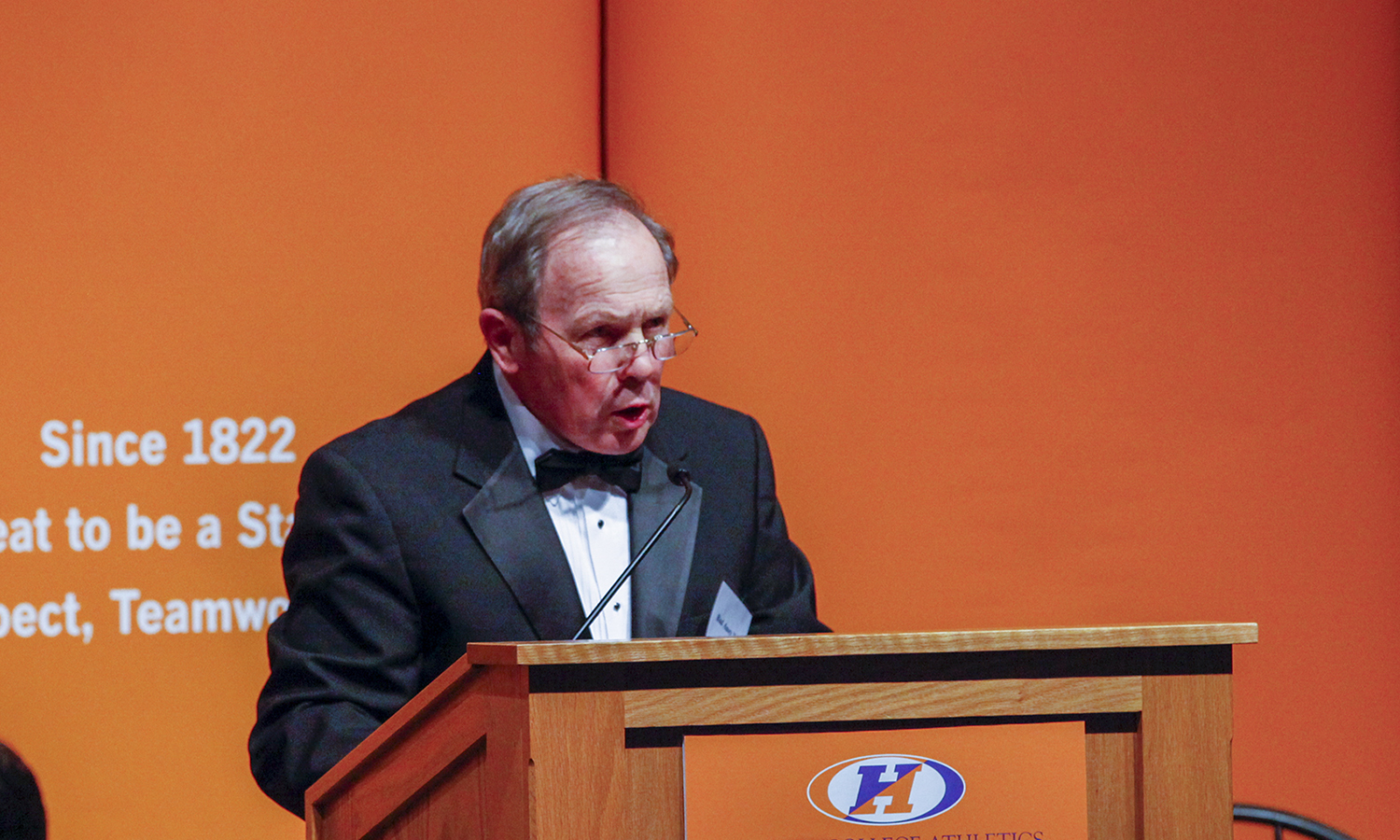 HWS News
30 August 2022 • Alums • Athletics Ames '64 Establishes Endowed Fund
Former Statesman football player Donald S. "Bud" Ames '64 creates the Ames Endowed Fund for the Statesmen Athletic Association.
Over the years, Donald S. "Bud" Ames '64 has remained a loyal and steadfast supporter of Hobart athletics, serving as president of the Statesmen Athletic Association (SAA) and as a volunteer for Campaign for the Colleges and his Reunion committee. Today, Ames continues his legacy by establishing a $500,000 endowed fund for the SAA that will provide support for the priorities of Hobart Athletics.
"Bud's generous gift to the SAA will go a long way to helping us continue to provide an unbelievable athletic experience for all our Hobart student-athletes long into the future," says Brian Miller, associate vice president and director of athletics and recreation. "He is a true Statesman, and his generosity and support throughout the years have had incredible impact on our department. We cannot thank him enough for all he has done for Hobart Athletics."
The SAA, which boasts more than 1,900 members, has strengthened the athletics program and reinforced the educational experience of thousands of student-athletes since its founding in the 1970s. Nicknamed "the team behind Hobart's teams," nearly 75% of the SAA's funding is earmarked for equipment, uniforms, recruiting, and computers/technology. The remainder helps underwrite team awards, the Block H Dinner and membership services.
As a student, Ames majored in economics, was a member of Kappa Sigma fraternity and played football for four years and lacrosse in his first year. After graduation, he served in the U.S. Air National Guard for three years. From 1971 until his retirement in 2013, he served as president/owner of the Ames Linen Service, a division of The Cortland Laundry, Inc. in Cortland, N.Y.
Since graduation, Ames' philanthropic resume with HWS has been impressive. He endowed the Robert L. Cullen '37 Memorial Football Award, presented annually to the member of the football team "whose performance on special teams has been inspirational and outstanding." Cullen was a standout quarterback and defensive back on the 1934-36 squads.
The HWS Athletics Renovation Fund, The Campaign for the Colleges, the Press Box dedicated to former Athletic Director Mike Hanna'68, P'99 and Reunion are among the other initiatives and events to benefit from Ames' philanthropy and expertise.
In 2016, Ames and his wife, Diane Ames, received the Dorinne Maxwell Citizenship Award, presented annually to a member of the greater HWS community whose service mirrors the ideals of Maxwell, the late Geneva resident, community activist, and Hobart football supporter.
Ames is also known for his longstanding commitment to the Cortland, N.Y., area and to SUNY Cortland. He has been active in his community volunteering for The United Way of Cortland County, Cortland Memorial Hospital, Rotary Club, Elks Club and Cortland County Economic Development Committee.
The photo above features Bud Ames '64 speaking at the Hall of Fame dinner in 2012.