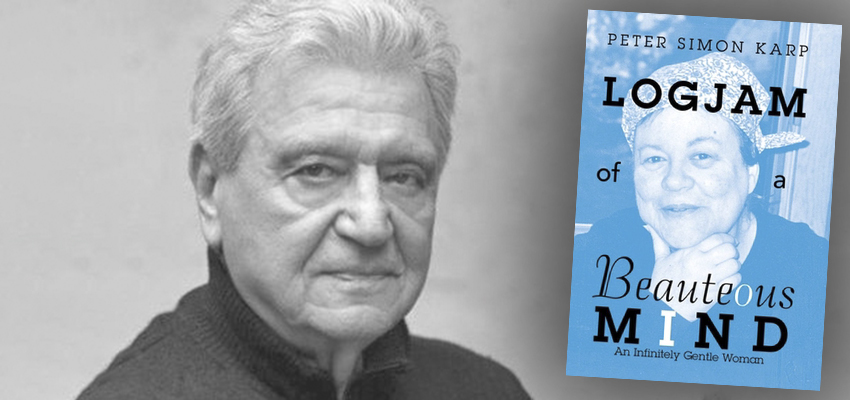 HWS News
25 October 2021 • Alums Suddenly Sick
In his new memoir, Peter Karp '54 offers "an absorbing and moving account" of his wife's unexpected battle with lung cancer.
Mona Karp was a 57-year-old wife and mother of two when she was suddenly stricken with lung cancer. Her husband, Peter Karp '54, has written a memoir dedicated to Mona's memory and her struggle to overcome the dire effects of the disease.
In Logjam of a Beauteous Mind: An Infinitely Gentle Woman, Karp recounts in novel-like fashion the days leading up to Mona's diagnosis, its aftermath, and moments of hope, along with poignant descriptions of the couple's early romance while college students and their family life.
"I had to get Mona's story out before I died," says Karp, 88, noting that his wife had never smoked and had always been a robust, healthy woman until she was diagnosed with stage four lung cancer in 1993. At that time, Karp left his position as president of BSI Global Research Inc., a high-tech product developer, to become Mona's full-time caregiver and "to help her find the doctors, clinical treatment, and threads of hope to empower and transform herself into a feisty cancer warrior and believer in her own survival."
During chemotherapy treatments, Mona suffered distressing cognitive effects—including a fogginess she called "logjam chemo brain"—and became prone to psychotic episodes. These side effects were especially devastating for a bright woman who had been a middle school English teacher, world traveler and patron of the arts.
Despite a lung specialist's prognosis that Mona had no more than six months to live, she survived for nearly three more years, in time to see her first grandson. She died shortly after her 60th birthday.
Karp's memoir is "an absorbing and moving account of a couple's fight against a terrible disease," according to Kirkus Reviews. "[The] book is both melancholic and engaging. His love and devotion to his wife are without question. He fondly details joyful moments, from the couple's meet-cute decades earlier to bouts of happiness they reveled in post-diagnosis. The author's generally unadorned prose in this touching memoir boasts instances of lyricism."
"It took me over 10 years to face up to Mona's story, and another 10 years to write a full version," Karp says. "Readers can learn much from my caregiver experience."
Reflecting on the final years of their life together, Karp says, "Being Mona's caregiver were the finest moments of my life. We are all potential caregivers to a spouse, partner, child or loved one suddenly stricken with a terminal illness."
After graduating from HWS, Karp earned an MFA in playwriting at Columbia University. He founded and served as president of BSI Global Research and its Concept Testing Institute division, which helped conceptualize, develop and research some major high-tech products. The company's clients included IBM, AT&T, Federal Express, General Electric, and other Fortune 500 companies.
Karp is also coauthor, with Mack Hanan, of Competing on Value and Customer Satisfaction, business marketing books published by AMACOM, the book publishing division of the American Management Association.
Learn more about Logjam of a Beauteous Mind at AuthorHouse.com.