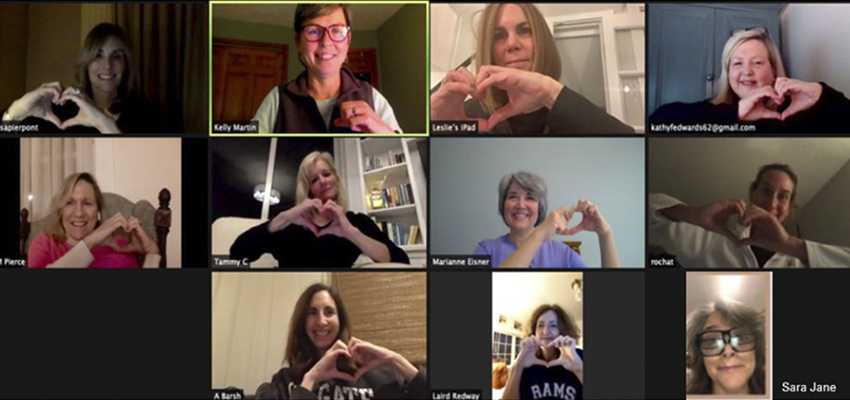 HWS News
21 October 2021 • Alums Strong Parents, Strong Daughters Fund
Best friends from the William Smith Class of 1984 have established the Strong Parents, Strong Daughters Fund in honor of the late Judith Murtha P'84.
After 40 years of friendship, 12 alumnae from the William Smith Class of '84 still get together for breakfast. In 1981, they gathered at their usual table in Comstock Hall, formerly a dining area for William Smith students. Over shared food and laughter, they told stories about their families, classes and nights out at The Oaks.
These days, their breakfast get-togethers happen on Zoom, which has allowed the women to stay connected during the pandemic. They tune in from their homes in Connecticut, Maine, Massachusetts, Florida, Pennsylvania, Virginia and Washington. Usually, one or two friends will take the lead on sharing a recipe and cooking instructions. (And occasionally, children, spouses and pets make guest appearances – including a pet pig named Kevin Bacon).
More than avocado toast and mimosas, making breakfast over Zoom is just another example of how their friend group has shown up to support one another during difficult times. When getting creative in the kitchen during the pandemic became a necessity, cooking with friends helped them stay inspired to try new recipes and ingredients.
Recently, Donna Murtha '84 lost her mother Judith. In her honor, Lisa Abeshaus '84, P'19, Sarah Brukilaccio Breaux '84, Tammy Yunker Cappello '84, Kathy Fenocchi Edwards '84, Leslie Lonergan '84, Kelly A. Martin '84, P'14, Marianne Mendelsohn Eisner '84, Donna M. Murtha '84, Marge Franz Pierce '84, Lisa Kenney Pierpont '84, Laird Redway '84 and Marie Claire Rochat '84 established the Strong Parents, Strong Daughter Fund.
William Smith Class of 1984
---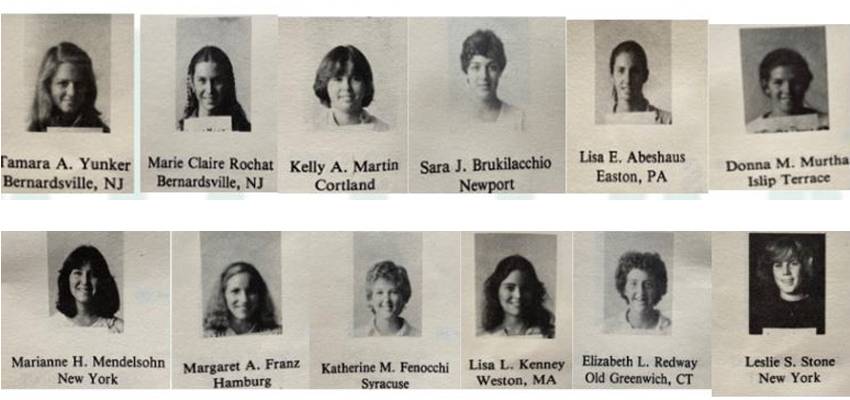 Their generous donation will support scholarship opportunities for future William Smith students. The gift is a celebration of their education, which empowered them to enter the world as confident leaders, professionals, educators, caregivers and mothers. It is also a tribute to all of their parents, who supported their journeys at William Smith and beyond.
"A couple of us have lost a parent now," Kenney Piermont reflects. "I think when Donna's mother passed so suddenly it really hit us that this is the time of life we are in. We wanted to go through it together and create a lasting memoriam that would celebrate both our parents and our friendship: our William Smith sisterhood."
"I truly believe this is the time of the girl. We owe it to our own mothers and their legacies to keep fighting for women to have opportunities," Murtha adds.
During a recent Zoom session, the friends shared their tribute with Murtha. Along with a presentation of Strong Parents, Strong Daughters, they created a slideshow that included old photographs, popular songs from their college days, and messages of support and love.
"It was just a really powerful tribute to the circle of life. Many of us are becoming grandparents now. We are all so proud of our parents and our upbringing, and when we were students, we would talk to each other about that," Murtha says. "We brought these stories to the table because they were part of us and part of who we are. I was blown away by the sentiment. To go through the mourning process during the pandemic was so isolating. And this amazing group of women wanted to bring me out of that dark place. These women are smart, loving and caring. They are great daughters, great mothers, sisters and friends. I'm so blessed to have them in my life."
Their friendship blossomed on the third floor of Hirshson 3, where Yunker Cappello remembers, "The first night, that was it for us. It was unconditional love from that point on." Forty years later, Martin credits the Colleges' roommate selection process – and fate – for bringing them all together.
"We used to never close our doors. There were no TVs, no computers. There were no distractions. We would just sit on the floor in each other's rooms and talk for hours," Mendelsohn Eisner says. "We came from different places; we were interested in different fields. But we had the same core values: honesty, openness, and we were all down to Earth."
"So much of who I am now, who I am now as an adult, comes from our time on campus. We grew up together," Fenocchi Edwards says.
After graduation, careers and families drew the women to all corners of the country. When the women would reunite, however, Kenney Pierpont says that the same ease in their friendship persisted. "I have never felt so at home," she says, remembering their first Reunion. "That comfort of friendship. We didn't wear makeup, we wore pajamas. It was full trust and full comfort."
As for the legacy of the Strong Parents, Strong Daughters Fund, the group of friends plan to continue donating to the effort for years to come – as a commitment to one another and to future generations of William Smith students.