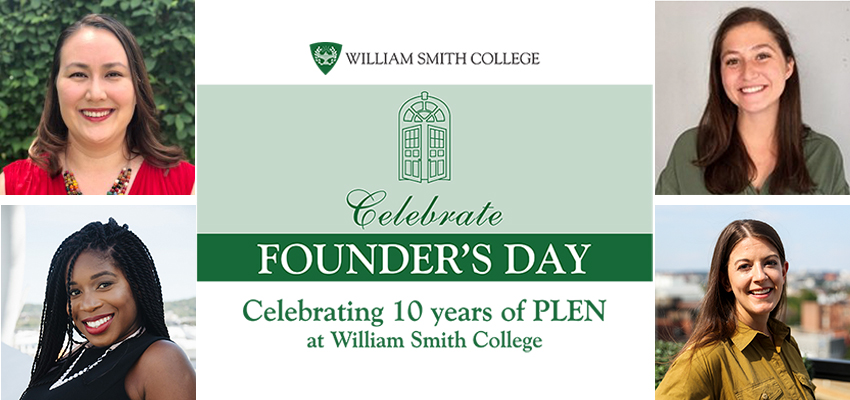 HWS News
26 October 2021 • Alums Founder's Day Celebrates Leadership and Progress
This Founder's Day celebrate the William Smith legacy of preparing women to make a difference.
Join the William Smith Dean's Office, William Smith Congress and the William Smith Alumnae Association to commemorate Founder's Day, one of the oldest campus traditions. This year, HWS also celebrates the 10th anniversary of the HWS chapter of the Public Leadership Education Network (PLEN).
On Thursday, Nov. 4, HWS will welcome alumnae panelists Jalisa Whitley '11, senior program manager at the National Collaborative for Health Equity; Kelly Biggs '11, deputy director of development at Zinc Collective; and Sophie Alphas '17, manager of corporate partnerships at Share Our Strength, No Kid Hungry. They will share their insights as leaders in community development, civic engagement and social advocacy. The panelists will be joined by the Executive Director of PLEN Dr. Nancy Stalowski.
Each year, Founder's Day recognizes the establishment of William Smith and the achievements of its students and graduates. The program starts at 6 p.m. in the Vandervort Room.
Join in-person or by livestream here. RSVP to Founder's Day by emailing the William Smith Dean's office at wsdeansmail@hws.edu. Limited seating is available to the first 60 students to RSVP.
Inspired by the suffrage movement in nearby Seneca Falls, Geneva nurseryman and philanthropist William Smith made the gift to establish a women's college on Dec. 13, 1906. Two years later, William Smith College enrolled its first class of 18 students. The College was founded adjacent to Hobart and entered into a coordinate arrangement that is now unique in American higher education.
PLEN is a national organization that encourages and prepares young women to become political leaders by hosting academic seminars in Washington, D.C. The organization aims to increase the number of women in top leadership positions by exposing college women to role models and skills training needed before entering the workforce in public policy careers. William Smith Dean Lisa Kaenzig P'22 is a past Chair of the PLEN Board of Directors.