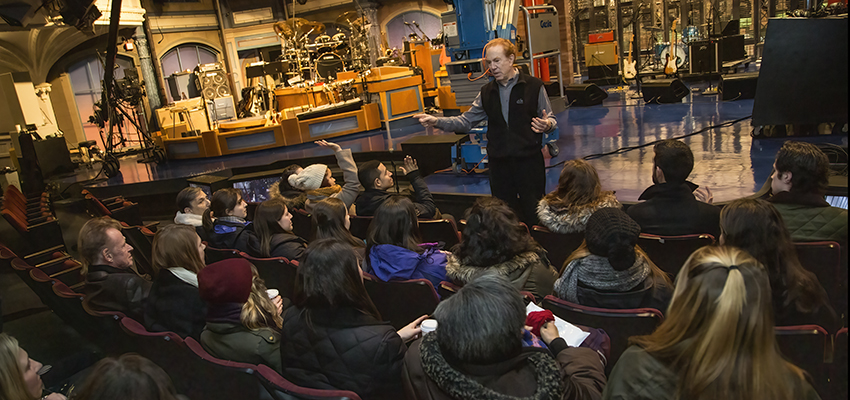 HWS News
8 October 2021 • Alums Remembering Alan Kalter '64, the Voice of Letterman's Late Show
Alan Kalter '64, the longtime announcer for the "Late Show with David Letterman" and beloved Class Correspondent since 1972, died on Monday.
Alan Kalter '64 was a talented voiceover artist and comedian, and loyal member of the Hobart and William Smith community. Since his passing on Monday, Oct. 4, remembrances have been shared widely across news publications and social media across the globe.
The New York Times obituary, which linked to the HWS website, reflected on Kalter's comedic rise on late night television, as well as the heartfelt moments he shared with audiences over the length of his career. Varietyincluded reflections from his coworkers, including David Letterman, who said Kalter was the "best announcer in television."
Kalter stayed connected to the Colleges through his role as Class Correspondent of nearly 50 years and as a host for the the Salisbury Center for Career, Professional and Experiential Education's program "Behind the Scenes," where he encouraged students to pursue their aspirations in the entertainment industry.
In 2011, Kalter invited the Colleges to go behind the scenes of the "Late Show." In a video interview with John Heavey '09, Kalter said, "I'm doing everything I've wanted to do since I was 10 years old. And I'm getting away with it. I love what I do."
In 2015, the Colleges profiled Kalter in the Pulteney Street Survey, the same year the "Late Show with David Letterman"ended its run. Kalter worked on the show for nearly two decades.
Beyond "Late Show," Kalter was the announcer for New York-based television shows including "To Tell the Truth," "The $25,000 Pyramid," "The Money Maze," and "The $100,000 Question." He was the voice of USA Network, and appeared on NBC's "Ed." After graduating from Hobart College, Kalter earned his law degree from NYU. He taught English and public speaking before beginning his broadcasting career at WHN.