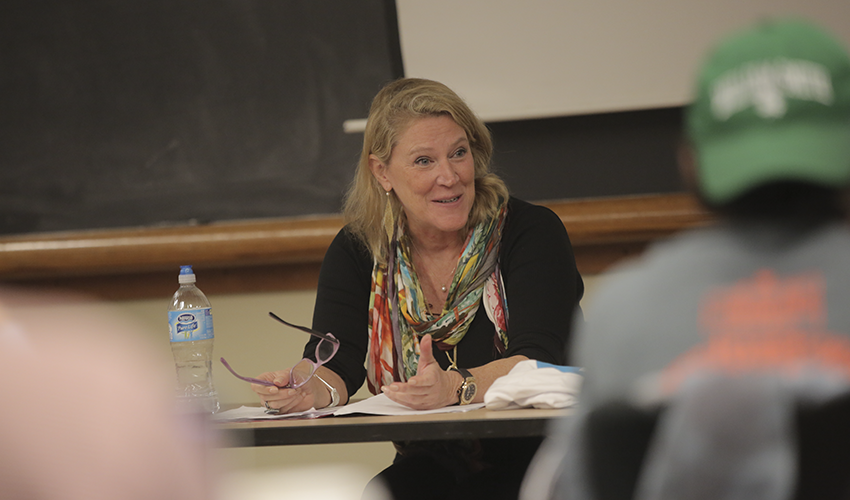 HWS News
12 October 2021 • Alums • Entrepreneurship Make It, Don't Fake It
Ever wonder what it takes to lead a successful business? Sabrina Horn '83 offers valuable answers in her new book Make it, Don't Fake it. Horn will return to campus this fall to share her leadership strategies.
Best-selling author Sabrina Horn '83 will be on campus on Wednesday, Nov. 10 to discuss Make it, Don't Fake It. Attendance for the event is remote via a webinar Zoom presentation. Horn will also visit classes to discuss her career journey and the central themes of her new book, as well as be presented with the Alumna Achievement Award by William Smith College Alumnae Association President Kirra Henick-Kling Guard '08, MAT'09. The Association's highest honor is awarded to an alumna who, by reason of outstanding accomplishments in her business, profession or community service, has brought honor and distinction to her alma mater.
In a recent interview and review with Forbes, Horn acknowledges the courage it takes to be an authentic leader. "All leaders can benefit from advice to gain the confidence and resilience to move forward with integrity and defeat the temptation to fake it in those moments where confidence and information may be lacking." In Make it, Don't Fake It, Horn says she promotes a straightforward approach to fostering a business environment that recognizes the strength in learning from mistakes while upholding strong core values.
A review in Small Business Trends encapsulates the value of Horn's new work: "This book is about ethics, passion, confidence, pride, resilience commitment and survival. It's about doing things the right way. It's about becoming a leader, building a company culture and a brand based on strong core values, managing both growth and decline dealing with loneliness and with losing. Facing a plethora of crises, and profitably selling your business — It's about doing all this while staying grounded in reality, integrity and grace."
A strong advocate for women in entrepreneurship, Horn has been recognized by New York Business Journal as a Women of Influence, and by Paramount Public Relations as a Top Woman in PR. Currently, Horn is CEO of HORN Strategy, LLC, a consultant firm that specializes in helping entrepreneurs and CEOs navigate the early stages of their businesses. She serves as an advisor and board member for a number of organizations and is a frequent speaker at industry forums and leadership conferences. Horn graduated from HWS with a B.A. in American Studies.
Horn's book Make it, Don't Fake it is available on Amazon.