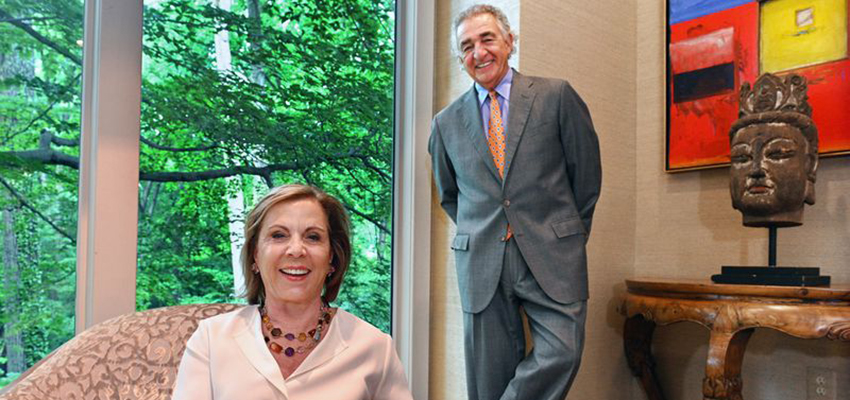 HWS News
12 October 2021 • Alums Bozzuto '68 Inducted to Baltimore Sun Hall of Fame
This fall, The Baltimore Sun inducted former HWS Board Chair and Honorary Trustee Thomas S. Bozzuto '68, L.H.D.'18 and Barbara Bozzuto into the Business and Civic Hall of Fame.
Honorary Trustee Thomas S. Bozzuto '68, L.H.D.'18 and Barbara Bozzuto joined 11 other notable leaders honored this year by The Baltimore Sun. Named to the Sun's Business and Civic Hall of Fame, the Bozzutos were recognized for their leadership and countless contributions to the Baltimore community, as well as their lasting impact on the State of Maryland.
Read a profile of the Bozzutos in The Baltimore Sun.
Chairman and co-founder of the Bozzuto Group, Tom Bozzuto has overseen and been responsible for the creation of thousands of homes and apartments during his nearly 50-year career in real estate. Through the Bozzuto Group, which he cofounded in 1988, he has directed the development, construction and management of income-producing and for-sale housing in metropolitan areas along the East Coast. The Bozzuto Group is comprised of four companies that span the spectrum of real estate value creation, but work together as one integrated group, sharing knowledge of the market, products and customers. The Bozzuto Group helped revolutionize the multifamily industry by focusing on the customer's needs, establishing a customer-focused approach and creating sanctuary for residents.
The recipient of the Freddie Mac Builder of the Year award, Bozzuto has also served as a Congressional appointee to the Millennial Housing Commission, a gubernatorial appointee to the Maryland Housing Commission and has chaired the board of the National Multifamily Housing Council. In 2018, in honor of his achievements in the real estate industry, his visionary leadership and his civic responsibility, he was inducted into the Multifamily Executive Magazine's Hall of Fame.
Bozzuto served on the HWS Board of Trustees from 2000 to 2018 and was elected chair in 2016. He was the lead donor in the construction of the Colleges' boathouse named for his father and, with his wife Barbara, established the Thomas S. Bozzuto '68 Endowed Scholarship Fund, the Bozzuto Family First-Generation Endowed Scholarship and the Bozzuto Center for Entrepreneurship.
As a Hobart student, Bozzuto majored in English and was president of the student body. He later served as a combat correspondent for the 25th Infantry Division of the U.S. Army in Vietnam and went on to earn his master's degree in metropolitan studies from the Maxwell School at Syracuse University.
The photo above is used with Permission from Baltimore Sun Media. All Rights Reserved.