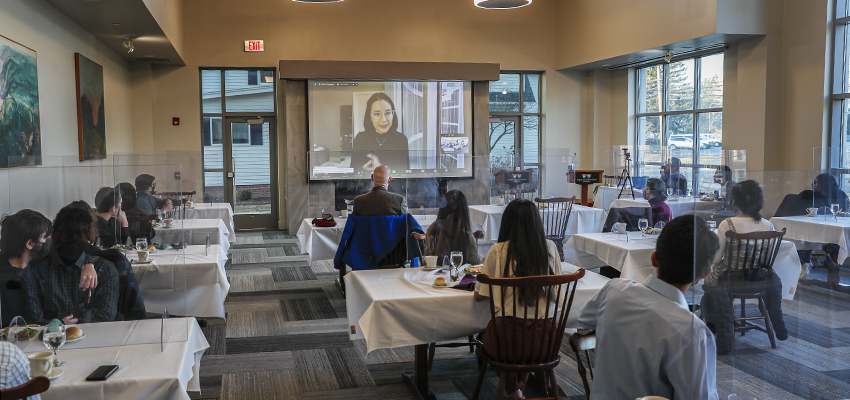 HWS News
9 April 2021

Inaugural STEM Scholars Inducted

HWS welcomed the first cohort of STEM Scholars this month, celebrating the launch of the new program supporting racially and ethnically underrepresented scholars in science, technology, engineering and mathematics.

In March, 15 HWS students were inducted to the new STEM Scholars program, which is designed "to elevate and recognize the importance and value of historically underrepresented scholars in STEM fields," says Vice President for Diversity, Equity and Inclusion Khuram Hussain.

Announced in 2020 as a joint initiative between the Office of Diversity, Equity and Inclusion, and the Office of Academic and Faculty Affairs, the STEM Scholars Program offers opportunities for academic support and financial aid to ensure all students have the resources to succeed in their chosen fields. STEM Scholars will serve as peer mentors and participate in monthly meetings on research and internship opportunities.

For STEM Scholar Jonathan Garcia '23, the induction ceremony highlighted "the importance of sharing each other's stories and upbringings…. The speakers opened a space for dialogue and…a sense of belonging and excitement for future guest speakers."

"We want to support cultivation of a sense of community and belonging for the scholars so they have a network — with faculty, with alums and with the wider HWS community — that recognizes their contributions," Hussain says.

Professor of Geoscience Nan Crystal Arens, who nominated two STEM Scholars, explains: "Research tells us that students entering STEM need two things: one-on-one interaction with faculty and a supportive peer group. These are even more important for students from under-represented identities, who may not see themselves in the lab. When I was coming up, there were no women faculty in our department and I was one of only two women (out of 110 graduates) to get a degree. She and I banded together and pushed through. I hope the HWS STEM Scholars and those who follow them will find that kind of support in this program."

Dr. Esther Vivas '01 joined the induction ceremony virtually. She is an Associate Professor and an Attending Surgeon at Emory University Hospital in the Department of Otolaryngology-Head and Neck surgery. She shared her inspirational journey from HWS to Copenhagen, to the NIH, and then to Medical school at the Albert Einstein College of Medicine in the Bronx, and now to Emory. She also highlighted how her research experience with Professor of Chemistry Walter Bowyer developed her confidence as a scientist.

As part of the STEM Scholars Program going forward, the Office of Admissions will award targeted financial aid packages annually to 15 incoming students demonstrating aptitude in STEM fields; these 15 students will also participate in a weeklong summer welcome program.

Finally, the program will support a public event each semester with a national speaker discussing issues of diversity, equity and inclusion in STEM fields.

"HWS has a long and successful tradition of peer mentoring," Arens adds. "This is another example of peer support that works toward making sure all of our students — especially students from under-represented groups — find a place to thrive."

To be eligible as an HWS STEM Scholar, students must be at least a second semester first-year; self-identify as a student with a racial or ethnic background that is underrepresented in the U.S. STEM community; and have a demonstrated interest in pursuing a major or minor in one of the following fields:
Biochemistry
Biology
Chemistry
Computer Science
Geoscience
Mathematics
Physics
The program builds on the HWS Strategic Diversity Plan and an earlier iteration of the STEM Scholars program initiated by Solomé Rose, as well as the work of the newly formed BIPOC in STEM club and the HWS faculty working group for STEM Diversity.
In the photograph above, Dr. Esther Vivas William Smith Class of '01 joins the induction ceremony from her Office at Emory University.