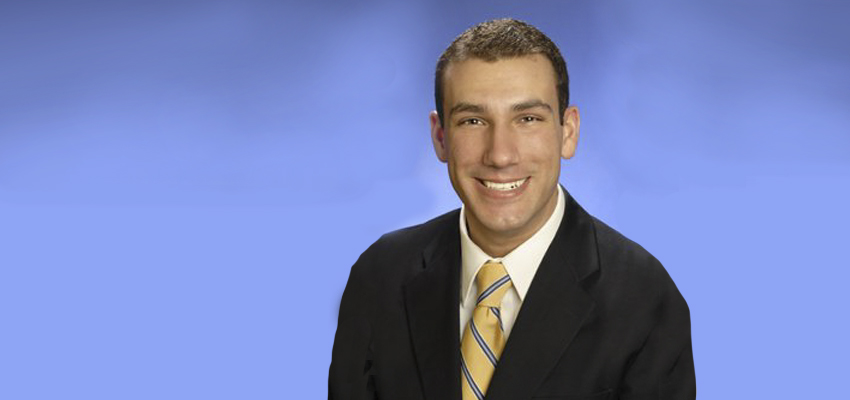 HWS News
10 January 2019 • Alums Gregory '07 Named Partner at Rochester Law Firm
Peter J. Gregory '07 was promoted to the role of partner for the Rochester-based law firm McConville, Considine, Cooman & Morin, P.C. this year.
With the firm since 2010, Gregory's work will continue to focus on a broad spectrum of civil litigation matters. He represents individuals, businesses and other organizations in litigation before state and federal courts, from pre-suit investigation and arbitration through discovery and trial. His personal injury experience includes advising clients who have been injured or lost loved ones in accidents. He handles collections and complex commercial litigation and collaborates with colleagues on advising start-ups. Gregory also advises on real estate matters, including purchase and sale transactions, financing, leasing and related disputes.
The political science major says he has always felt the pull toward a career in law. Following his graduation from Hobart, he attended Albany Law School, where he spent time as a law clerk for two Albany area law firms, Rosenblum, Ronan, Kessler & Sarachan, LLP and Ehrlich & Arcodia, PC.
After earning his J.D., the Rochester native returned to Western New York to practice law. "I am passionate about our region, including the Finger Lakes," he says.
In his community, Gregory is active in a number of non-profit organizations. He served as a member of the board of trustees and as president of the Alumni Association at Allendale Columbia School—from which he graduated in 2003. He also works with the school on its Summer LEAP program, a partnership with School 17 in the Rochester City School District that provides learning opp­ortunities for low-income children.
At Hobart and William Smith, Gregory conducted an Honors Project under the direction of Professor of Political Science Iva Deutchman. He says he also thrived on the experiences offered by the HWS Debate Team. "I enjoyed the thrill of competition and the challenge of crafting persuasive arguments quickly and in the moment," he says.
On campus, Gregory was also a Druid and a member of Delta Chi, Hobart Student Government and the College Republicans. He worked as an Orientation Mentor, in the Admissions Office and for Reunion.
"My political science education at Hobart taught me to look at issues from all sides. It helped develop the rigorous analytical skills required for the practice of law," he says.