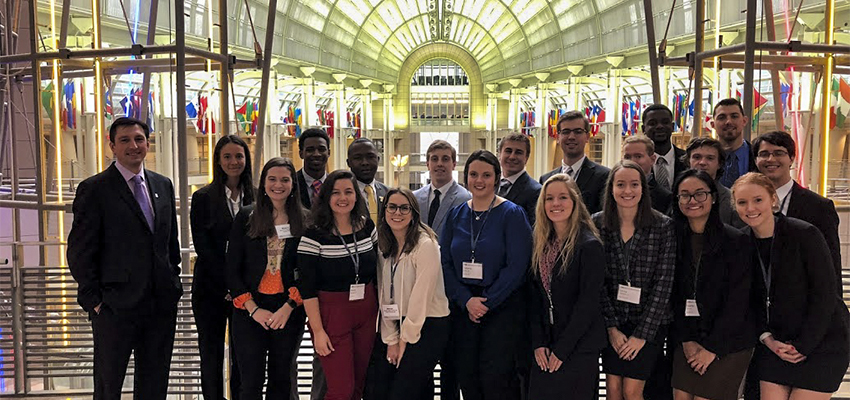 Day on the Hill 2019
18 January 2019

Day on the Hill 2019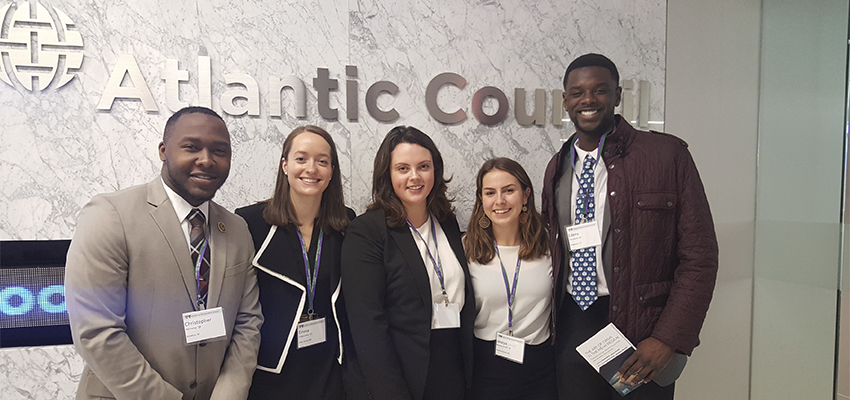 Throughout the nation's capital, 20 HWS students met with the alums, parents and friends of the Colleges who work as dedicated lawmakers, activists, economists and politicians. Led this year by Associate Professor of Political Science Stacey Philbrick Yadav and Associate Professor of Sociology Renee Monson in conjunction with the Salisbury Center for Career, Professional and Experiential Education, the Day on the Hill program gives students insight into the world of politics and policy from the perspective of both career professionals and recent graduates.
This year, the program has expanded to include site visits related to foreign policy, international trade and advocacy, in addition to the robust programming in Congressional politics. Students were also accompanied by Assistant Director of Career Services Briana Costello '15 and Assistant Director of Career Services Shayne Feinberg.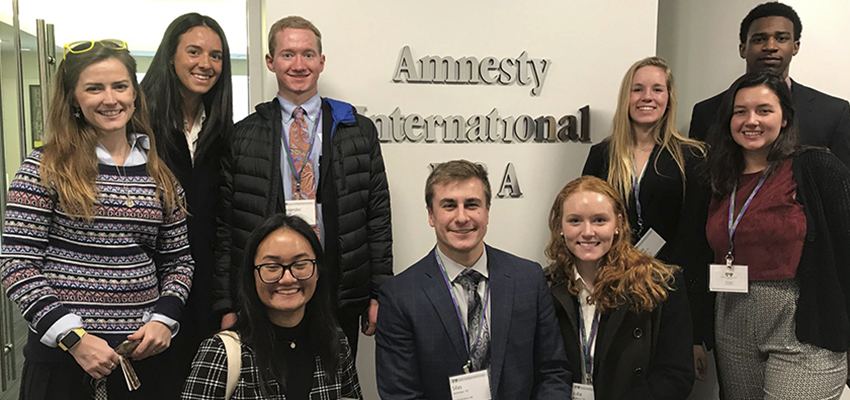 "This was my first year participating in the program personally, and it was exciting to see how well our curriculum and our campus experience prepare students to succeed in D.C.," says Philbrick Yadav. "I felt enormously proud of our students, alumni, faculty, and staff alike. It is clear when you see those connections being made – intellectual connections between classroom and workplace or interpersonal connections between members of our campus community past and present – that what we are doing at HWS is meaningful, and that we are preparing our students for an exciting future."
"Our alum panelists and site hosts all emphasized the importance of excellent writing and data analysis skills, study abroad experiences, interdisciplinary thinking, and close collaboration with faculty mentors on original research. These are all hallmarks of an HWS education."

- Professor Renee Monson
Over three days, students visited a range of governmental offices, NGOs and other Washington, D.C. institutions. Through site visits and panel conversations ranging from "Leveraging an HWS Education in Washington, D.C." to "Trade and Economists," students learned about day-to-day life in the capital, as well as discovered what work opportunities and academic decisions led alums to their careers.
Students also engaged with alums, parents and other Day on the Hill participants during an HWS New Year's Reception with Interim President Patrick A. McGuire L.H.D. '12 and Sandra A. McGuire at the University Club, hosted by executive director of the Washington Psychiatric Society Joanne Lyons Dunne '73.
Congressman Rodney P. Frelinghuysen '69, L.H.D.'01 created the Day on the Hill Endowment in 2008 that continues to help fund the learning experience.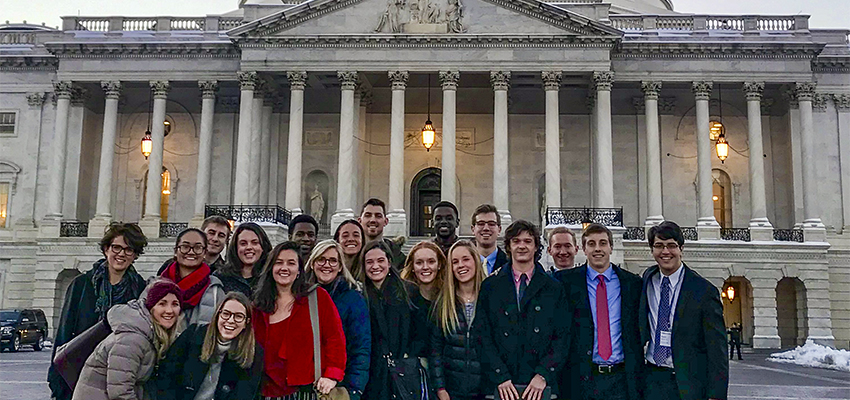 Alum participants included:
Public Affairs
HWS Trustee Edward Cooper '86, P'16, Vice President of Public Affairs and Community Relations, Total Wine & More
Jeffrey Werner '91, Vice President of Corporate and Government Affairs, Panasonic USA
Denzel Singletary '13, Manager, Global Government Relations, eBay
Henry Rubin '13, Vice President, The Hawthorn Group, L.C.
Working on the Hill
Jeremy Horan '07, Legislative Director, U.S. Senator Mazie K. Hirono
John Emmet Hassett '18, Intern, Greenberg Quinlan Rosner
Jennifer Cytryn '16, Executive Assistant to the Senior Advisor for Policy, The White House
Hannah Cooper '16, Staff Assistant, Office of Congressman Anthony Brown
Trade & Economists
Shane Haley '13, Economist, Bureau of Labor Statistics
Kelsey Carroll '14, Associate, Universal Access Project, United Nations Foundation
Site Visits include:
Atlantic Council
Tuqa Nusairat, Deputy Director, Rafik Hariri Center for Middle East
Amnesty International
Allison McCracken Jarrar '10, North American Campaigner
Mathematica Policy Research
Philip Gleason, Senior Fellow
Alex Bryce '09, Senior Programmer Analyst
United Nations Foundation
Kelsey Carroll '14, Associate, Universal Access Project
Ronald Regan Building and International Trade Center
Andrew Gelfuso '97, Vice President for Global Business Development
Panelists for "Leveraging an HWS Degree in D.C."
Ana Carolina Hoff '15, New Business Associate, Latin America and the Caribbean, Chemonics International
Hannah Wilber '13, Multimedia Journalist for Story Maps, Esri
Chad Tokowicz '18, Staff Assistant, Committee on Natural Resources Democratic Staff
Young Alum Panel Speakers:
Nicholas Haydon '18, Development Creative Writer, Texas Public Policy Foundation
Katrina Willis Haydon '18, Video Editor, Producer, The Daily Caller News Foundation
Kimberly Gutierrez '18, Program Associate, Flamboyan Foundation
Rotimi Adeoye '18, Staff Assistant, United States Senate
Welcoming Reception Host
Conor Noonan '10, PAC Manager, AVMA (American Veterinary Medical Association)