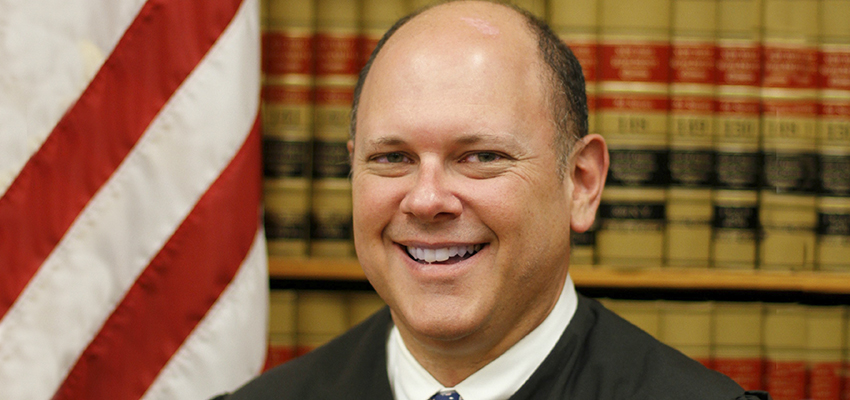 Rosenbaum '86 Named Jurist of the Year
8 January 2019 • Alums Rosenbaum '86 Named Jurist of the Year
The New York State Supreme Court Judges Association presented the Honorable Matthew A. Rosenbaum '86, the supervising Judge of the New York Supreme Court's 7th Judicial District, with the Jurist of the Year Award.
As the Monroe County Post reports, the award is given "based on a judge's knowledge of the law, conduct, integrity and independence, both in and outside the courthouse."
"Justice Rosenbaum has been one of our exemplary judicial leaders," Daniel Doyle, president of the Supreme Court Judges Association, told the paper. "He is always available to his fellow judges, and handles himself with dignity and kindness since taking the bench over a decade ago. He is always courteous and patient to all the attorneys and the general public appearing before him."
A history and religious studies double major at HWS, Rosenbaum was a member of the Intrafraternity Council, the Druid Society, Phoenix Players and Delta Chi. He received of Delta Chi Merit Award for Academic Achievement.
He went on to earn a J.D. from Boston University School of Law before joining Roland, Fogel, Koblenz & Carr as an associate. He later practiced with Sutton, Deleeuw, Clark & Darcy before becoming a partner of Gray, Feldman & Rosenbaum, LLP in 1995.
In 2005, Rosenbaum was elected to the New York State Supreme Court. He was sworn into office in 2005 by his father, HWS Honorary Trustee Richard D. Rosenbaum '52, P'86 who also served as a supreme court judge from 1970 to 1973.
Serving the 7th Judicial District, an eight-county region in western New York that includes Geneva, the younger Rosenbaum was appointed Supervising Judge of the district's Civil Term in 2011.