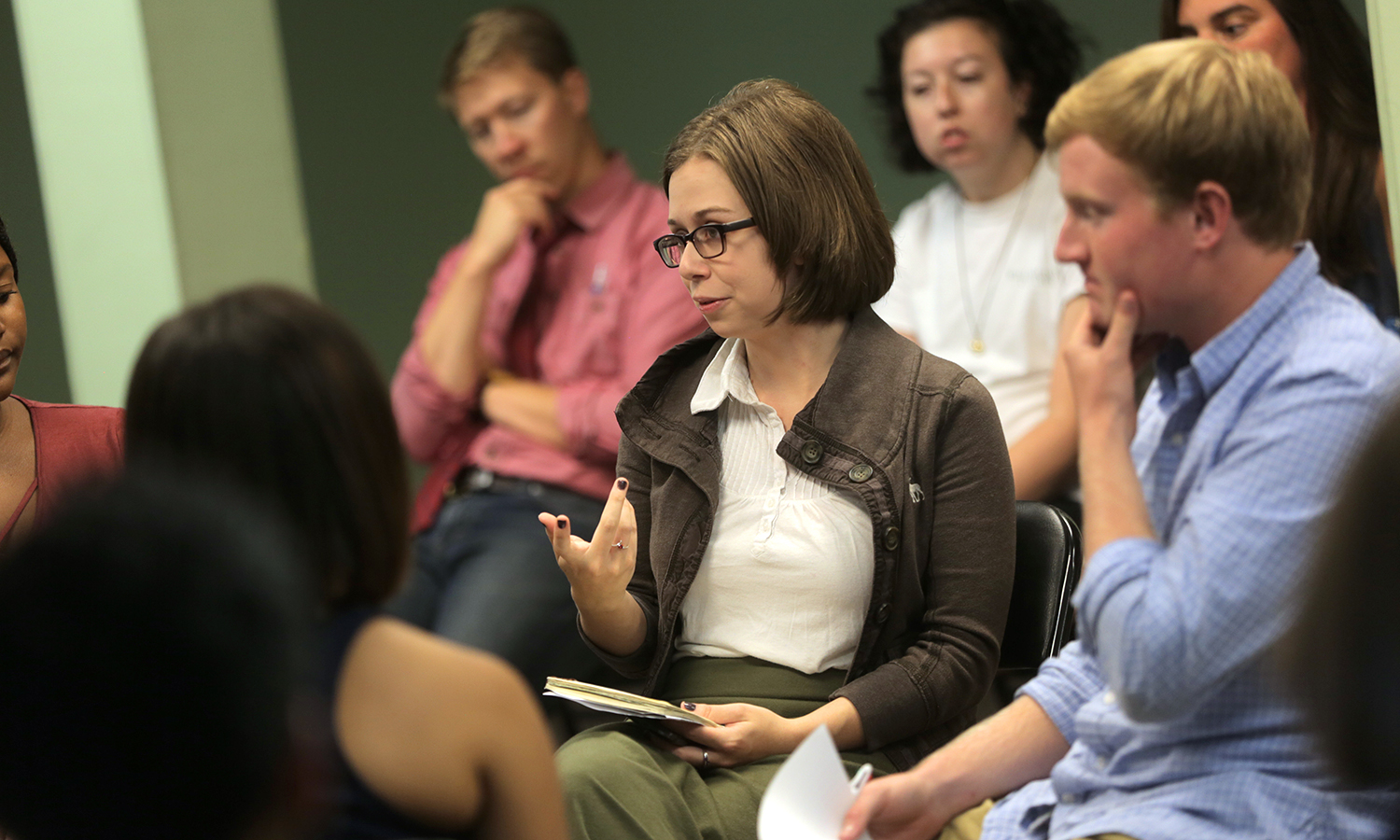 Fisher Center Fellowships
Fisher Center Fellows are an interdisciplinary community of faculty and students who foster equity and mutual respect across campus through conversation and research that explores gender and justice.
Predoctoral Fellows
Predoctoral Fellows gain experience teaching in the private liberal arts college setting while completing thesis work. The fellowship carries a stipend in exchange for teaching one course per semester related to your research and the year's theme, attending Fisher Center lectures and meetings, making a public presentation and assisting with administration of Fisher Center programming. The pre-doctoral fellow participates in the Faculty Fellows Research Group which meet twice a month to discuss research as related to the year's theme.
The Fisher Center Predoctoral Fellow application is available on the HR website.
2021-2022

Julia Tulke

Julia Tulke is a PhD candidate in Visual and Cultural Studies at the University of Rochester. Her research centers on the politics and poetics of space, with a particular focus on crisis cities as sites of cultural production and political intervention. Her dissertation project, titled "Artist-Run Athens: Mapping Spaces of Critical Practice between Two Crises, 2008-2020," it is an ethnographic study of spaces, initiatives, and strategies devised by artists and cultural practitioners in the Greek capital of Athens during the historical period bounded by the 2008 economic crisis and the 2020 pandemic emergency.

2020-2021

Jessica Farrell

Jessica Farrell is a PhD candidate in African History at the University of Minnesota. Her research on abolition and colonization in the 19th century interrogates the Eurocentric language used by the discipline of History to categorize (periodize and geographically dissect) the past according to a Western worldview.

2019-2020

Lisa Avron

Lisa Avron is a Ph.D. candidate within Cornell University's Science and Technology Studies Department. Avron's work explores the human dimensions of climate change predictions for her hometown in South Florida, with particular emphasis on issues of systemic inequalities, anti-racism and our contemporary political-economic moment. Avron will teach two classes through the Fisher Center on themes related to her work at HWS through the 2019-2020 academic year. Avron holds an MA in socio-cultural anthropology from the New School of Social Research and a BA in the four-field approach to anthropology from New College of Florida.

2018-2019

Katryn Evinson

Katryn Evinson is a Ph.D. candidate in Latin American & Iberian Cultures at Columbia University. In her research she concentrates on nineteenth, twentieth and twenty-first century Spain as its issues prove relevant to more global matters beyond Spanish borders. She is drawn to debates centered on the histories of political interruption of capitalism. More specifically, she examines how contemporary cultural production reimagines those very histories as they are expressed in literature, art, theory and politics. For the Fisher Center project, Katryn will work on sabotage as a tactic that interrupts the circulation of capital, while socializing those who partake in its practice.

Katryn completed an MPhil in Romance Studies at Cornell University with a concentration in Spanish (2017); she holds an MA from Universitat Autònoma de Barcelona in Aesthetics and Contemporary Art Theory (2013) with a thesis titled "Failure as an Aporia: The Politics of a Disobedient Structure." In 2009, she received a BA degree (Licenciatura) in Humanities with a concentration in Philosophy from Universitat Pompeu Fabra of Barcelona.

In addition to being the 2018-19 recipient of the Fisher Center Pre-doctoral Fellowship at Hobart and William Smith Colleges, Katryn is also the 2018-19 recipient of the New York Council Public Humanities Fellowship. Her research has been recently supported by The Society for the Humanities at Cornell University and by travel grants awarded by Columbia University. She was appointed Graduate Research Teaching Fellow by Cornell University's Center for Teaching Excellence (2016-17) and Mellon Urbanism Fellow for Expanded Practice Seminar from Mellon Foundation (2015-16).

2017-2018

Kai Heron

Heron is the 2017-2018 Fisher Center Pre-Doctoral Fellow and a Ph.D. candidate in Politics and International Relations at the University of Manchester, UK. Heron's Ph.D. develops Deleuze and Guattari's concept of minority in the context of anti-fracking struggles in North-Eastern United States. Kai's work at the Fisher Center will focus on theories of subjectivity, resistance and revolution with an emphasis on Marxist political economy, environmental resistance, Deleuze and Guattari, and psychoanalysis.
Stephen W. Woodworth '54 Student Summer Fellowship
The Stephen W. Woodworth '54 Fisher Center Student Summer Fellowship offers students in the Humanities, Social Sciences and Fine and Performing Arts an opportunity to pursue their own academic projects over the summer. While the type of research or project is open to fields such as English, Dance, Religious Studies, History, Education, Art, Sociology, Women's Studies, Lesbian and Gay Studies, and so on, the work must reflect The Fisher Center's mission of social justice around issues of gender, race, and class.
Recipients:
2020-2021
Sadia Rahman '22: "Hashtags and Social Media in the Farmers' Protest"
Aroob Ahmad '22: "Immigration, Identification and Capitalism"
Caleb Austin '22: "Antidemocracy in America"
2019-2020
Mercy Sherman
Willa Dow
Sky Morgan
2018-2019
Yamileth Cedeno
Jean-Luc Shyaka
Yalemwork Teferra
2017-2018
Pamela Icyeza
Andrew Scammel
Bradley Stewart
Shaahida Samuel
Dylan Bennett
Faculty Research Fellows
Each year four or five Faculty Research Fellows are chosen to participate in the Fisher Center Research Group, meeting regularly to discuss research around the year's theme. Research Fellows present their work to the broader community during the spring semester.
2021-22 Research Fellows:
Chris Woodworth

Chris Woodworth is an Associate Professor of Theatre who works actively as an artist-scholar (www.thisworldofyes.com). Her research primarily addresses intersections between labor, suffrage, reproductive politics, and performance. She is co-editor of Working in the Wings: New Perspectives on Theatre History and Labor. Her articles have appeared in a number of journals and edited collections. She has directed in professional, university, and community-based theatres and is a full union member of the Stage Directors and Choreographers Society. As a Fisher Center Fellow, Woodworth will revise her full-length play about Fossenvue and the activism of Elizabeth Smith Miller and Anne Fitzhugh Miller.

Anastasia C. Wilson

Anastasia C. Wilson is an Assistant Professor of Economics and joined the HWS faculty in 2020. She holds a PhD in Economics from the University of Massachusetts Amherst, and teaches courses on political economy, debt & the U.S. economy, and economics & gender. In her work with the Fisher Center, she will be focusing on using abolition as a lens for political economy and its critique. Her work will examine the relationship between carceral systems and capitalism, the rise of "guard labor" in the U.S. economy, and the nexus between schools as institutions of social reproduction and the carceral apparatus.

Michelle Martin-Baron

Associate Professor of Women's Studies Michelle Martin-Baron joined the HWS community in 2012. A performance studies scholar, Michelle's scholarship examines public memorial and death rites at the intersections of queer theory and critical race theory. Her work for the Fisher Center is rooted in queer death studies and explores how funeral and memorial practices by and for LGBTQ+ communities articulate a queer politics of death rights.

Leah Himmelhoch

Leah Himmelhoch is an associate professor in Greek & Roman Studies at HWS. Specializing in Greek and Roman poetry, she publishes on poetic immortality, Homeric reception, and, occasionally, Greek archaeology. As a Fisher Center Fellow, she intends to investigate how the study of Greco-Roman antiquity might best transcend the false, Euro-centric narrative foisted upon it by later colonizing powers and, too, how the field might re-envision itself as an inclusive area of study that effectively debunks Euro-centrism and white supremacy. She also plans to investigate how modern discourse weaponizes (erroneous) reconstructions of the past to validate modern oppression.

Anna Wager

Anna Wager is the Clarence A. Davis Visual Arts Curator in the Department of Art and Architecture. Her research focuses on 19th/20th-century textiles and works on paper. Her Fisher Center project examines the Arts and Crafts communities at Hull House in Chicago and their intersections with socialism, Catholicism, and labor activism. She is interested in how craft theory and communal organizing may be applied to a necessary rethinking of what galleries and museums are and do.

Daniel Graham

Daniel Graham is Associate Professor of Psychological Science and the author of An Internet in Your Head: A New Paradigm for How the Brain Works. The book proposes that we can advance our understanding of the brain if we move beyond thinking about brains as computers and begin to see the brain as an internet-like communication network. His Fisher Center project expands this framework in neuroscience and psychology and applies it more widely to our conceptions of ourselves and our society.
2020-2021 Research Fellows:
Rob Carson

Associate Professor of English Rob Carson joined the HWS faculty in 2008. He holds a Ph.D. from the University of Toronto and a MA in Philosophy and a MA in English from Queen's University. In his scholarly work, Carson has published essays about Shakespeare and early modern skepticism, Shakespeare and early modern resistance theory, and Shakespeare and the linguistic turn in philosophy. His other scholarly interests include Early Modern English Drama, Poetry, and Prose; Renaissance Philosophy and Culture (esp. Montaigne); Critical Theory; Philosophy and Literature (esp. Wittgenstein); and Popular Music and Culture (esp. Contemporary Britain). His work this year will explore modes of intersubjectivity and collectivity in Shakespeare and in the philosophy of language.

Elizabeth Johnson

Elizabeth Johnson is a human geographer, based between Geneva and Durham, England. Her research explores how marine organisms and their biomaterials circulate within conflicting narratives of ocean futures that swing between ecological collapse and economic promise. Her work analyses how related tensions in marine policy are tied to how scientists name and know organisms and biological matter.

Donald Spector

Donald Spector, Professor of Physics at Hobart and William Smith Colleges, is a Harvard-trained (A.B., A.M., and Ph.D.) theoretical physicist, whose scientific research focuses on supersymmetry, quantum field theory, and information theory, and whose interdisciplinary scholarship connects physics to music, literature, and philosophy. An invited speaker at the 2018 Northeast Trek Con, he has served as a consultant for numerous theatrical productions, and his rule of thumb for supernovas appears in Randall Munroe's best-seller What If? As a Fisher Center Fellow, Spector will explore the ontological misdirection encoded in the terminology of Feynman diagrams, and the associated framework of liminality this terminology reveals.

Maggie Werner

Maggie Werner is an associate professor of writing and rhetoric, specializing in the rhetorical criticism of embodied erotic and sexual rhetorics. Her Fisher Center research explores the corporeality and rhetorical aspects of names and naming.

Iskandar "Izul" Zulkarnain

Iskandar "Izul" Zulkarnain is a visiting assistant professor of media and society at HWS. My research mostly deals with global digital media cultures, especially concerning the Southeast Asian region. As a Fisher Center Fellow, I am working on a research about the "buzzer" phenomenon in Indonesia and how the act of naming that phenomenon involves a process of cultural identification and relations of power that deviate from the western discourse on internet celebrity/influencer.
2019-2020 Research Fellows:
Taylor Brorby

Taylor Brorby is a Visiting Assistant Professor in English and Creative Writing. He is a contributing editor at North American Review and serves on the editorial board of Terrain.org. Brorby's work has been supported with fellowships and grants from the National Books Critics Circle, the MacDowell Colony, Bread Loaf Writers' Conference and the Stone Barns Center for Food and Agriculture. He is the author of Crude: Poems, Coming Alive: Action and Civil Disobedience, and co-editor of Fracture: Essays, Poems, and Stories on Fracking in America, has been interviewed about his work on NPR, and travels the country regularly to lecture on hydraulic fracking and climate change. As a Fisher Center fellow he will start work on a book about the Missouri River.

Matt Crow

Matt Crow is Associate Professor of History at HWS. As a Fisher Fellow, he is working on a second book project,The Constitution of the Human: Legal Pluralism and Oceanic History in the Wake of Leviathan, from Hobbes to Melville. He is also researching the history, and present and future, of human relationships to kelp forests, and on scuba diving, mostly in kelp forests.

Tara Curtin

Tara Curtin, Associate Professor of Geoscience at HWS, is a geologist who uses lake sediment to infer past changes in environmental and climate conditions. Her Fisher Center project is called Distant Memories of A Drowned World, and will focus on testing whether the processes that drive the terrestrialization of lakes are gradual and climateindependent. S he will use the geologic record preserved in modern bogs to test this hypothesis and decipher how, when and why the transition from an aquatic world to a terrestrial world took place in the nearby Ontario Lowlands

Susan Cushman

Susan Cushman is the Director of Introductory Biology Laboratories in the Department of Biology, Research Scientist at HWS' Finger Lakes Institute, and the President of New York Chapter of the American Fisheries Society. She is an expert in fish and stream ecology, and studies impacts on water quality through benthic macroinvertebrate communities and stream fish assemblages. In recent years, her research has focused on the feeding ecology of the Round Goby, an invasive fish species which currently inhabits Cayuga Lake but has not yet been detected in Seneca Lake, and is working to educate others through factsheets, citizen science monitoring and public surveys. Cushman also studies the bioaccumulation and magnification of mercury through aquatic food webs in the Finger Lakes region. Her work as a Fisher Center Fellow will continue to support these research programs.

Robinson Murphy

Robinson Murphy is a Visiting Assistant Professor of Environmental Studies at HWS. He has a Ph.D. in English from the University of Notre Dame. His research has appeared in Forum for Modern Language Studies, Research in African Literatures, Frontiers: A Journal of Women's Studies and Irish Studies Review. His Fisher Center project uses psychoanalysis to look at Australian climate fiction.

Ricky Price

Ricky Price is a Visiting Assistant Professor of Political Science at HWS. His work integrates the history of science, identities, and institutions as a way to understand how power is negotiated between our bodies and the state. He has published work on HIV/AIDS policy and LGBTQ rights. For the Fisher Center he will be looking at the way the state, science and algae are shaping the future in the Finger Lakes.