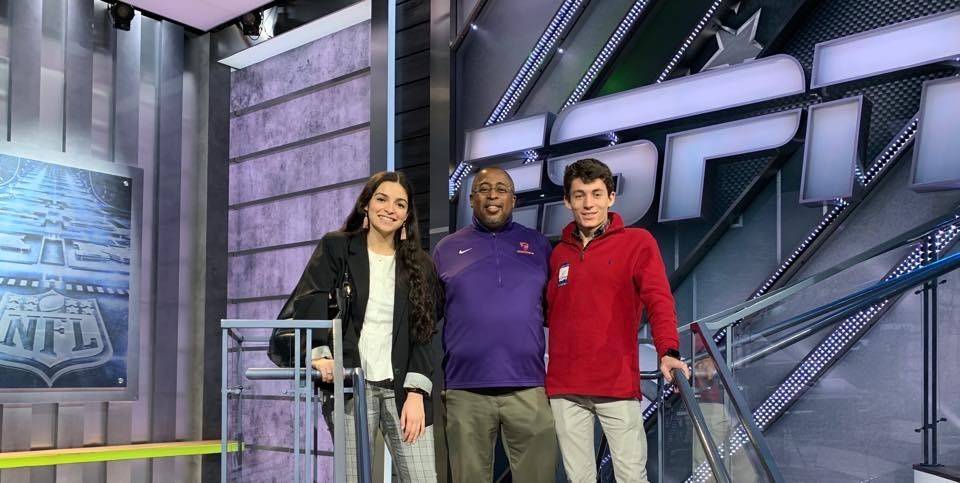 Internships
Our Guarantee
Our legacy of leadership and innovation in experiential education is widely known. We were among the first colleges to guarantee an internship or research placement and it was a shocking idea at the time.
Years later, the extent of our offerings and the depth of our connections are second to none. Our students have the flexibility to pursue incredible opportunities related to their interests and career plans without having to worry about whether they can afford it.
Typically, students of good academic and social standing who have completed the Pathways program take advantage of our Guaranteed Internship program in the summer after their junior year. Funding of up to $3,000 is offered to students participating in an unpaid or underpaid opportunity. Competitive awards up to $20,000 are offered for international experiences.
Frequently Asked Questions
How much is the stipend?
Beginning in Summer 2022, students can apply for support up to $3,000.
I'm a current student. How do I get an internship?
The Salisbury Center for Career, Professional and Experiential Education staff works with all students to provide internships. Last summer more than 500 students completed internships. To get started, students should make an appointment to meet with a staff member at the Salisbury Center. Working through the Pathways process, students will develop clarity around their values, interests and skills. Staff work individually with students to assist them in obtaining internship opportunities that will allow students to explore their interests. Additionally, every Monday the Salisbury Center sends a job and internship digest to students via e-mail to alert them to the many already available opportunities.
I'm a current student. How do I get a stipend for my unpaid internship?
Applications are now being accepted for the Endowed Internship Awards. Every summer we are able to provide $40,000 in stipends to support unpaid internships domestically. Applications for these awards are due in March. Students need not have been accepted to their internship before applying for a stipend. Awards are granted contingent upon acceptance to an internship; students have until June 1 to secure the internship.
The Colleges also have three $20,000 awards to support international internships through the Salisbury International Summer Internship Award. There is also the Bickley Award, which supports a student through a $5,000 award to provide an international experience. During the winter break, through another International Internship/Research Award, we are able to support a student with a $5,000 award. The Cohler Award is an additional award that provides a stipend for a summer internship with Eric Cohler Designs and a short term international component over the student's winter break.
What kind of internship will I get?
Working with a member of the Salisbury Center staff, students identify potential employers and opportunities based on skill levels, interests and geographic preferences. Opportunities will vary, but most students have exciting experiences in their field of choice.
I want to do scientific research. Can I get a research position?
Research opportunities are available every summer both on campus with HWS faculty and in facilities across the country. Based on each student's individual skill level, the Salisbury Center will work with applicants to prepare them for these competitive opportunities. In rare cases when a research position cannot be secured, the Salisbury Center will work to obtain a comparable internship opportunity.
How do I know if I've successfully completed the Pathways program?
By working with an assigned career counselor at the Salisbury Center for Career, Professional and Experiential Education, we will track your progress in Pathways, including appointments, event attendance, and opportunities applications, through a web-based system that students can also access.
Internship Resources
Explore Careers. Develop Your Skills.
Schedule an appointment with a Career Counselor to set your course.
Career Services offers many resources to help you find internship opportunities and prepare for the interview. Learn about on-campus and off-campus recruiting events on Handshake. Watch for deadlines in emails from the Salisbury Center.
Internship Checklist:
Resume reviewed and finalized

Cover letter reviewed and finalized (create a new cover letter for each opportunity that you apply for)

Develop your brand! Work on your 30 second pitch, and create a networking email

Research organizations that you would like to intern with this summer

Use all of your resources to speak with networking contacts (Career Services, the Career Network, LinkedIn, Family, Friends, etc.)

Keep a list of all of the internships that you have applied for

Schedule a mock interview with career services and/or use InterviewStream

Create a thank you email/letter. Buy thank you cards if you plan on sending out thank you cards after interviewing.
Internships for Credit
Internships are an excellent way to complement your academic studies with practical, hands-on, workplace experience in an area of interest to you. You can do more than one credit bearing internship program during your tenure at Hobart and William Smith.
INT 199: CREDIT
-
BEAR
ING INTERNSHIP
As approved by the Committee on Academic Affairs (2009),the INT 199 credit-bearing internship course registration allows students to receive .5 course credits for an approved internship. Internships must include a minimum of 120 on-site contact hours, and students must keep a journal of their experience for submission to their faculty adviser. A maximum of two INT 199 internships may count toward graduation requirements. Students should meet with their faculty adviser to discuss the internship, and secure signatures of approval. An evaluation from the site supervisor should be sent to the adviser, after the internship is completed.
Registration Approval Form (PDF)
GCIP 401: GENEVA COL
LABORATIVE INTERNSHI
P PROGRAM (CIP)
The Collaborative Internship Program (CIP) operates on a semester basis. Contact Career Services for application deadlines. You must be a second semester sophomore, junior or senior with a 2.7+ GPA. An application is required for admission to the program. The application can be downloaded online or picked up at the Salisbury Center for Career Services on the first floor of Trinity Hall. Factors taken into consideration for admission include relevant course work, faculty recommendations, a resume and a personal statement of interest. Interns must work 15-20 hours per week throughout the semester.
Agreement Form Faculty Sponsor and Academic Adviser (PDF)
EQIV 455: COURSE EQUIVALENTS AND SUMMER INTERNSHIP
Course equivalents are "imaginative alternative programs that substitute other forms of academic activity for one or more courses." These projects need the approval of both a faculty adviser and the Committee on Standards. Course equivalents are listed on student transcripts but are not graded; they are taken as credit/no credit. If interested, you must see your dean for an application. Note that all applications for summer must be received before the end of the spring term for consideration. Speak to your dean about specific spring deadlines.
XXX 399/499: DEPARTMENTAL INTERNSHIPS
399s and 499s are credit-bearing internships whose program parameters are defined by each department's chair. Please note that not every department offers a 399/499 course. If your major or minor does offer one, you must check with a faculty member within that department to find out specific program requirements as they vary among departments. You will need a faculty member within your department to sponsor your internship.
XXX 450: INDEPENDENT STUDY
An internship may be coordinated by a faculty adviser as an independent study. The faculty adviser, student, and organization define a mutually beneficial project and determine the number of hours per week or semester the student will work on-site and what products (report, journal, maps, charts, slides, brochures, creative piece, etc.) the student will produce during the internship. If interested in an Independent Study, you should talk to a faculty member within your department as you will need a faculty sponsor for this program.
OFF-CAMPUS STUDY
A number ofthe off-campus study programs, both in the U.S. and abroad, have internship possibilities as part of their course offerings. If you are interested in an internship experience as part of an off-campus study program, ask the Center for Global Education and your faculty adviser if an internship might be possible.
Internship & Outcome News