The Pulteney Street
Survey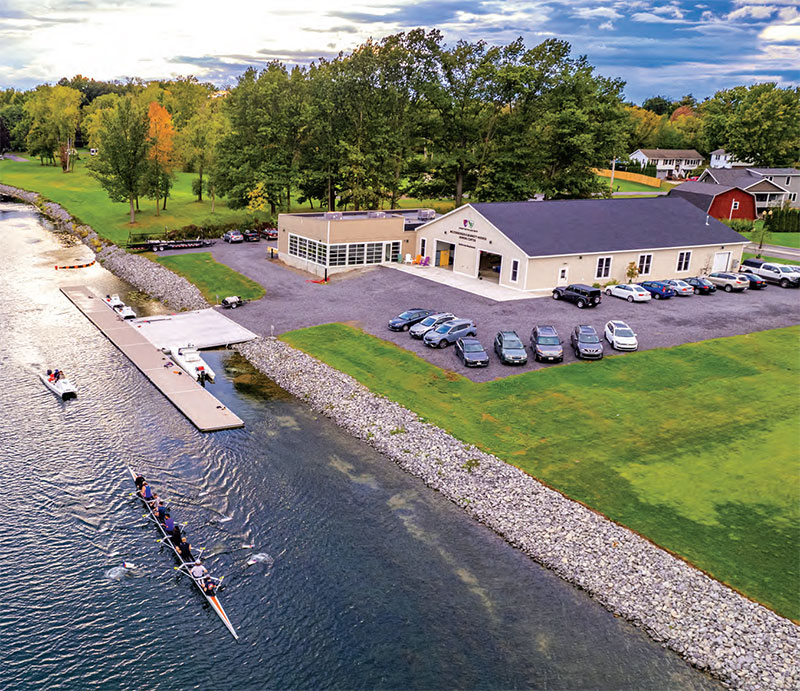 What's New, Dock?
The Miltenberger and Bennett-Hooper Rowing Center, which opened last fall, offers HWS rowers a state-of-the-art facility for training and competition.
by Andrew Wickenden '09
The Statesmen and Herons crew teams consistently rank among the best in the nation, and with a new facility on the Cayuga-Seneca Canal, Hobart and William Smith rowers now have a show-stopping boathouse and training center to match their achievements on the water.
In 2021, HWS met the $2.4 million fundraising goal for the new rowing center with leadership gifts from Merritt Bennett P'21 and Robert Bennett P'21, and HWS Trustee Paula Miltenberger P'23 and Bay Miltenberger P'23. In total, more than 400 alums, parents and friends of the Colleges contributed to the 5,000 square-foot addition and renovation project.
The Miltenberger and Bennett-Hooper Rowing Center includes a new training facility, docks and spectator area, and a major renovation of Hellstrom Boathouse, among other upgrades.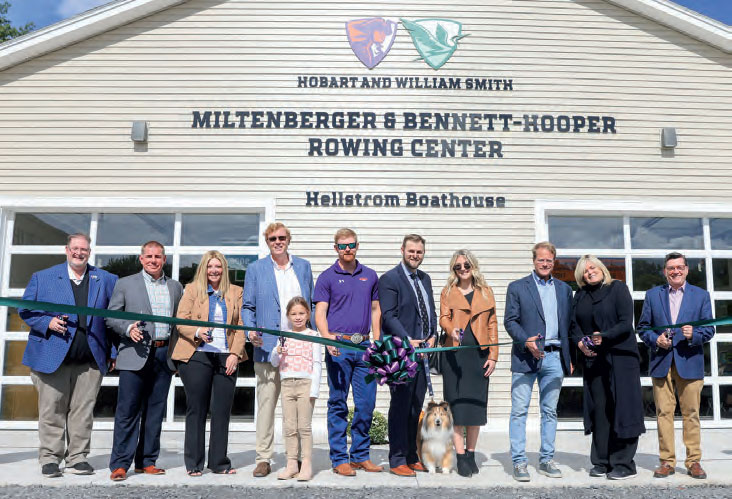 "Student-athletes spend a lot of time in these facilities, and we want it to be a place where they can see themselves training at the highest level," says Merritt Bennett, whose son Randall Hooper '21 began rowing for the Statesmen in the 2017-18 season.
"They're the giant-killers in college rowing," Bennett adds, noting the team's top-20 ranking and consistent record of outpacing competitors from larger schools. She says the new rowing center will "facilitate even more of what the coaches are trying to do to take the program to the next level."
Paula Miltenberger, whose son Bryce '23 is also a member of the Hobart team, agrees that the new facility will elevate the program, as well as the institution, enabling the Colleges to "attract more students and continue to build on what's an amazing program."
Bay Miltenberger says the connection between athletics and academics provides "such a rich experience to prepare students for the next phase of life. The rowing program is the reason our son is at Hobart, and we're really grateful that he's able to be there and experience such a special school."
"A lot of people put immense dedication and support into making the Miltenberger and Bennett-Hooper Rowing Center a reality," says Paul Bugenhagen, head coach of the Hobart and William Smith rowing teams. "HWS Rowing is committed to investing in our student-athletes and enhancing their experience at the Colleges, and I'm particularly grateful to our rowing families, alums and the administration for their investment in us. Without them, this project wouldn't have been possible."