The Pulteney Street
Survey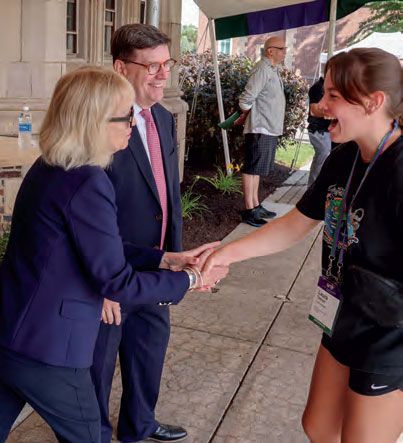 Lake Views & Vuja De
As I write this note, winter has arrived in Geneva, Hobart's Bicentennial year has come to a close and the calm of campus allows for reflection and gratitude. The Bicentennial engaged the Hobart and William Smith community in a year of celebration and observance of our history of academic excellence and innovation, of service to country and communities, and of deep engagement with the people, ideas and environment that surround this special place.
As Mary and I returned to campus in August to welcome the incoming Classes of 2026, I was reminded of the essay written by E.B. White titled "Once More to the Lake." Written in 1941 for Harper's Magazine, White describes his return to a lake in Maine he had visited every year as a boy. Returning as an adult with his young son, White observed the many changes in his life and world that have occurred but noted the lake as "constant and trustworthy."
For my return to Geneva, the "constant and trustworthy" Seneca Lake was a welcome sight. And the enduring attributes of Hobart and William Smith – a dedicated faculty and staff and engaged student body – remained vibrant and effective. I am honored and excited for this next chapter and grateful for the chance to advance the Colleges in its third century.
This edition of The Pulteney Street Survey captures the energy and innovation of our campus. The Bicentennial Gala and Stern Family Forum with Governor Chris Christie and James Carville were memorable events for the pride we share in our history and the excitement we feel for the future. The highlight of the Gala was the announcement of the lead gift by Board of Trustees Chair Craig Stine '81, P'17 and Kathy Hay Stine P'17 to renovate and name the Intercultural Center for Dr. Alger L. Adams '32, D.D. '83, the first Black graduate of Hobart. The research and mentorship that our students prize in STEM disciplines is thoughtfully presented in the pages that follow – profiling the engagement of faculty with our students, their scholarship that enlivens our classrooms and labs, and the 21st century approach to a liberal arts and sciences education.
In his book Originals, Adam Grant provided a timely frame for me as I return to HWS after five years: "Déjà vu occurs when we encounter something new, but it feels as if we've seen it before. Vuja de is the reverse – we face something familiar, but we see it with a fresh perspective that enables us to gain new insights into old problems."
This past semester back on campus has provided many moments of "vuja de" as I observe things that are familiar from my prior 18 years as president, but see them in a different lens. I have been impressed with the innovations in the curriculum, new athletic teams and enhanced commitment to diversity, equity and inclusion. But I am also reminded of the many changes in our world and in higher education that have marked these five years – the pandemic, challenges to democracy, increased polarization, racial reckoning. We are fortunate to have a "constant and trustworthy" mission statement to prepare students to lead lives of consequence, and the importance of that mission could not be more vital for our society at this time. I look forward to continuing this conversation in the year ahead as we tackle our challenges and honor our charge to educate the next generation who will bring credit to Hobart and William Smith as their predecessors have done for 200 years.
Wishing you a happy and healthy 2023.
Sincerely,
MARK D. GEARAN
President