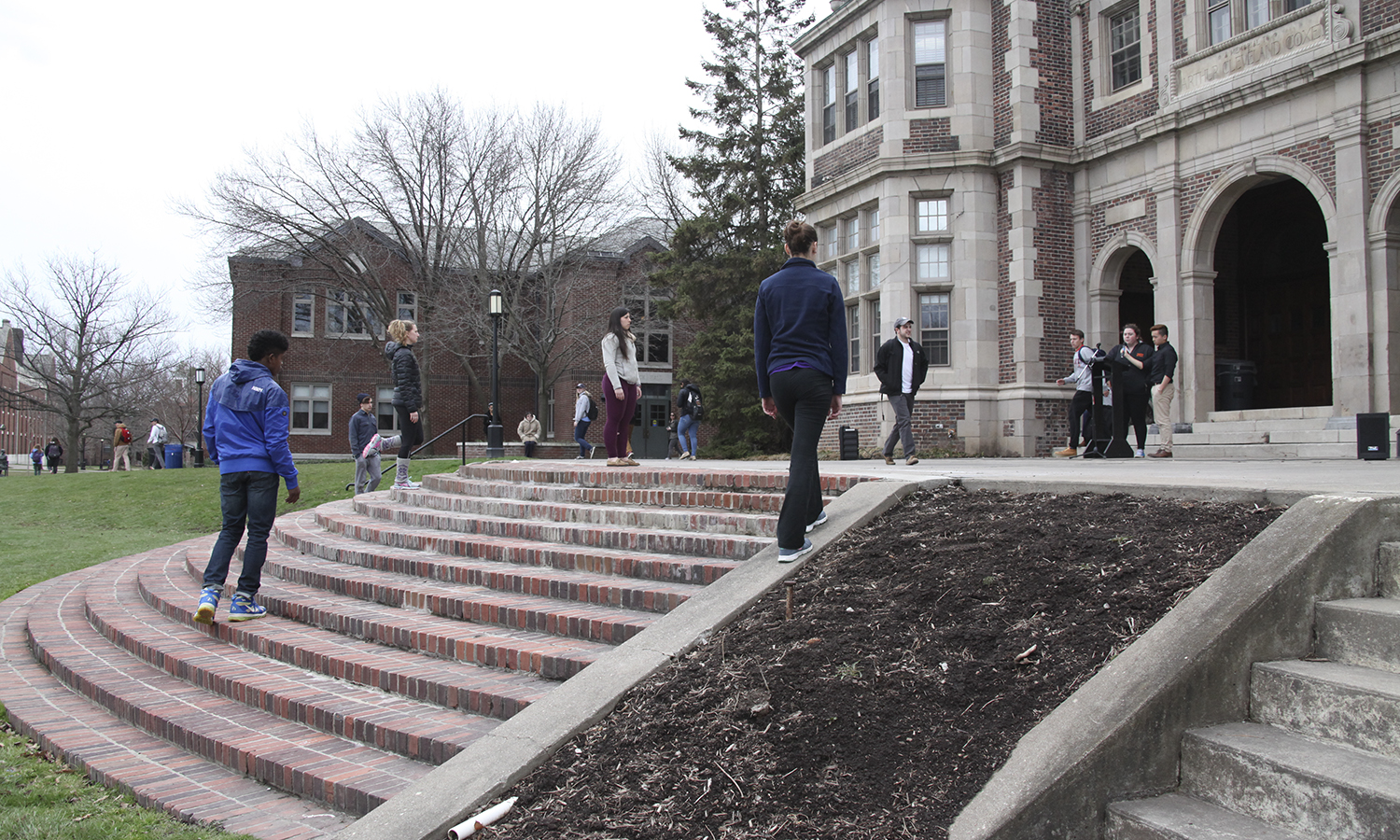 Janet Seeley Performing Arts Scholarship for Dance
The Janet Seeley Performing Arts Scholarship (for Performance and/or Choreography) is awarded to students who demonstrate past experience and understanding of dance broadly defined (West African, Flamenco, Hip-Hop, Chinese Dance, Jazz, Classical Ballet, Modern Dance, Contemporary, Tap or Step, etc.). The HWS Dance faculty will review each candidate, and scholarships will be awarded based on their recommendations.
Early Decision I/Early Action candidates must submit SlideRoom application with portfolio items by November 15th.
Early Decision 2 candidates must submit SlideRoom application with portfolio items by January 15th.
Regular decision candidates must submit SlideRoom application with portfolio items by February 1st.
CRITERIA
The dance faculty is looking for curious, passionate, intelligent movers who bring unique contributions to the dance program, noting demonstrations of both talent and skills.
IN-PERSON DANCE
Dates, location, and times:
Fall 2023 —

Students interested in auditioning in person have their choice of technique classes on Thursday, Nov. 9 with Intermediate Contemporary Ballet from 3:10-5:10 or Friday, Nov. 10 with Intro to Jamaican Dance from 11-12:30 or Jazz Dance: Tradition and Innovation from 1:20-2:50.

All events will take place in the

Gearan Center for the Performing Arts

. Dancers should contact Michelle Iklé at

mikle@hws.edu

to confirm their visit to campus and to schedule their solo review.

Spring 2024 —

Thursday, Feb. 1 and Friday, Feb. 2; class times TBD. All events will take place in the

Gearan Center for the Performing Arts.
Short solos (1-3 minutes) of any dance style or genre are viewed after the dance class, during the studio audition. Applicants are invited (not required) to bring music selections of their choice on an iPhone or computer.
Choreography emphasis: Applicants must have choreographed their solo if applying for a scholarship award in choreography and will be asked to share their artistic intentions.
Regarding attire, we invite dancers to wear comfortable clothing to dance. Although permitted (soft soles), dance shoes are not required.
Brief individual interviews with dance faculty and opportunities to meet current Arts Scholars and to ask questions of professors and students are part of the audition.
PORTFOLIO (FOR STUDIO OR VIDEO AUDITION)
Studio: In-person auditions require application, essay submission, and attendance at a scheduled audition or arranged during a separate visit to campus (contact mikle@hws.edu). Resume and letter of recommendation are optional.
Video: Your portfolio for the Arts Scholarship in Dance includes an essay, solo, video introduction, and optional resume and letter of recommendation.
(Optional) Resume and Letter of Recommendation
Submit a resume of your activities including dance training and relevant performance, competition, and/or choreographic experience and a letter of recommendation from a dance teacher, director, or choreographer.
Essay
Please submit a 500-600 word essay that describes how dance has influenced you as a person, artist, and student. Additionally, please address how you envision dance informing your life in college and connecting with other academic interests within a liberal arts college.
VIDEO AUDITIONS (IN PLACE OF THE IN-PERSON VISIT TO HWS)
If you are unable to visit HWS to arrange an audition or to attend in-person auditions this year for the Janet Seeley Arts Scholarships in Dance, you may submit a video or video link meeting the following criteria:
Please record an introduction (1-2 minutes):
Please tell us your name, where you are from and why you want to continue your dance education at Hobart and William Smith Colleges.
What academic interests and/or potential majors and minors are you currently interested in pursuing and why?
Indicate whether you wish to be considered for the Performance Scholarship or the Choreography Scholarship, or both. If you would like to be considered for the Scholarship in Choreography, your solo needs to be self-choreographed.
Include the title of your dance and anything you'd like us to know about your creative process.
Solo (2-3 minutes):
Must be a recent solo of your dancing in whatever dance style you choose. You do not need to record from a spacious dance studio. Please do not submit previous performance footage. We also recognize that you may have experience and skill in several dance forms. In your video, showcase your dance strengths and your passions.
PLEASE NOTE: Your application for the Janet Seeley Art Scholarship will not be reviewed until all materials are submitted. The deadlines for submission are the same as for ED, ED2 and Regular Decision. Applicants with questions are encouraged to contact Michelle Iklé (mikle@hws.edu), Associate Professor of Dance. Click the "apply here" link to be directed to your arts scholarship application in SlideRoom.