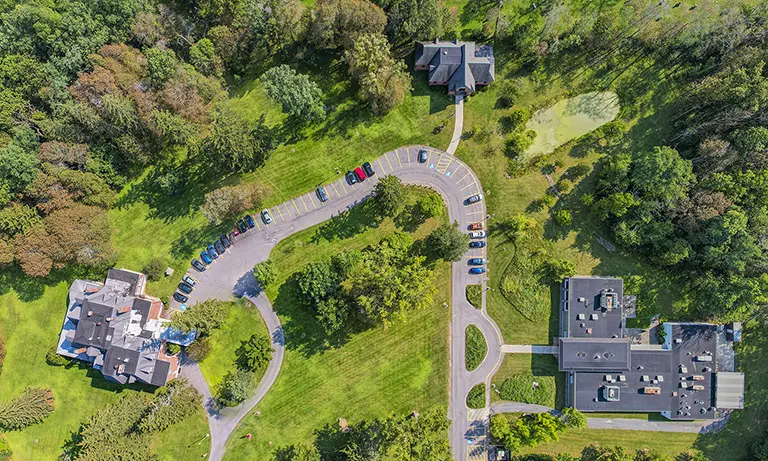 Facilities
KATHERINE D. ELLIOTT STUDIO ARTS CENTER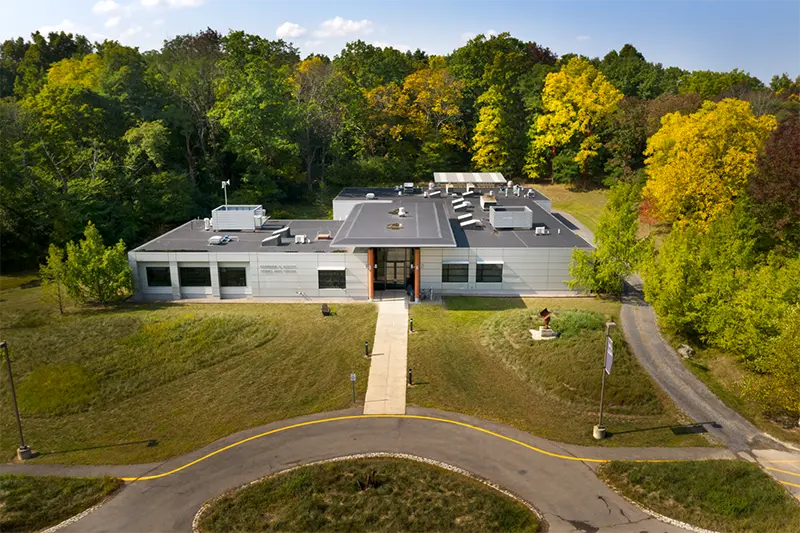 The Katherine D. Elliott Studio Arts Center is home to the Studio Art Department at HWS. Constructed in 2006, this facility provides 14,600 square feet of academic space, including classrooms, offices, studios for painting and photography, and printing, wood and metal shops. The Elliott Studio Arts Center provides students with a space that is as artistic and inventive as the work they create inside. The building's contemporary, open design includes large windows and high ceilings allow ample light into a space where art flows freely from one end to the other. The modern Elliott Center is a striking contrast with the venerable Houghton House estate, but this duality reflects the breadth of art itself, as well as the practice of the faculty and students who use the facility.
This building recognizes the generosity of Honorary Trustee Katherine D. Elliott '66, L.H.D. '08 and Richard S. Abramson.
Houghton House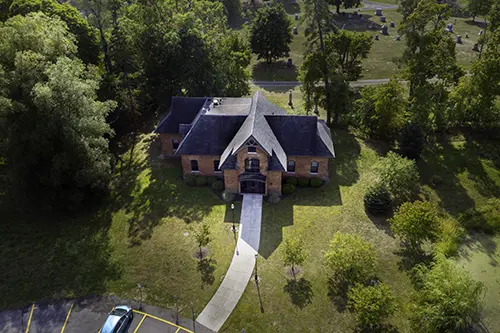 Originally gifted to the Colleges in 1943 for use as a women's dormitory, Houghton House is now one of three buildings on the "arts campus" and serves as the home of both Art History and Architectural Studies. Faculty members from both areas of specialization have offices in this building. The first two floors include teaching spaces for Art History and Architectural History classes, including the building's original library (now a seminar room) on the first floor, and first- and second-floor classrooms. The second-floor classroom was recently updated thanks to a donation from Nathan and Christine '72 Hawley. Houghton House also boasts two art galleries: the Davis Gallery, which features rotating exhibits of contemporary art and works from the Colleges' art collection, and the Solarium Gallery, which operates as both a formal gallery and as a space for student-led installations and pop-ups.
The third floor hosts the Architectural Studies program, renovated in 2009 by a generous gift from Ridgway H. White '02. The space houses three architectural design studios; a digital fabrication lab containing our laser cutter, 3d printers, large scale plotter and scanner, and color printer; a computer nook outfitted with graphic and design software, scanners, and light tables; a library for sustainable materials samples, design and urban planning periodicals, and reference books; 'working galleries' for the display of current student work; and a critique room for student presentations, space and equipment for professional studio photography sessions, and special events.
GOLDSTEIN FAMILY CARRIAGE HOUSE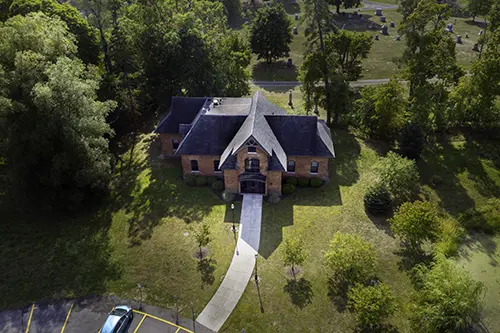 The Carriage House is home to the studio art department.
An addition to the original Houghton House Estate, the Carriage House was constructed in 1913 for Helen Houghton Vail, widow of former Corning Glass executive Charles Houghton and wife of Professor Charles Vail, a professor of English at the Colleges as well as the librarian and registrar.
The Vail family donated the Carriage House to the Colleges, along with Houghton House and the surrounding land in 1943.
In 2005, the newly appointed Goldstein Family Carriage House was completely restored and refinished and includes an 18-station digital photography lab with a state-of-the-art poster printer, a modernized darkroom for film-based photography and private studio space for advanced and honors students.
The renovations were financed in part by a gift from the Sheldon and Ruth Goldstein Foundation, in honor of the couple's granddaughters, Sara Nargiso '07 and Rachel Nargiso '04.
Davis gallery and solarium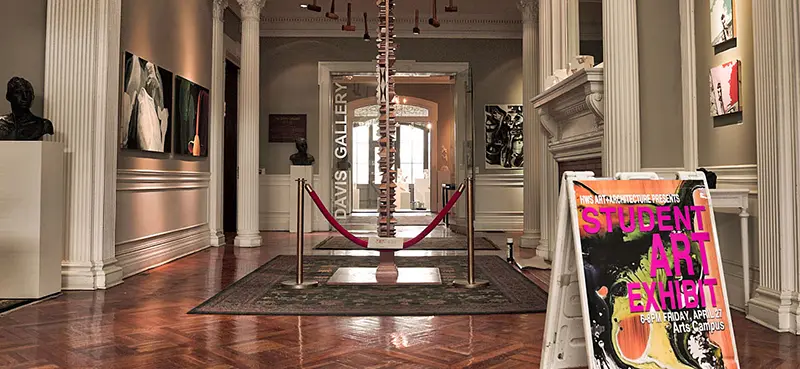 Named in recognition of the generosity of Clarence A. (Dave) Davis, Jr. '48, the Davis Gallery is an academic resource of Hobart and William Smith Colleges. The Davis Gallery at Houghton House is the exhibition space of the Department of Art and Architecture. The Gallery has six shows each year beginning with a faculty exhibition and ending the year with a student exhibition. In between, a variety of artists and architects are invited to show their work and an exhibition from the Collections of Hobart and William Smith Colleges is staged. The mission of the Gallery is to exhibit, and make accessible works of art in support of the educational goals of the Colleges and for the benefit of the community at large. The Davis Gallery is primarily a space to immerse Hobart and William Smith College students in visual culture by providing an environment for studying the role of art and architecture in shaping, embodying and interpreting cultures.
provenzano art gallery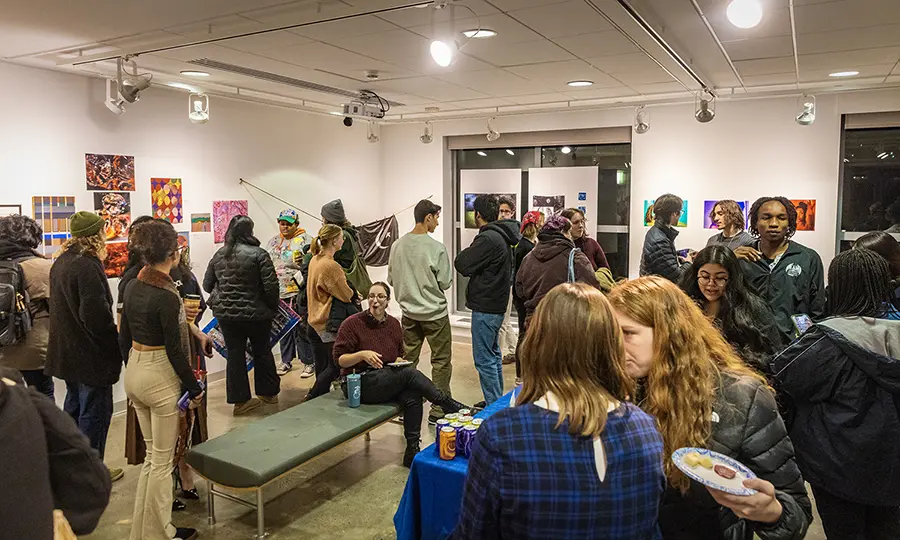 Opened in Fall 2022, the Provenzano Student Art Gallery (PSAG) is an exciting new student-run space at the heart of HWS campus in Scandling Center. The Gallery is staffed through six half-credit internship positions that are available each semester: two Gallery directors, two Gallery Managers, and two Exhibitions and Installation Coordinators. Students are selected from a pool of applicants generated from a campus-wide call open to folks in all disciplines. The student-intern staff works collaboratively to plan, design, install, coordinate, and promote a series of art exhibitions and events of their choosing. The process of selecting the student work that is featured in the space is facilitated entirely by the interns who write and distribute calls for art, ideally in conversation with student groups or other campus collaborators with a shared investment in supporting the arts on campus in an inclusive and equitable manner.
Interns are supervised by the PSAG faculty coordinator, a two-year appointment open to faculty from within any discipline. Currently, Professor Angelique Szymanek, Department of Art and Architecture, is serving in this role. Faculty, student, and staff with an interest in using this space for events, collaborative projects, pedagogical initiatives, or other activities are encouraged to reach out to Szymanek to coordinate. The space remains an important hub for Student Activities and can also be booked for events via 25Live.
Explore our art and architecture facilities below
Art and Architecture Facilities