The FGI Center is a resource available to all HWS first generation students and is located on the ground floor of Sherill. It serves as a private, on-campus space for first generation students to come together in community. The space was designed by first generation students to function as both a study space with flexible seating and whiteboards as well as a relaxation space with soft, comfortable seating. There is a projector and printer available for student use in the Center.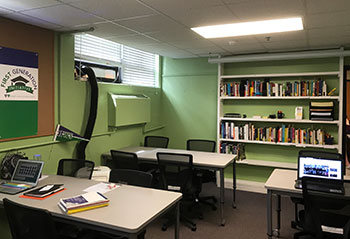 The FGI center also has an extensive textbook library with over 1100 copies of textbooks used in courses taught on campus. In addition to these textbooks, the center works hard to always have some essential school supplies (looseleaf, pens, sticky notes, index cards, notebooks, etc) available to students who are in need.
The Center can be accessed through the back door of Sherrill Hall, located by the basketball hoops. First Generation students wishing to use the Center should contact Professor de Denus (deDenus@hws.edu) to have their OneCard activated.