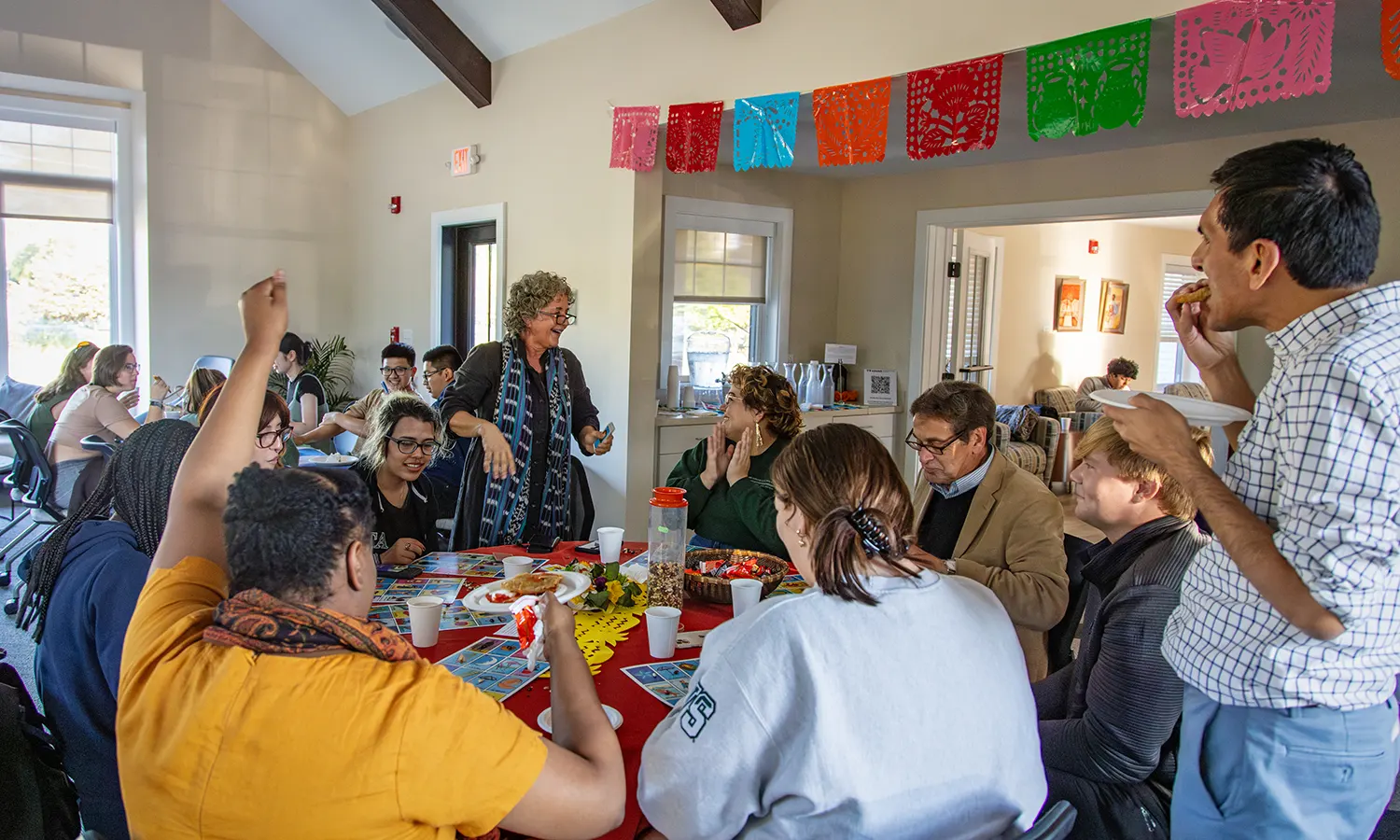 Belonging at HWS
From the desk of the Vice President for Diversity, Equity, and Inclusion
Greetings to the HWS Community. Welcome to the first edition of a new feature, "Belonging at HWS." Stop by and peruse this occasional newsletter to hear what's top of mind for the team that makes up the Office of Diversity, Equity and Inclusion. There is a LOT going on here—and we're proud of the work being done, and want to share it. We also want to know what's of interest to you. Drop us a note with your ideas for stories and features:
Israel and Palestine: A tough but necessary conversation
At this date the war between Israel and Hamas continues to rage. Casualties are in the thousands on both sides, and continue to mount. We mourn. We grieve. We condemn the loss of human life, the taking of hostages, the death of civilians. And while the Middle East can seem so far away, the connections between the region and members of our own campus community are multiple. Moreover, sympathies and condemnations are widely evident and extend to both Palestinians and Israelis. College campus leaders around the country have felt pressed to make statements, as have administrative and faith leaders on our campus.
But Hobart and William Smith is a special place—a place that prides itself for its relationship-rich nature. And so it is fitting that at HWS, we went beyond public statements to convene a conversation—a deep dive by four faculty researchers, who used the varied lenses of their scholarly research and personal experience to deepen our community's understanding of the history behind the current conflict, with the hope that deeper understanding of the conflict could lead to a deeper understanding of and empathy for community members whose ties to the region make this conflict much more than an abstract news headline.
Here are two reflections from HWS student leaders, who responded to a request to share what they took away from Sunday's panel discussion. My thanks go to them, and to our four panelists, Professors Michael Dobkowski, Shalahudin Kafrawi, Stacey Philbrook Yadav, and Richard Salter.
I don't suggest that HWS was perfect in this moment. But we can take pride in how we've largely avoided outright antagonism and intentionally divisive language, and continue to lean into constructive dialog, with a focus on understanding, and on providing the support that all members of our community deserve.
What do you think? Send your reflections to DEI@hws.edu; include the word "Belonging" in the subject line, and you may see your comments in a future edition of the newsletter.
---
Sophia MugHal '25
The Hamas attack of October 7th in Israel/Palestine and the ensuing siege of Gaza has brought questions about the longstanding conflict between Israel and Palestine to the fore. To address the situation that has captured the attention of the world, Hobart and William Smith Colleges assembled a panel of faculty to discuss the conflict on October 22, 2023. The panel was comprised of four faculty with expertise in a wide array of relevant fields: Jewish Studies, Comparative Genocide, Nationalism, Peace Studies, Religious Extremism, Middle East Studies, and Human Rights and International Law, to name a few. The different disciplines, and thus different angles and lenses by which the panelists tackled the questions at hand, allowed for a well-rounded discussion. However, many students felt that the forum was flawed—that perhaps the full array of perspectives was not on view, or not adequately articulated. Students had the opportunity to hear from someone who channeled the Israeli perspective. This was an important perspective because it revealed the human impact of the issue, rather than it remaining in abstraction as an academic exercise. However, if this approach is to be taken, it would have been more comprehensive, balanced, and instructive to hear from someone who could have articulated the Palestinian point of view, in a similar fashion.
Despite this shortcoming, I believe that this project—the chance to learn together, to perhaps come to a better understanding of the issue—is a worthwhile endeavor in spite of the flaws. Of course, this neither abdicates the necessity nor the responsibility of our institution to present this issue, or any other, fairly. Engaging in this work is exactly what makes the liberal arts so special—the ability to foster multiperspectival, multi-disciplinary, and nuanced discourse on topics that matter. So perhaps this project was not perfect, but maybe through this endeavor we are able to ask better questions, inching us closer to a more meaningful understanding. Moreover, no one single event can adequately address this issue, which is why it is important to continue campus-wide dialogue. As such, I am encouraged that there will be another event addressing this topic on November 1st that will frame the issue in a new way. The three panelists will address the Israel-Palestine Conflict from three varied perspectives—the Indonesian Public Perception, American Jewish View, and American Foreign Policy Perspective—thus, allowing students to engage with this conflict through different lenses.
Sophia Mugal is President of the William Smith Congress, and a member of the HWS class of 2025
---
Jesse Whelan-Small '24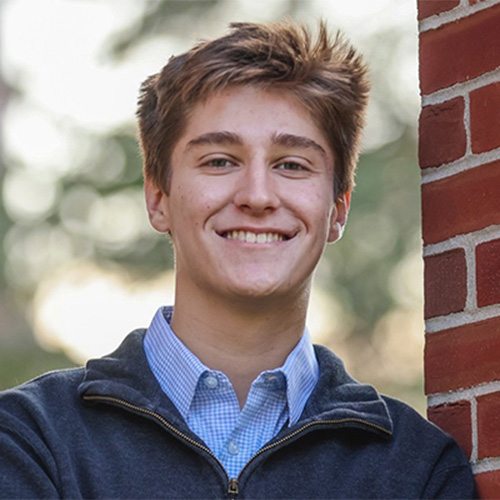 Given the complexities and sensitivities inherent to any conflict, much less the one in Gaza, it was critical that we deployed our resources to create an environment that fosters positive dialogue. HWS is host to an incredible faculty including many with a disciplinary or regional focus that gives them important knowledge and insight into this issue. As reporting out of Israel and Gaza continues, almost an equal amount of reporting has been on the divisive nature of the conversations occurring outside the conflict about what is happening. It was critical that our faculty have a platform to share their expertise with students and the larger campus community to help foster a dialogue that shares common grounding in facts. In any situation surrounding contentious dialogue, it is helpful to have experts and scholars share their knowledge to ground conversations.
There were a couple of things that I thought could have improved the quality of the panel discussion. Firstly, I would have liked to see a fairer composition of panelists between disciplines. I thought that having three religious studies scholars lent credence to the idea that the conflict in Gaza is a religious one, which is not the case. Having a more diverse faculty panel could have brought in more perspectives and helped guard against a framing of this issue as religious, rather than about competing national claims. I also would have had a longer period for Q&A, to bring more student voices into the discussion and create a more open environment for all.
Overall, I found this to be a necessary, and largely successful, event that will contribute to a deeper understanding of the issue in Gaza and hopefully create a less contentious space for conversation going forward.
Jesse Whelan-Small is a Hobart and William Smith student trustee, and a member of the HWS class of 2024
---
Additional reflections and reactions to the Sunday Dialog, sponsored by the Office of Faculty and Academic Affairs, the Office of Diversity, Equity and Inclusion, and the HWS Athletics DEI Sustained Dialog Team, can be found here.
A Transformative Experience
Breaking Ice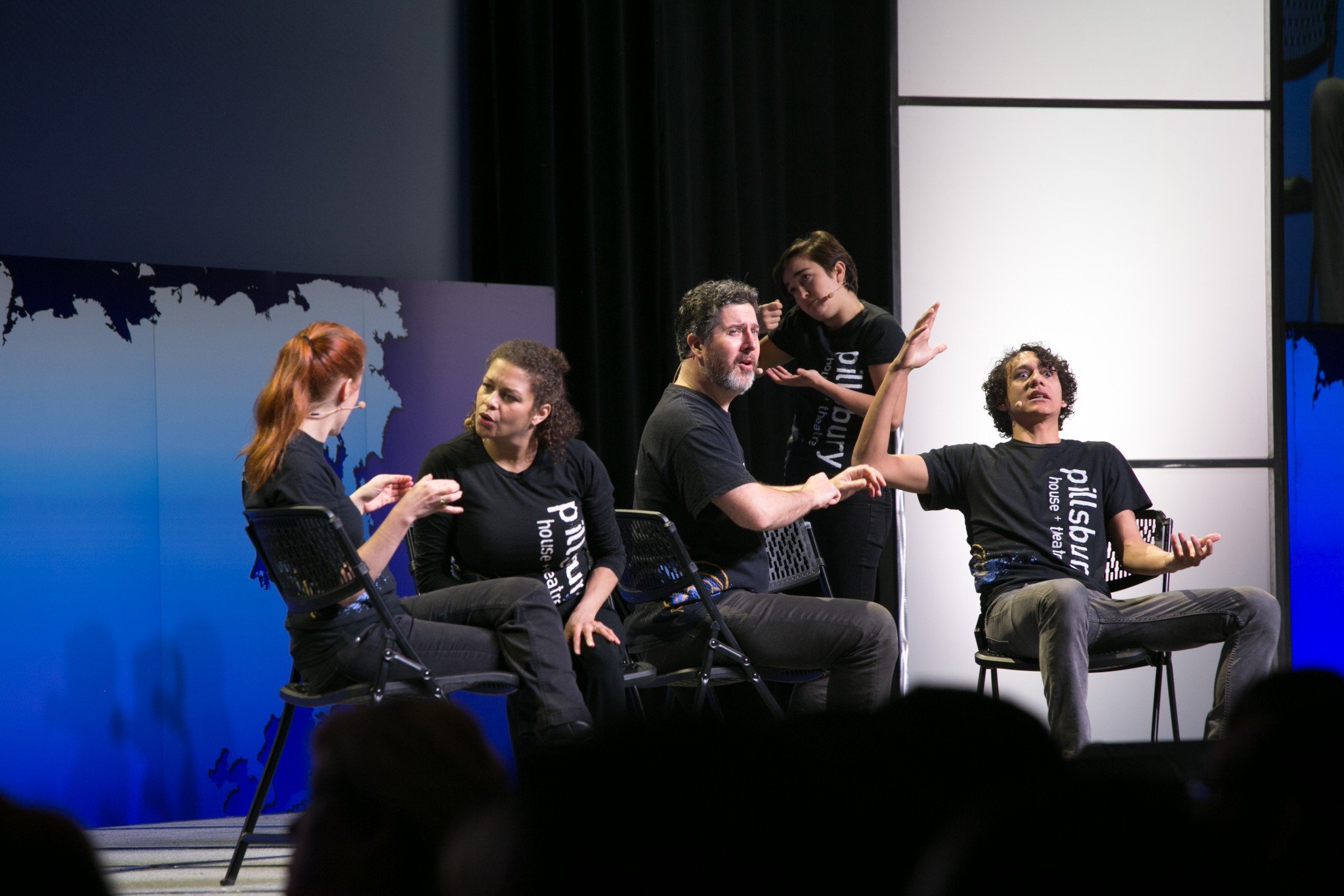 by Vincent Orlando '23, MSM'24
Breaking Ice DEI Performance at Hobart and William Smith Colleges - A Transformative Experience
By Vincent Orlando '23, MSM'24, DEI Graduate Community Assistant
The Breaking Ice program, presented by Pillsbury House Theatre, has been breaking barriers and fostering courageous dialogue around diversity, equity and inclusion in workplaces and college campuses for more than two decades. Recently, Hobart and William Smith had the privilege of hosting a Breaking Ice performance that was both enlightening and transformative.
The Breaking Ice performance was a dynamic and engaging experience that masterfully blended drama, music, poetry, movement and humor. It explored the intricate web of systemic inequities, implicit biases, microaggressions and common misconceptions that often permeate campus and workplace relationships. The event left a profound impact on the audience, raising awareness and provoking thoughtful conversations.
One of the standout moments was the sketch that depicted a conversation between a white professor and a student of color. This scene was brilliantly executed with two actors portraying the external dialogue and behavior of the characters, while two others gave voice to the characters' internal thoughts and reactions. In this sketch, the external conversation initially faltered as the characters misread each other's intentions and struggled to communicate effectively. This starkly illustrated how misunderstandings and misinterpretations can hinder productive dialogue in the workplace. However, the turning point occurred when the internal voices took over, facilitating a genuine and difficult conversation that moved the relationship forward. This powerful portrayal underscored the importance of acknowledging and addressing the underlying issues that often impede DEI efforts.
Another remarkable aspect of the Breaking Ice performance was the inclusion of "I Am From" poems, brief autobiographies performed as spoken word poetry by each of the five performers. These poems offered a glimpse into the complex and multifaceted identities of the individuals involved. They beautifully demonstrated how our backgrounds, experiences and perspectives shape our perceptions and interactions. By sharing their personal stories through poetry, we could see by example how making oneself vulnerable can also create space for others to understand and relate to us on a deeper level.
Following the performance, trained Breaking Ice facilitators guided the audience in a reflective discussion. This discussion provided a valuable opportunity for attendees to process the emotions and insights stirred by the performance. It deepened awareness about DEI issues and encouraged participants to take ownership of their roles in promoting inclusivity and equity in their own workplaces. I was raised in a predominantly homogenous community on Long Island, where diversity was not very visible. However, during my five years as a student at HWS, I actively participated in numerous DEI events. I must say, the recent performance stood out as the most captivating and authentic representation of DEI issues in a professional context. The actors skillfully incorporated real-life situations faced by members of the HWS community, creating a fascinating portrayal that infused empathy and relatability into their performance.
Reflections shared by members of the audience afterwards gave testimony to the impact of the performance and the relevance of the lessons shared to our lived experiences as a campus community. "It was hands down the best educational program I have attended. So well done," says Bob O'Connor, the Vice President for Advancement at HWS.
Ty Gallagher '25, a Hobart student-athlete, gave this reflection after watching the performance: "While I cannot personally understand the problems some people deal with directly every day, I can understand the importance of being a supportive cast for those who unfortunately deal with these challenges."
Director of Conference and Events Services Stephanie Yearsley said this: "Just wanted to say… the Breaking Ice performance and talk was OUTSTANDING. Thank you so much for bringing it to campus. I was so glad to see so many staff members there."
A number of Finger Lakes community members were also in attendance. Their comments made it clear that the lessons of Breaking Ice were applicable beyond the context of the Hobart and William Smith campus community.
The Breaking Ice performance at Hobart and William Smith Colleges was an enlightening experience that both entertained and challenged its audience. It skillfully unveiled the complexities of DEI issues in the workplace, fostering open and honest dialogue. Through powerful sketches, personal poetry and facilitated discussions, the event challenged attendees to reflect on their own perceptions, biases and responsibilities in creating more inclusive and equitable spaces. This two decades-old production continues to be a vital catalyst and a valuable roadmap to guide us towards making our own communities more inclusive.
Breaking Ice was pretty cool. so, now what?
Almost one in five Hobart and William Smith students, faculty members and staff attended one of two September performances by the Minnesota-based theatre troupe, Breaking Ice, part of Pillsbury House Theatre. The traveling performers delivered a dramatic performance that used movement, spoken word and vignettes drawn from the lived experiences of HWS students, faculty and staff, as well as two decades of personal experiences of the director and the performers. Humor, music, drama and autobiography made this a rich textured, multidimensional performance that landed well both with "diversity warriors" who've devoted much study to issues of diversity, inclusion, unconscious bias and microaggressions and people who are fairly new to the field, Head Coach for Hobart Ice Hockey Matt Cunningham had this to say: "It was a pleasant surprise to see how the performance was tailored to our campus community. I left Breaking Ice feeling motivated, challenged, excited and curious. Kudos to HWS for bringing Breaking Ice to campus, I hope we see them again!" H. May, a professor in the Theatre Department, said they thought " the performance was very well constructed, engaging, and relevant."
So, what's next?
That's a critical question. Breaking Ice was never intended to be "the diversity program" for 2023-24. It was intended to be a point of departure. It fits into an arc. It's part of an ever-evolving tapestry of programs and resources that share a common goal—to build a more inclusive, supportive and equitable campus climate for students, faculty and staff. It's a tapestry that began with Orientation Week's Building Belonging workshop (first-year students and Orientation Mentors will remember the mini-case study with Peter, Carter and Desiree). And it continues with good work being done all around campus. Work by my Office of Diversity Equity and Inclusion teammates, like Safe Space training and weekly Tea and Tarot socials coordinated by LGBTQ+-RC Director Mace McDonald; the HEOP and Posse Programs under Program Coordinator Renee Grant; and programming like the Hispanic/Latinx Heritage Month Celebration and Games Night at the Adams Intercultural Center, led by Alejandra Molina. Our faculty make the connection between research and real world, current events and social issues daily. And then there's the wonderful work being done by our campus partners, such as Chaplain and Spiritual Engagement Dean Nita Byrd's Pasta Nights, and the new Spiritual Resource Center; the Counseling Center's Sister Circle support group, founded by Tasha Prosper; the International Student Success team's recent dinner at President Gearan's home; Shabbat Dinners hosted by Rabbi Dr. Ann Landowne and the Abbe Center for Jewish Life, the Student Athlete Diversity Council, and Diversity "Sunday Dialogues" organized by Hobart Basketball Head Coach Stefan Thompson '13 and William Smith Basketball Head Coach Lindsay Sharman. Of course there's also an incredible array of cultural and social justice student club programming. All of this activity provides support to the various identities represented on our campus, while at the same time adding richness and depth to the HWS experience for our students.
So, what's next? Let's talk about it over lunch or dinner…
I'd like to invite interested students, faculty and staff to sign up for dinner discussions to continue the dialog. Our tentative plan is to host monthly conversations on a range of topics reflecting on the HWS experience through various lenses of identity, with an emphasis on exploring where we are improving and where we have the greatest opportunities to do better, to make HWS an inclusive space for all. If this idea intrigues you, click on the link to add your name to the invitation list, and to provide feedback on suggestions we're developing for future topics.
Because what's next is what you, and what all of us make it. Together. We've broken the ice. Now let's continue the dialog.