Geneva 2030 is dedicated to investing in our children, from cradle to career. Since our inception, Geneva 2030 has brought together community members to work on key goals surrounding Kindergarten readiness, literacy success, STEAM success, graduation rate improvement, and advancing college and career readiness. Through understanding the needs of children and their parents, we collectively bring resources to improve the quality of life. We strive to build effective interventions and supports, knowing their profound and beneficial impact on the individual child, the family, and the community.
Geneva 2030 is proud to be a sustaining member of the Strive Together network of nearly 70 local communities across the nation working to ensure that every child has the chance to succeed. Employing the Strive Together Theory of Action, our partnership aims to: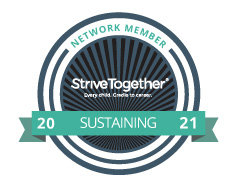 Engage a broad array of community voices to co-develop solutions and strategies
Identify systemic inequalities and opportunity gaps in order to determine how to advance equity
Continuously examine disaggregated, local data to identify areas for improvement
Build on Geneva's existing resources and facilitate alignment to maximize impact
Governance Structure (PPT)
Additional Information
Stanford Social Innovation Review, Winter 2011: "Collective Impact"
Stanford Social innovation Review, 2012: "Channeling Change: Making Collective Impact Work"
The Strive Partnership in Cincinnati unites common providers around shared issues, goals, measurements and results, and then actively supports and strengthens strategies that work.