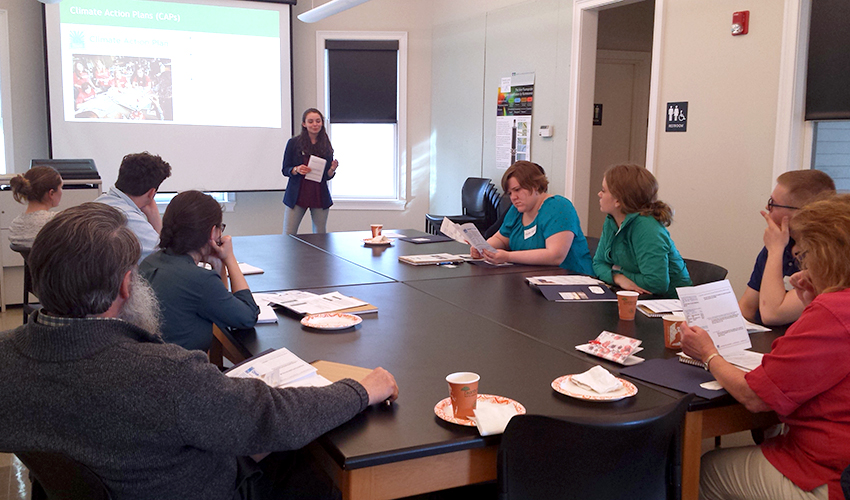 HWS News
26 May 2017 • Alums Three Awarded Carver & DeLaney Grants
Three HWS students have been awarded grants this spring through the Carver & DeLaney Family Environmental Studies Endowment. Mitchell Beyer '17, Amanda Bruha '20 and Madeline Schmitt '19 have undertaken projects related to sustainability and the environment with their awards.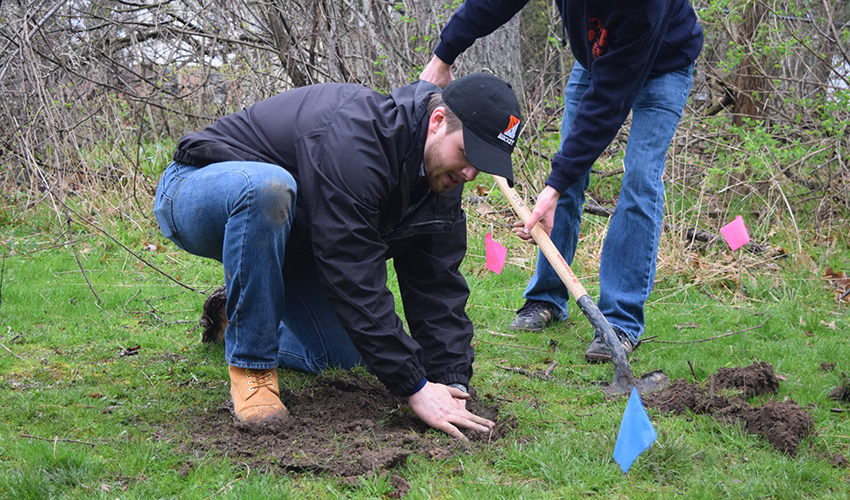 Beyer coordinated a planting event during Earth Week that improved the ecosystem around a stream that flows behind HWS environmental studies house. Beyer, an environmental studies major with a minor in economics, noticed that invasive species had overtaken the stream bank, causing erosion and a loss of habitat for wildlife. He says his work under the direction of Assistant Professor of Environmental Studies Kristen Brubaker helped to create a native plant community that is easy to maintain and that provides many ecosystem services to the area, including improving the habitat characteristics of the area, providing a natural filter to water coming off the parking lots and draining to Seneca Lake, and providing an educational area for use by the Environmental Studies program. With the help of 12 volunteers, Beyer and his team were able to plant eight trees, 23 shrubs and 150 perennials in the riparian buffer.
Bruha, a double major in environmental studies and geoscience, recently returned from a youth climate summit in Sri Lanka. In collaboration with Nadia Harvieux, education program manager at the Finger Lakes Institute, Bruha's project will use skills she learned at that summit to plan and manage a gathering on climate science at HWS for middle and high school students from the Finger Lakes region. "Young people will feel the effects of climate change more than anyone else," Bruha says, "So it is important that they are involved in finding solutions." Along with the development of a logo, outreach activities and initial planning, Bruha has held an informational meeting with local teachers to promote and discuss the development of the Finger Lakes Youth Climate Summit.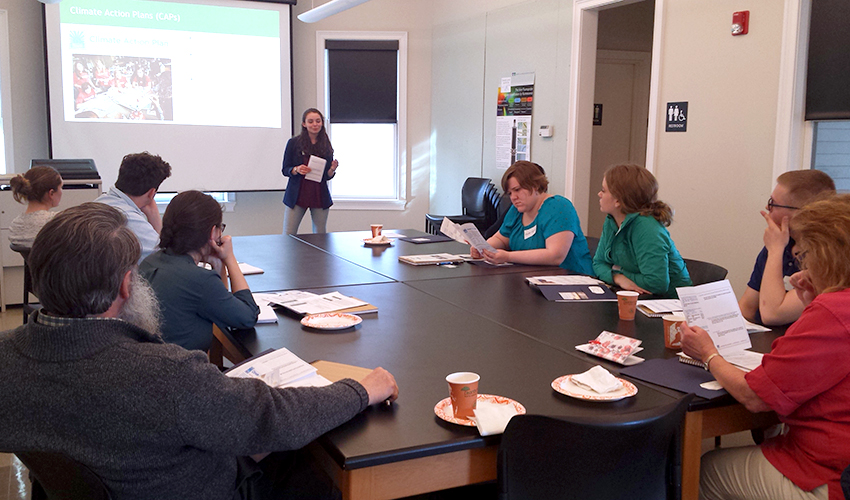 For her project, Schmitt, an international relations and French double major, is working with the Finger Lakes Institute on the Real Food Challenge, a national student-based initiative that works to steer university food budgets toward local or community based, fair, ecologically sound and humane food sources. She also updates the Real Food Challenge calculator, an essential tool for tracking institutional food changes. "This has implications for everyone from consumers to small farmers to food-industry workers," she says. "Our campaign at HWS is just one part of this effort, so any spending we can shift would increase sustainable purchasing and consumption." Schmitt has already surveyed students to gain a better understanding of what food issues matter to them, and is working with Sodexo, a program sponsor, to implement changes. Sarah Meyer, food systems program manager at the Finger Lakes Institute, serves as her adviser.
Named in honor of Trustee Calvin R. Chip Carver Jr. '81 and his wife Anne DeLaney, the Carver & DeLaney Family Environmental Studies Endowment supports student sustainability projects on the HWS campus and in local communities. The grants can be used toward sustainability initiatives, such as those related to energy management, water management, food/agriculture systems, biodiversity, community design, and outreach/education.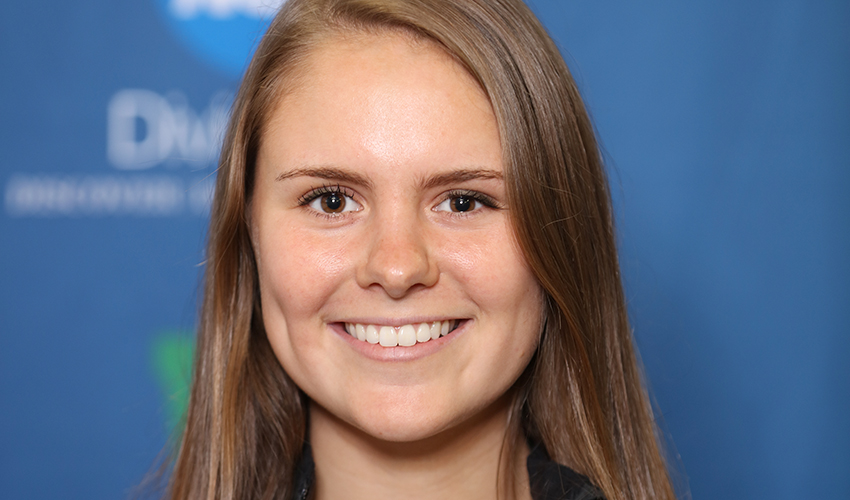 Carver retired as executive vice president, chief operating officer and managing director at Markit Group, a global financial information services company. An industry expert in the management of e-commerce for global trade processing, Carver oversaw Markit's global technology and development, operations and infrastructure activities, among other areas. Before joining Markit, Carver served as chief executive officer of SwapsWire, and as a managing director at Goldman Sachs.
Currently serving his 15th year on the HWS Board of Trustees, Carver acts as a valuable resource for students and graduates of the Colleges. Partnered with the Salisbury Center for Career, Professional and Experiential Learning, he has networked with numerous students and graduates who have gone on to internships and careers at Markit.
In the spring of 2012, he established the Calvin R. Carver Sr. Lecture and Student Support Endowment in honor of his father and to commemorate his brother, Gibb Carver. The endowment brings to campus each year one speaker who addresses a topic intended to promote inclusiveness, resiliency, positive mental health and social justice; and assists students at the Colleges who may be experiencing mental or physical health difficulties stemming from developmental, personal or family circumstances. The inaugural speaker of the series was gay rights advocate, Judy Shepard, who visited campus in April 2013.
Carver holds an MBA from New York University and a BA in economics from Hobart College.