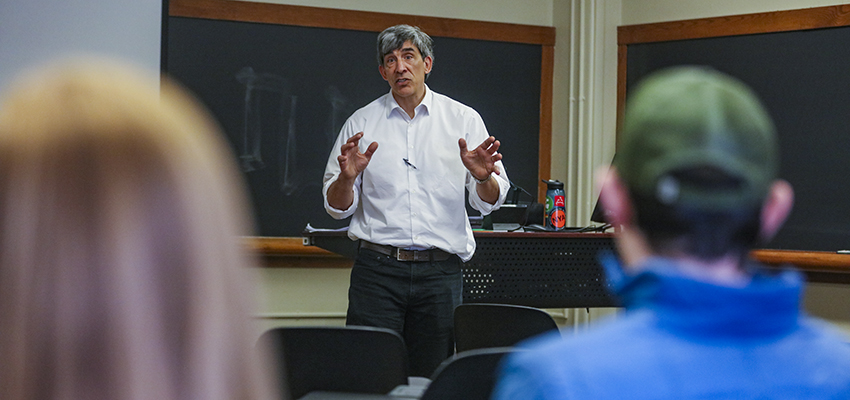 HWS News
1 October 2020 • Faculty • Research Salter's Kinghorn Fellowship Explores the Varieties of Global Citizenship
As the 2019-20 John R. and Florence B. Kinghorn Global Fellow, Professor of Religious Studies Richard Salter '86, P'15 engaged the HWS community and local students in a series of conversations about the role of religion, education and public policy in the life of a global citizen.
Established in 1970 and generously endowed by Dr. and Mrs. William Reckmeyer in honor of John Readie and Florence B. Kinghorn, the fellowship honors outstanding faculty at HWS who have exemplified global citizenship on a continued basis. This excellence can be demonstrated through research and writing, mentoring independent studies or Honors projects, leading international study programs with an emphasis on citizenship, working with third-party organizations and/or encouraging global enrichment programs on campus.
Salter was awarded the Kinghorn Fellowship in 2019 for his cross-cultural scholarship and sustained efforts to connect the HWS campus to communities around the globe, including his work with the Colleges' Human Rights and Genocide Symposium and with The March: Bearing Witness to Hope, a biennial 10-day tour though Poland and Germany, sponsored by HWS and Nazareth College, to study the Holocaust under the collective guidance of Holocaust scholars, survivors, and Israeli and Polish guides.
As a Kinghorn Fellow, Salter participated in a fall 2019 panel on immigration, discussing how the stranger, the foreigner and the sojourner in their Biblical context inform contemporary discussions surrounding immigration. He argued that while these terms are invoked frequently by political parties during immigration debates, too often they arent properly contextualized. With the success of the panel, Salter later presented the talk at a forum at St. Peter's Episcopal Church in Geneva.
Salter also worked with departments across the HWS curriculum to invite speakers to campus during the 2019-20 Human Rights and Genocide Symposium, including Pulitzer Prize-winning Washington Post journalist Eli Saslow, who delivered a public lecture and engaged with students in a workshop and classroom visit. Saslow discussed the threat of white nationalism and his 2018 book Rising Out of Hatred, which tells the story of how prominent white supremacist Derek Black rejected the ideology after enrolling at a small liberal arts college.
"Black's process of transformation took place while at a liberal arts college," Salter explains, "I thought it would be a good example of how what we do on campus can have a broader impact on the world."
Meanwhile, Salter and Associate Professor of Religious Studies Shalahudin Kafrawi presented a series of panels about college life to 120 Geneva High School ninth graders. The students were visiting campus as part of the Center for Civic Engagement and Service Learning's annual initiative to spur early interest in higher education, exposing them to college earlier.
"We volunteered to run the college life panel so that we could get the students thinking about what it would be like for them to arrive on campus as a college student and meet people very different from themselves," explains Salter, noting that the panel highlighted how college life offers opportunities to connect people from various religious and cultural backgrounds.
Throughout 2019 and 2020, Salter joined Professor of Religious Studies Michael Dobkowski and Hillel Adviser and Director of the Abbe Center for Jewish Life Julianne Miller to plan The March. "Due to COVID-19, the trip was postponed, but in spite of that, we continued to meet with the students virtually throughout the semester in order to provide some continuity of education in the COVID era," Salter says. "It is hard to find a silver lining in the COVID crisis, but if there was one with regard to the March, it was that the unfolding crisis provided us an opportunity to talk with students at length about how decision making takes place in a global crisis."
While Salter's Kinghorn public lecture, scheduled for the spring 2020, was also disrupted due to COVID-19, its focus was on the citizen curriculum, inspired by the Colleges' curriculum preceding World War II. Salter's lecture would have explored what an updated citizenship curriculum might look like, specifically a global citizenship curriculum, with the goal of provoking ideas that might generate some enthusiasm for rethinking the current HWS curriculum.
Salter, who joined the Colleges faculty in 1998, has focused his research on New World Christianities, Christian-Syncretic religious movements and how religious groups in general form. He was the chair of the American Academy of Religion seminar on Rastafari in Global Context and has written on Rastafarianism, Christianity, state-sanctioned violence and practical theology. His scholarly interests were shaped in particular by his experience as a Peace Corps volunteer in the West Indies from 1986 to 1988. At HWS, Salter initiated and directed the Colleges study abroad program in Mendoza, Argentina in 2008, and directed the program again in 2010 and 2012. He earned his B.A. in political science from Hobart College and his M.A. and Ph.D. in religion and the human sciences from the University of Chicago.
Read more about the Kinghorn Fellowship and previous fellows.