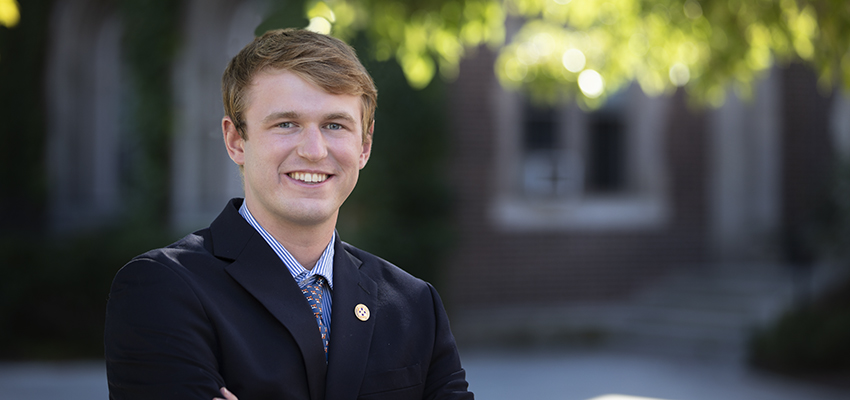 HWS News
19 January 2021

Pandemic Puts Community, Environmental Resilience Major in Focus

Thomas "Gib" Shea '22, who created his own major, is preparing for a public service career managing responses to emergencies like COVID-19.

A volunteer firefighter and EMT since high school, Gib Shea '22 enrolled at HWS planning to design an individual major. Since he arrived on campus that idea has evolved into Community and Environmental Resilience, which incorporates everything from natural resource law to environmental policy, urban history to social innovation.

With the guidance of Assistant Professor of Entrepreneurial Studies Craig Talmage, who serves as chair of the Individual Major Committee, and Professor of Education Jamie MaKinster, Shea was "able to identify a wide range of HWS course offerings to support the individual major." Alongside the HWS Leads certificate program, his coursework in anthropology, education and the natural sciences is part of a "diverse and enriching" curriculum "allowing for multi-disciplinary opportunities," he explains.
As an emergency responder on-call during the pandemic, Shea has seen "community resilience and public health response in a large-scale context... Witnessing firsthand how supplies are allocated, vaccine preparations and planning, and public response to government recommendations has significantly opened my eyes to some of the challenges I will be facing once I enter the workforce."
After graduation, Shea plans to pursue a master's degree in public administration, focusing on emergency management and planning. He says, "The breadth and depth of my course selections at HWS will establish a solid foundation for careers in emergency planning in relation to environmental impacts."
In addition to serving as a student representative on the HWS Board of Trustees, Shea is an intern in the Office of the Advancement and has served as president of the Hobart Class of 2022 and on the Hobart Dean's Council.