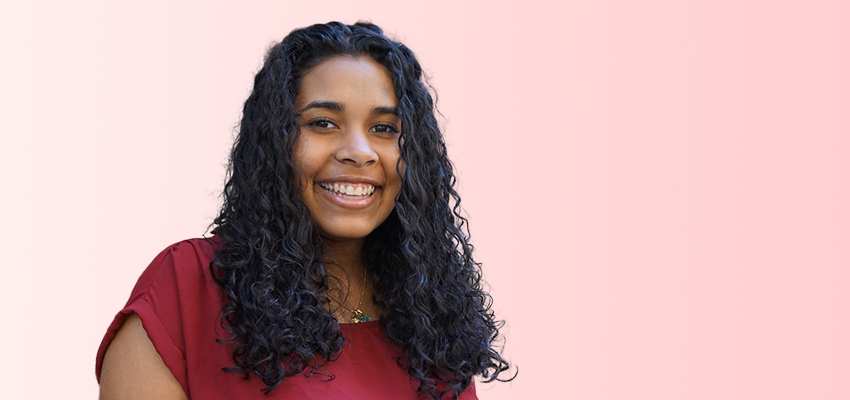 Newman Civic Fellowship Awarded to Martinez '22
26 March 2021 • Service Newman Civic Fellowship Awarded to Martinez '22
Gabriela Martinez '22 named a 2021 Newman Civic Fellow by Campus Compact, which honors student leaders who have worked to find solutions for challenges facing their communities.
Campus Compact, a Boston-based non-profit organization working to advance the public purpose of higher education, has named Gabriela Martinez '22 as one of only 212 students nationwide who make up the 2020-2021 cohort of Newman Civic Fellows.
This honor recognizes students who work to find solutions for challenges facing their communities. The fellowship provides training and resources that nurture students' assets and passions and helps them develop strategies to achieve social change.
Martinez, who is studying anthropology, education and entrepreneurial studies at HWS, says that since arriving on campus she has tried to be a "bridge for people" through her service to "provide them with the resources they need. Thus far, I have accomplished this and more by working as the Civic Lead of Outreach for the Center for Community Engagement and Service-Learning. During my time at college, I have helped coordinate the Community Lunch program, the Holiday Gift Program, and the Blood Drive. Through these programs, I have given back to a community that I am a part of and to whom I can relate."
President Joyce P. Jacobsen applauds Martinez's work as a Civic Leader for Outreach, a member of Sankofa: the Black Student Union, and her participation in the HWS Leads Certificate Program. "She is committed to building awareness of opportunities to authentically engage with the Geneva community, and her leadership by example is impressive," Jacobsen says. "Equally noteworthy is her work with Maydoneri Perez '23 and Kelsi Morasse '23 on a pilot effort, 'By Your Side,' which will promote the inclusion of health resources to children in underserved communities. We're thrilled to have Gaby carry on the proud tradition of HWS Campus Compact Civic Newman fellows."
The Newman Civic Fellowship, named for Campus Compact co-founder Frank Newman, is a one-year experience emphasizing personal, professional and civic growth for students who have demonstrated a capacity for leadership and an investment in solving public problems. The fellowship is supported by the KPMG Foundation and Newman's Own Foundation.
Campus Compact is a national coalition of more than 1,000 colleges and universities committed to the public purposes of higher education. Campus Compact supports institutions in fulfilling their public purposes by deepening their ability to improve community life and to educate students for civic and social responsibility.