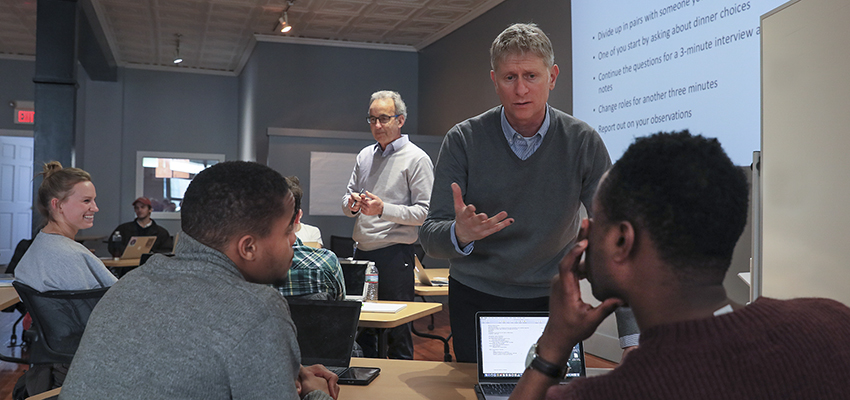 HWS News
23 July 2021 • Entrepreneurship Announcing New Master of Science in Management
How Hobart and William Smith Does Business: Beginning in the fall of 2021, HWS will offer a Master of Science in Management that will allow students to complete a bachelor's and master's degree in as few as four years.
This week, the New York State Office of Higher Education approved Hobart and William Smith Colleges new Master of Science in Management (MSM) program. The one-year graduate program builds on the premise of an undergraduate liberal arts education, providing the skills, knowledge and insight necessary for students to have rewarding careers as well as meaningful and consequential lives.
"We are excited to bolster Hobart and William Smith Colleges' successful academic programs in entrepreneurship and leadership with the new masters in management," says President Joyce P. Jacobsen. "The theoretical foundations and experiential insights at the core of the program are indispensable for students interested in business, nonprofit or governmental careers."
Professor of Economics Thomas Drennen, who will oversee the MSM program, says it offers liberal arts students a robust framework to organize their interdisciplinary knowledge and skills toward a career path they are passionate about.
"This program is an excellent way for students to prepare for meaningful careers, especially students interested in management opportunities," Drennen explains. "Through coursework, targeted internships and an emphasis on applied skills in marketing, leadership and organizational development, we can inform students passions and provide experiences that set them apart from their competitors."
The program, which will launch during the 2021-22 academic year, offers both a 4+1 and a 3+1 model, allowing HWS students to complete both their bachelors and masters degrees in as few as four years.
Coursework includes a combination of four required core courses and four electives. Students also complete an internship and participate in a series of skill building and experiential learning activities designed to distinguish graduates from their peers.
Learn more about the programs curriculum and admissions requirements here.
Interested students should reach out to Professor Drennen (drennen@hws.edu) to discuss career objectives and how the MSM program can help.