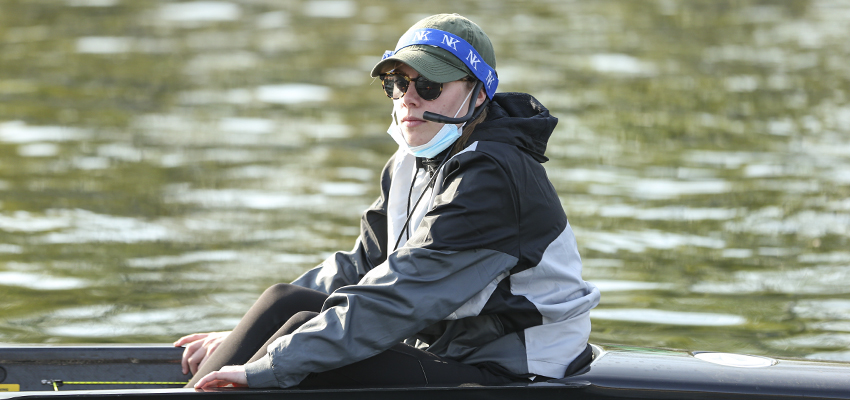 HWS News
8 June 2021

Better, Faster, Stronger: Baillos '24 on First-Year at HWS

During her first-year at HWS, Mary Baillos '24 declared a major in international relations, further pursued her love of music and joined the close-knit William Smith rowing team. Last year, we profiled Baillos before she arrived on campus. Read more about her here.

What's the biggest difference between being a high school student and a college student?

The biggest difference is how I structure my day. There is a lot of free time and freedom that comes with college and learning how to make time for everything I want to do was definitely something I didn't pay attention to as much in high school.

Best part about dorm life?


My favorite part about dorm life is being so close to all my friends. I made friends on my floor, in my building and around JPR, and they were always just a short walk away.

Favorite class?


My favorite class this year was "Intro to Music Theory." I have always had a love for music and through this class, I explored how music is constructed and the intricate details that come with analyzing pieces. I had a strong music background coming into this class, but this course gave me insight to music from the composing and creating side rather than from the performance side.

Have you connected with a faculty/staff member?

So many faculty have not only helped me with assignments, but also been available to discuss my future and what I want to study. I met with my ECON 160 Professor, Associate Professor Evren Damar, for help on concepts and assignments throughout the semester. I also met with Professor of Political Science Kevin Dunn, my POL 180 professor, to discuss majoring in International Relations and ultimately declared my IR major with him as an adviser!

Favorite spot on campus?


I love hanging down by the lake, whether rowing on Seneca with my team or spending time on the dock with friends.

Where have you found community?

I have always been a part of a team, so when I came here without being a part of a team, I felt like something was missing. A friend on the Hobart rowing team encouraged me to reach out to the HWS coaches. I ended up joining the team and I love it. The girls are all so nice and I really enjoy being a part of a team again. It adds structure to my day and allows me to compete and improve my teamwork and leadership skills.

What have you learned about yourself this year?

I learned that I can persevere through anything and if I put my mind to something and set a goal for myself, I can meet and most likely exceed that goal and come out of it a better and stronger person.

In the photo above, Baillos – a coxswain for William Smith Rowing – leads her team on the Cayuga-Seneca Canal.