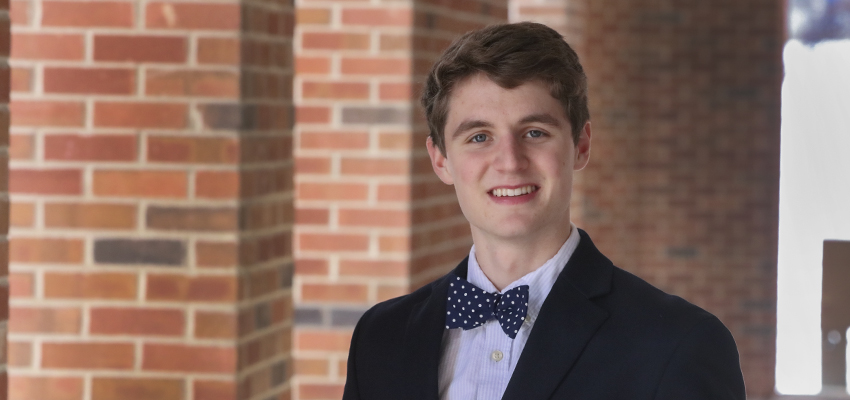 HWS News
20 April 2020 • Service Albreski '23 Earns Newman Civic Fellowship
Campus Compact, a Boston-based non-profit organization working to advance the public purpose of higher education, has named Ian Albreski '23 as one of only 290 students nationwide who make up the 2019-2020 cohort of national Newman Civic Fellows.
This honor recognizes students who work to find solutions for challenges facing their communities. The fellowship provides training and resources that nurture students' assets and passions and helps them develop strategies to achieve social change.
As one of two student representatives on the Colleges' Diversity Equity and Inclusion (DEI) task force, on campus Albreski plays a key role ensuring that the student perspective is heard.
"The issues of diversity equity and inclusion are personal to me as someone who suffers from a visual impairment," he notes. "It never ceases to amaze me to see how differently I am treated after revealing what is otherwise an invisible handicap. It was, and is, incredible to be given the chance to make the Colleges a better place while still a first-year student. I hope that the DEI message takes root and grows into positive change on campus for years to come."
President Joyce P. Jacobsen praises his work on the task force. "Although Ian Albreski has only been on campus since September, his early involvement with our Diversity, Equity, and Inclusion Task-Force has been significant," she says, noting that he "has helped facilitate important conversations about inclusivity within the HWS community…I am also impressed with his initiative as a scholar and athlete. He earned an impressive G.P.A. while balancing a rigorous schedule with the Hobart cross country team. He is also involved with our student government and has taken on a role working with student leaders on voting rights issues, again with a focus on inclusivity and equitable representation."
The Newman Civic Fellowship, named for Campus Compact co-founder Frank Newman, is a one-year experience emphasizing personal, professional and civic growth for students who have demonstrated a capacity for leadership and an investment in solving public problems. The fellowship is supported by the KPMG Foundation and Newman's Own Foundation.
Campus Compact is a national coalition of more than 1,000 colleges and universities committed to the public purposes of higher education. Campus Compact supports institutions in fulfilling their public purposes by deepening their ability to improve community life and to educate students for civic and social responsibility.