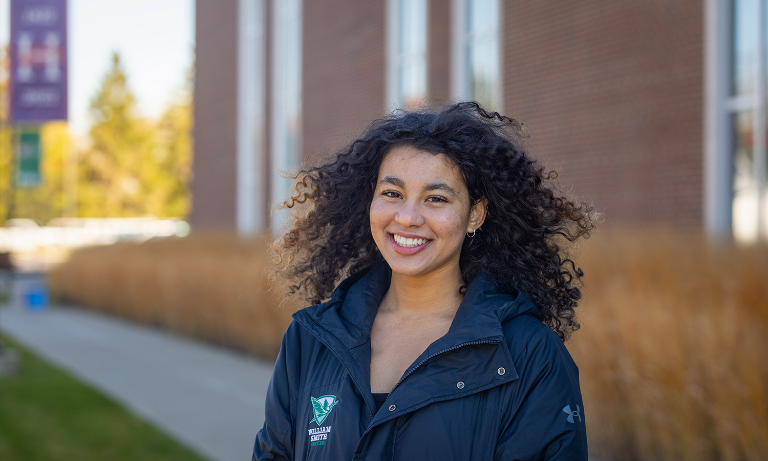 HWS News
3 November 2023 • Athletics Woods '24 Accepts Job at Mastercard By Ella Weiss '24
Senior Student Athlete Ainsley Woods '24 Accepts Associate Consultant Role at Mastercard.
Since completing an internship with Mastercard last summer, Ainsley Woods '24 has secured a position as an associate consultant in the corporation's New York City office after graduation. The mathematics major and computer science minor looks forward to the post where she will utilize Mastercard-licensed software to help make data-driven decisions and nurture business relationships.
Woods says course work in classes such as "Computer Architecture" and "Foundations of Analysis" has prepared her well for the position. She is also grateful for the guidance she has received from her adviser Associate Professor of Mathematics and Computer Science Jennifer Biermann.
On campus, Woods is a STEM Scholar, a member of the William Smith Cross Country Team, Math Club and Finance Society. She is also a Writing Colleague.
Through the Salisbury Center for Career, Professional and Experiential Education, Woods gained mentorship from HWS alums Jake Preston '20, a senior specialist of the product management team at Mastercard and Cort Williams '19, an employee benefits consultant with Walsh Duffield Companies, Inc. who previously worked at Mastercard for four years.
"They were a great resource for me as I went into my internship and they played a big role in my decision to accept my offer," Woods says. "It was really nice being able to chat with someone who has so many similar life experiences as me given our New York City and HWS backgrounds."
A member of the Heron cross country team, Woods has earned all-conference and all-region honors. She has won back-to-back CCOC Championships and sports six top-10 finishes over the past two seasons. At the 2023 Heron Awards Banquet, Woods was presented with the Sharon Peckham Best '62 Award as the team MVP as well as the Susan Bassett Award for her exceptional efforts in academic, athletics and leadership.