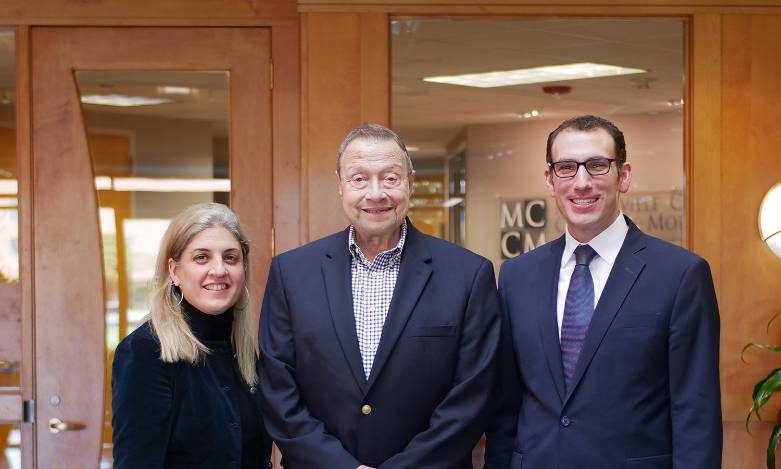 HWS News
6 February 2023 • Alums Legal Careers Converge
Three generations of HWS lawyers practicing under one roof.
It's a small world, as HWS alums know. Just ask Richard Horwitz '66, Mary Ognibene '96 or Peter Gregory '07. The trio makes up nearly a quarter of the attorneys at McConville Considine Cooman & Morin, P.C., a full-service law firm based in Rochester, N.Y. Together, they boast decades of legal experience in disparate areas, and each launched their career from Hobart and William Smith.
Gregory, who joined the firm in 2010 as an associate, is now a partner and trial attorney with business and personal injury expertise, assisting clients in all phases of litigation. Among other recognitions, he has been named a Super Lawyers "Rising Star" every year beginning in 2013, and in 2022 was named to The Daily Record's "Power 20 Personal Injury" list of top personal injury attorneys in Western New York.
He cites the "strong network" of support among the HWS alum community, which he knows firsthand: his first job as a law student was working with Marc Ehrlich '80 at Ehrlich & Arcodia, PC, a law firm focused on bankruptcy and real estate law.
"Everyone is very gracious and welcoming and excited to help out a fellow alum whenever possible and it's refreshing to see," Gregory says.
Horwitz, who recently joined MCCM as an attorney of counsel, brings more than 50 years of experience practicing law in the Rochester area. He served as the Penfield Town attorney from 1982 through 2022 and has received awards from the town, as well as Monroe County Special Olympics, the Penfield Republican Committee and the Alumni Board of Trustees of Delta Chi Fraternity's Hobart chapter. With MCCM, Horwitz now advises clients on land use, real estate, zoning, estate matters and municipal law.
The liberal arts education Horowitz found at HWS "served as a solid foundation for my career in law," he says. "The Hobart experience led me to a strong work ethic and the confidence to achieve many goals and successes in my life…. The culture of the Colleges inspired me to try to do the right thing in the right way as consistently demonstrated by the Colleges in their relationship with the Colleges' constituencies."
Ognibene, whose expertise covers a range of general business matters, joined the firm in 2014 after nearly a decade working with other local firms. Now a partner at MCCM, she was a 2023 ATHENA International Award finalist and recently included in the 2023 edition of The Best Lawyers in America® for Closely Held Companies and Family Businesses Law. The Daily Record also recognized her professional accomplishments, integrity and commitment to her clients and community by naming her a "Leader in Law" as part of its 2020 Attorneys of the Year Awards.
Between the liberal arts curriculum and the camaraderie with the community, Ognibene says that her experiences at "HWS fostered an openness that allows me to meet people exactly where they are. The Colleges helped foster the skill of sifting through the static to the humanity of our interactions, and I take that straight into my job every day. I walked out of HWS with a sense of accomplishment as well as family…and that freed me to face forward with confidence."
Gregory holds a B.A. with Honors in political science from Hobart and a J.D. from Albany Law School. Horwitz holds a B.A. in economics from Hobart and a J.D. from Syracuse University College of Law. Ognibene holds a B.A. in English from William Smith and a J.D. from SUNY Buffalo School of Law.
Learn more about Pre-Law education at Hobart and William Smith.
Do you share an employer with multiple HWS alums, or have a story about an alum who helped you advance in your career? Contact Mary LeClair at leclair@hws.edu.