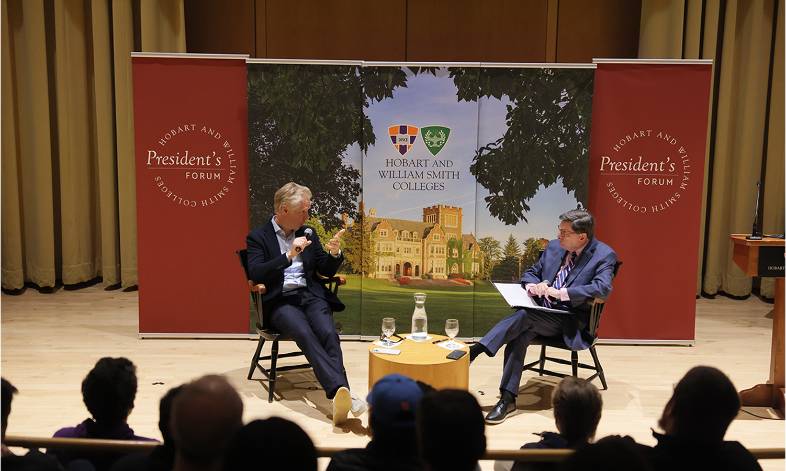 HWS News
9 May 2023 • Alums Keogh '91 Navigates the World's Electrified Streets
Scout Motors CEO Scott Keogh '91 talks EVs, marketing philosophy and seizing opportunity at the President's Forum Series.
During his time as an executive at Mercedes-Benz, Audi and Volkswagen, Scott Keogh '91 sharpened branding, boosted sales and produced groundbreaking marketing campaigns that changed the trajectories of the companies. In his President's Forum conversation with the Hobart and William Smith community, Keogh reflected on his journey including his latest challenge: launching the all-electric truck and SUV startup backed by the Volkswagen Group.
Automobile electrification is "one of the single biggest industrial transformations," said Keogh, who serves as Scout's president and CEO, and "[it's] happening in America as we speak."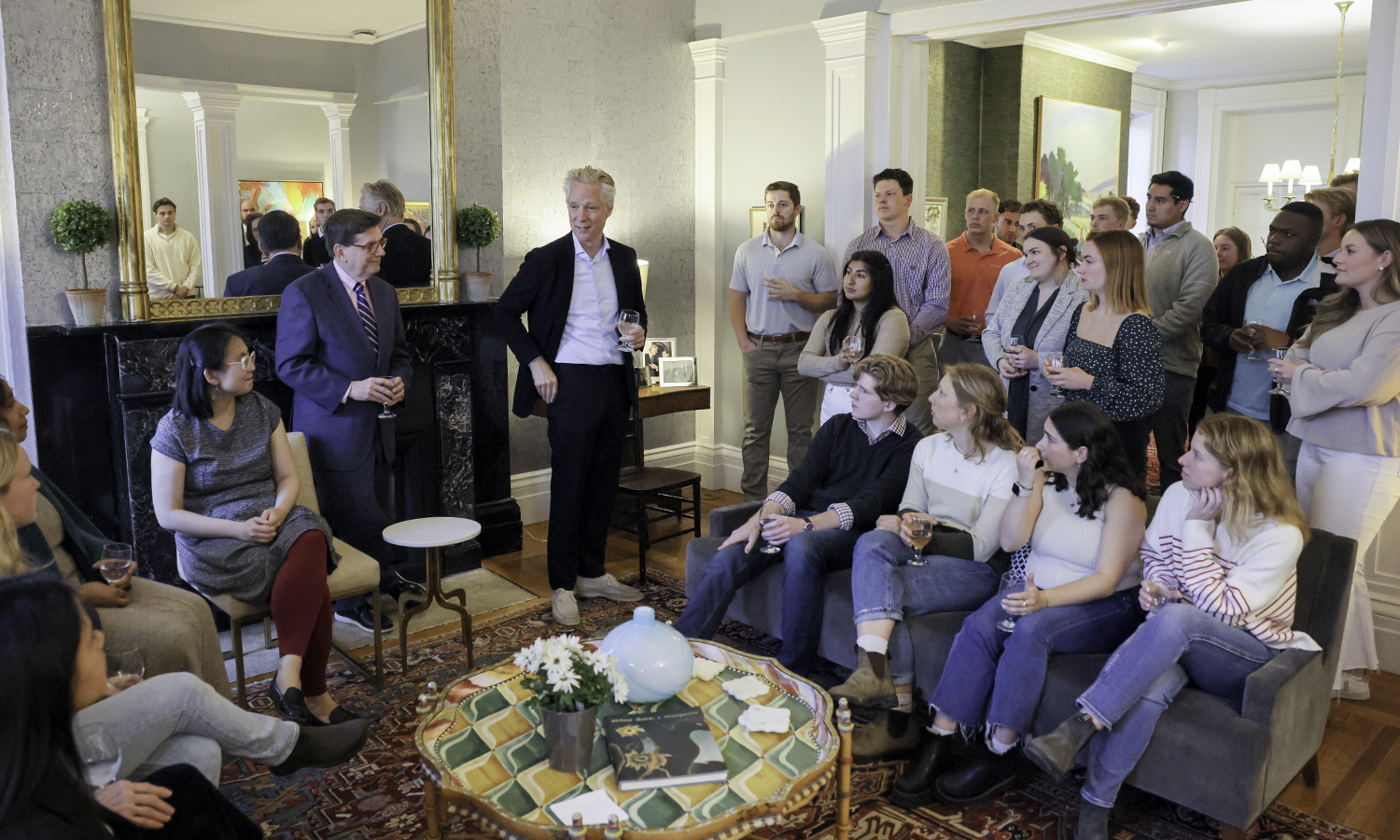 Into that technological frontier enters Scout, a contemporary update of the classic International Harvester utility vehicle. With EPA regulations targeting increased fuel efficiency and boosting electric vehicle production, as well as the investments in microchip and battery plants through the Inflation Reduction Act, Keogh sees a huge opportunity for the new company, which he will lead as it enters the market.
"A lot of things were promised with digitization, with social media — this great connection and interaction — but we actually find out it's led to more fear, isolation, paranoia," he noted. "We think there is a possibility for an authentic, really physical connection. We feel we can make a car that can do it. Yes, it's got a little bit of nostalgia to it but of course we are bringing it into the future and modernizing it."
"Heritage meets ingenuity," he said, succinctly describing the brand's ethos and consumer appeal.
Reflecting on his approach to marketing, Keogh said: "You have to have a message, you have to get a reaction, you have to be provocative…. When corporations get too comfortable, they walk away from risk, start to do safe things, and the automotive business is riddled with convention…. You have to take some risk…."
Keogh discussed his career path, which has been characterized by "seizing every opportunity to gain more experience and diversify [his] skills."
"Technical things can be learned, and I've learned lots of them in this job, but oftentimes what you need is how to think, how to structure an argument, how to convince a group of people who may be diametrically opposed to what you're saying. That critical thinking is important, and the bedrock of my critical thinking is the degree I have in comparative literature, because [it gives you the tools to navigate] all sorts of conflicts and narratives."
While on campus, Keogh also joined students and faculty in classes, engaged with administrators and participated in a roundtable at the Salisbury Center for Career, Professional and Experiential Learning.
Keogh has served in administrative roles for Mercedes-Benz USA and led marketing at Audi of America before leading the company as president. He later joined Volkswagen of America as president and CEO, leading the company from 2018 until he joined Scout Motors as CEO and president in 2022. He graduated from Hobart College with a B.A. in comparative literature.