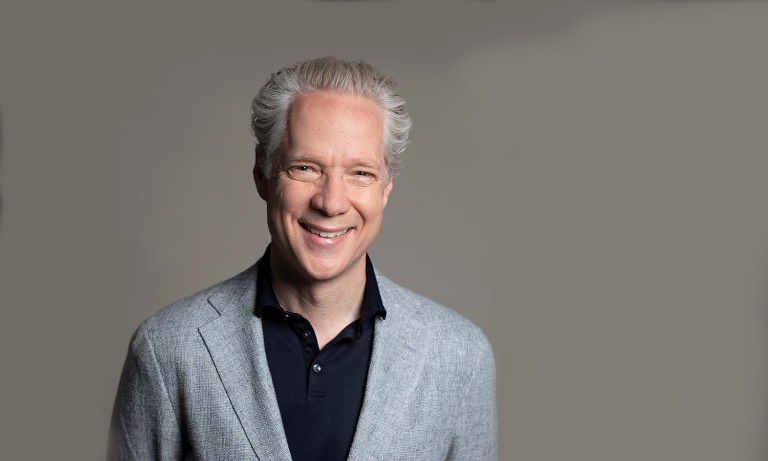 HWS News
20 April 2023 • Alums President's Forum: Scott Keogh '91
Mercedes-Benz, to Audi, to Volkswagen and now … Reimagining an Iconic Brand for the World's Electrified Streets: Keogh's Journey, Ethos and Vision.
Scott Keogh '91 has spent his career driving the automotive industry into new territory. After serving in administrative roles for Mercedes-Benz USA, he led marketing at Audi of America before leading the company as president. He later joined Volkswagen of America as president and CEO, the title he now holds at Scout Motors, an all-electric truck startup that is backed by the Volkswagen Group.
On Monday, April 24, Keogh will join the President's Forum Series for a conversation with President Mark D. Gearan and the campus community about his career, the rise of electric vehicles and the future of automobiles. The event will begin at 8 p.m. in Froelich Hall of the Gearan Center for the Performing Arts. The event is free and open to the public.
"Scott's successful career has been marked by tremendous creativity, innovation and an adventurous entrepreneurial spirit," says Gearan. "I look forward to welcoming him back to campus and to our President's Forum conversation. Our students and community as a whole can learn a great deal from his future-focused leadership and years of experience at the forefront of a very competitive industry."
While on campus, Keogh will also join students and faculty in classes, engage with administrators and participate in a roundtable at the Salisbury Center for Career, Professional and Experiential Learning.
Keogh, who led Volkswagen Group of America since 2018, joined Scout Motors as CEO and president in 2022 and will lead the brand's entry into the market.
At Volkswagen, Keogh oversaw brand activities in the U.S., Mexico and Canada, including factories in Tennessee and Mexico. He also headed U.S. operations of Audi, Bentley, Bugatti, Lamborghini, and the credit arm of Volkswagen.
After a decade with Mercedes-Benz in the 1990s and early 2000s, working on everything from global brand strategy to sales and marketing to product planning to retail automotive development, Keogh joined Audi of America as chief marketing officer in 2006. He was responsible for leading all of Audi's product planning for the U.S. market, as well as marketing and advertising campaigns, including Super Bowl advertising and the "Truth in 24" documentaries that told the story of Audi at the 24 Hours of Le Mans endurance race. As chief marketing officer, he also oversaw Audi's increased use of social media and product placement, such as in the "Iron Man" movie series.
At Audi, Keogh was responsible for the brand's U.S. activities, spurring unprecedented levels of sales growth, dealer network development and customer consideration. During his work as chief marketing officer and later as president, the brand went from selling 93,000 vehicles in 2007 to 226,511 in 2017. Under Keogh's leadership, the luxury automaker's premium market share in 2017 doubled compared to a decade earlier.
In 2011, AdWeek recognized the Audi brand turnaround story by naming Keogh a "Brand Genius" award winner. In 2011 and 2012, Irish America Magazine named Keogh to its Business 100 list celebrating "Irish-American corporate success," which included 29 CEOs, seven of the Top 10 Fortune 500 companies, and four of the 2010 Forbes Most Powerful Women in the World.
Keogh graduated from Hobart College with a B.A. in comparative literature.