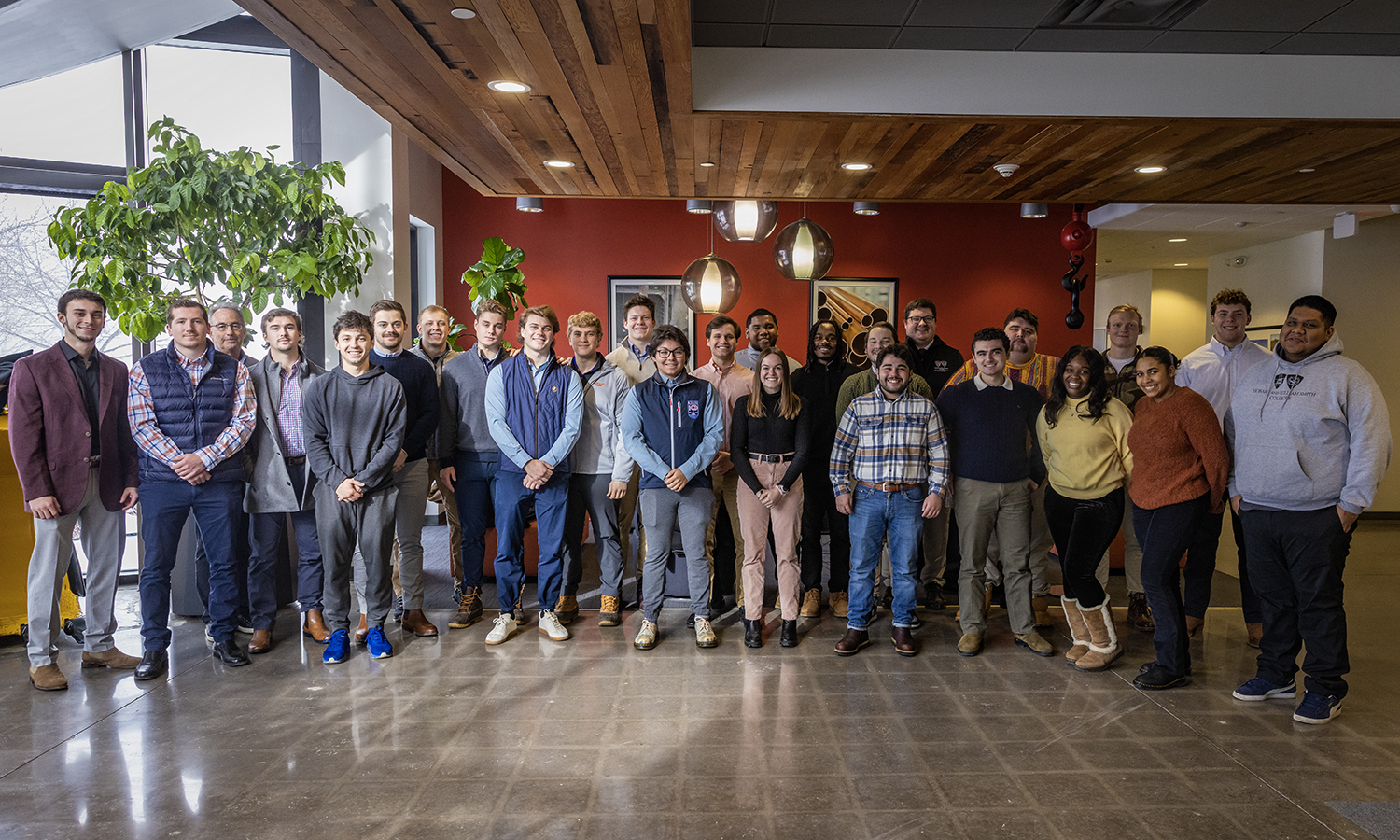 HWS News
8 February 2023

Business Career Trek with Master's Students

Students in the Master's in Management (MSM) program connected with alums and industry professionals in Rochester, N.Y.

Students in the MSM program joined Professor of Economics Tom Drennen and Master's Program Career Coordinator Sam Halfman for a day of industry visits and career insights in Rochester, N.Y.

Spanning a variety of industries, participating companies and nonprofits included Greater Rochester Enterprise @ NextCorps, LeChase Construction Group LLC, Plug Power Inc. and Xerox. "HWS' proximity to Rochester puts us in close connection to leading firms in manufacturing, research activities, and a lot of exciting industries. And of course, this city has an interesting history in photography, xerography and optics," says Halfman.

"Through the career trek, we wanted to create meaningful opportunities for our students to connect with management professionals who really exemplify how the management skillset is integral to building a successful company."
Career Trek in Rochester, N.Y.

At Greater Rochester Enterprise @ NextCorps, David Grome '07, managing director of business development, introduced students to the innovative nonprofit helping technology companies launch and grow.
LeChase Construction Group welcomed students to their corporate headquarters, where they shared business insights from the leading general construction and construction management services company.
Led by James Painton '97, operations controller at Plug Power Inc., students had the opportunity to learn how Plug Power provides innovative green hydrogen solutions, including production, storage and delivery, and energy generation. Students toured the world's first ever Gigafactory for Proton Exchange Membrane (PEM) technology where Plug manufactures hydrogen fuel cell stacks and electrolyzers.
At Xerox, Amy Kearns Auten '92, senior product manager, welcomed students and led them on a tour of the Gil Hatch Center for Customer Innovation, the largest digital print showcase in the world.
Hayley Martin MSM '23 says the experience has been clarifying in her job search. "The Rochester experience allowed us to ask employers various questions to help prepare us for job searching," she says.
Gabriella Martinez '22, MSM '23 says the opportunity to connect with professionals has been a significant advantage in preparing for job applications and interviews. "The career trek was a fantastic experience. I learned insightful tips for marketing myself."
A signature program of the Salisbury Center for Career, Professional and Experiential Education, career treks are designed to introduce students to potential career paths and provide networking opportunities.
In the photograph above, students gather for a photo at LeChase Construction Group.